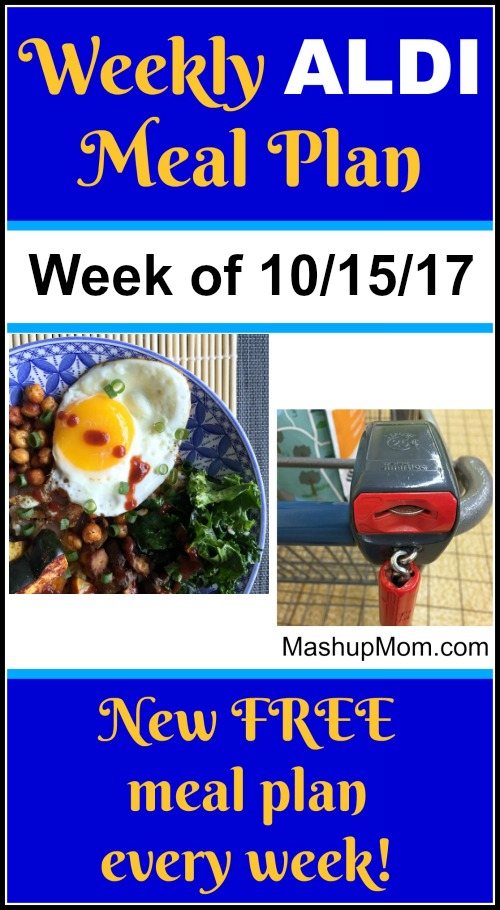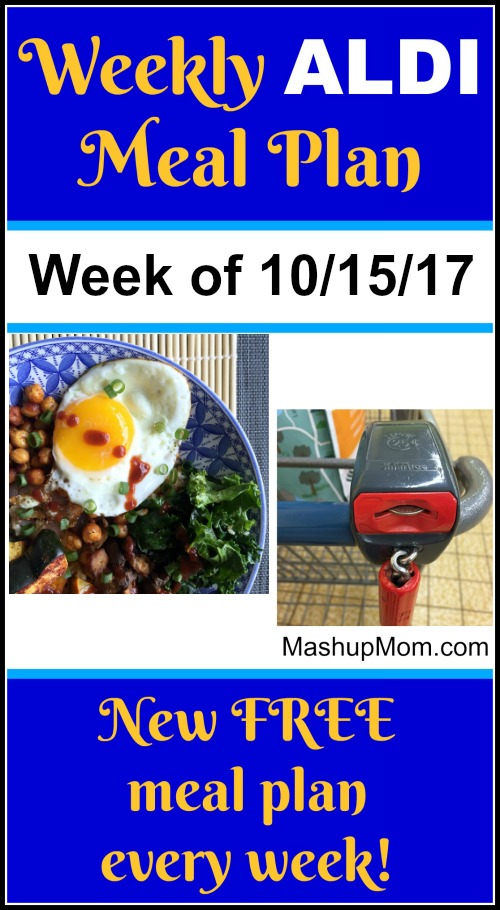 Here's your easy weekly ALDI meal plan for the week of 10/15/17: Pick up everything on the shopping list below, then start cooking on Sunday.
*** Subscribe to the weekly ALDI meal plans here ***
And before you go to ALDI this week, who needs one of these cute & handy ALDI quarter keepers?! Lots of options here…
Hey hey, my book is on sale for under a buck!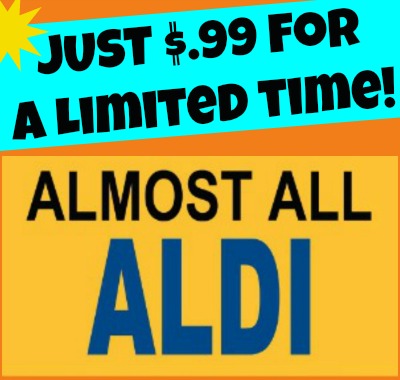 What's better than my cool eBook about shopping and meal planning at ALDI? A 75% off sale on my cool eBook about shopping and meal planning at ALDI, of course! If you enjoy these ALDI meal plans and savings, you might also enjoy my eBook: Almost All ALDI: Shopping and Meal Planning Around Sales and Seasons: Just $.99 for a limited time.
But back to this week's ALDI meal plan…
Let's get ready to make six complete dinners for a family of four, just $60.00 out the door! Hope you find the free ALDI meal plans useful.
ALDI meal planning week of 10/15/17 – 10/21/17
I'm assuming here that you already have pantry basics like cooking oil, condiments, and spices, although there was room in the budget this week to add both soy sauce and Gochujang to your stash. 🙂 *** Read through the recipes before you shop to make sure you have the necessary pantry staples on hand. 
Six Easy Dinners from ALDI for $60.00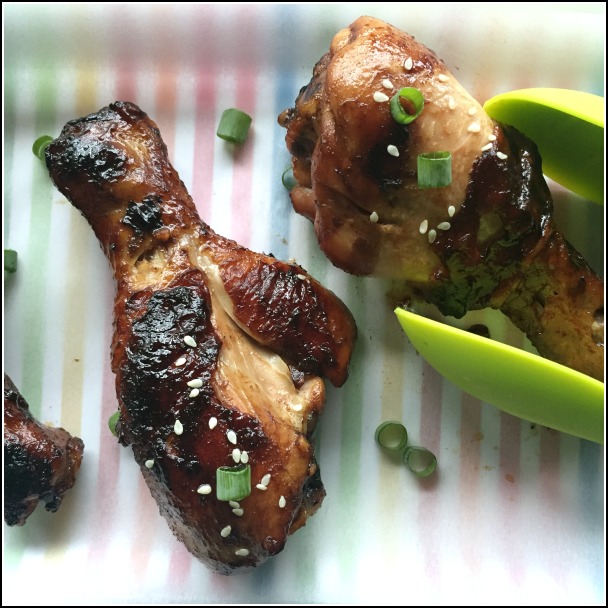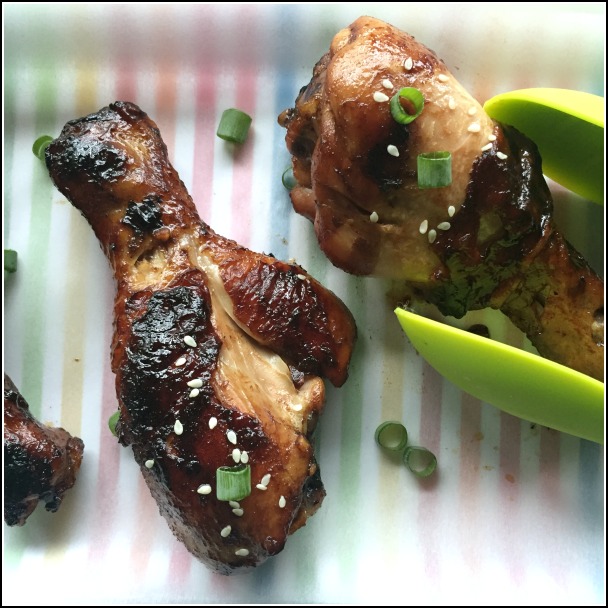 ALDI meal plan — Start cooking 10/15/17
*** NOTE: A couple of this week's recipes use Sriracha. I went to ALDI today, and my store had stocked specialty Asian sauces where the Sriracha used to be. If your store also doesn't carry Sriracha this week and you don't have any at home, substitute Gochujang from that special buy sauces section instead — it should work fine for the purpose of these recipes, and I've included it in this week's grocery list.
---
Sunday: Sticky balsamic chicken drumsticks with a side of rice (see above note about using Gochujang), plus kale & red onion (use half the bag of kale; reserve half for Weds., and stir the sauteed kale & red onion right on into the rice if you like). Tonight you'll want to make a double batch of balsamic drumsticks using 4 lbs of the chicken and shred the leftovers for Monday; also reserve 4 cups cooked rice for Monday's recipe.
Monday: Spicy chicken fried rice (omit sesame oil if you don't have on hand; use red onion instead of white). Have blackberries and pineapple on the side, plus Fusia egg rolls for a treat. 🙂
Tuesday: Baked dry rub chicken drumsticks, with sweet & spicy baked cauliflower and sliced honeycrisp apples on the side. Put the cauliflower in the oven about 20 minutes into the cooking time for the drumsticks, and substitute a little less honey if you don't have maple syrup on hand. Reserve 1/3-1/2 a head of cauliflower for Thursday, depending on size.
Wednesday: Harvest vegetable rice bowls. On the side, easy egg drop soup.
Thursday: Harvest veggie & sausage sheet pan dinner, honeycrisp apples, and garlic mini potatoes.
Friday: Spaghetti carbonara with mushrooms & peas. (Use 8 oz mushrooms instead of 16 oz; use all 12 oz bacon and the rest of your bag of frozen peas from Monday.) On the side: Open up that Caesar salad kit, and make garlic bread with the Italian bread.
Saturday: Leftovers, family pizza night (ALDI sells a nice big take-and-bake deli pizza), eat out, or date night.
ALDI shopping list — Shop through 10/14/17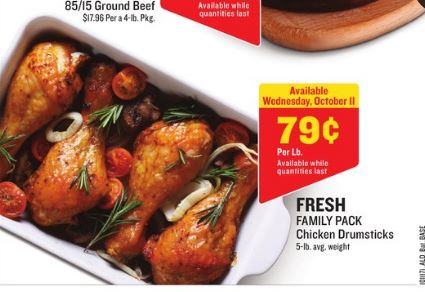 Dairy & refrigerated
Dozen Goldhen eggs, $.98
Priano shredded Parmesan, $1.99
Frozen
16 oz Season's Choice frozen peas, $.95
Fusia egg rolls, $2.49
Grocery
Cook House Gochujang, $2.39
Fusia soy sauce, $1.49
3 lbs Earthly Grains white rice, $1.29
Can Dakota's Pride chickpeas (garbanzo beans), $.65
16 oz SimplyNature organic spaghetti, $1.19
Box of SimplyNature organic chicken broth, $1.79
Specially Selected Italian bread, $1.69
Meat
6.5 lbs chicken drumsticks, $5.14
12 oz Appleton Farms center cut bacon, $4.59
12 oz Never Any chicken sausage, $2.99
Produce
Green onions, $.89
3 heads garlic, $1.19
2 lbs carrots, $1.19
2 lbs red onions, $2.19
2 acorn squash, $1.98
Two 8 oz white mushrooms, $2.98
8 oz baby bella mushrooms, $1.89
12 oz SimplyNature organic chopped kale, $3.49
Two heads cauliflower, $5.38
Blackberries, $1.39
Pineapple, $1.29
2 lb honeycrisp apples, $1.99
Little Salad Bar Caesar salad kit, $1.99
24 oz bag of bite size medley potatoes, $2.99
---
That comes to $60.45.
Or, maybe less… 🙂 These meals will likely run you even less if you supplement this week's ALDI purchases with clearance meat you already have in your freezer, pantry staples you picked up on sale, produce you already have on hand, and/or sale produce from your local produce market. Let me know if you give it a try!
Download this week's shopping list in Word format so that you can edit and add in your own meal ideas, remove items you already have on hand, change regional pricing to match your own store, etc. *** The day(s) next to each item show which meals use each ingredient, so that you can easily see what to delete from the shopping list if you're skipping a night.
---
Things to know about the ALDI meal plans
A couple of notes
I try not to repeat main dish recipes more often than once a month, but you will see favorite easy recipes come up again in these weekly ALDI meal plans as the same meats and produce items come up again on sale. Part of the fun of meal planning lies in mixing old stand-bys with something new each week.
If one or more of these recipes isn't to your taste, or if you have other ingredients to use, adapt the recipes in this ALDI meal plan to your family's preferences — or just use the ideas here to supplement your own meal planning.
Ad markets and dates
This week's ALDI meal plan reflects prices from the current week's ad (running 10/8-10/14 in Sunday ad markets and 10/11-10/17 in Wednesday ad markets). Non-advertised prices were collected on 10/11/17 at my local store in the Chicago suburbs, but non-advertised prices and produce deals *may vary* by location & region. In either ad market, shop any time through Saturday and start cooking on Sunday 10/15/17.
Stay in the loop
Subscribe above to receive email messages about new ALDI meal plans — no spam, and I'll never sell your info; just get email notifications about new plans!
Happy ALDI shopping and cooking this week, everyone!