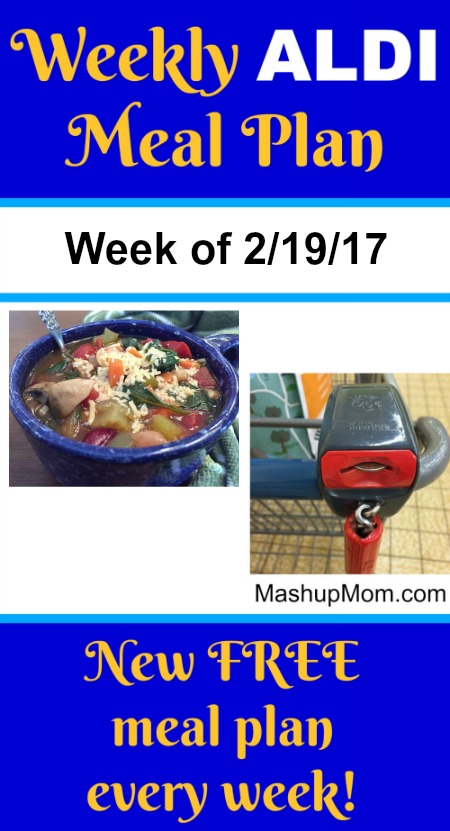 Here's your easy weekly ALDI meal plan for the week of 2/19/17: Pick up everything on the shopping list below, then start cooking on Sunday! Hope you find it useful.
Note: I try not to repeat the same recipes too often, but you will see favorite easy recipes come up again on these weekly ALDI meal plans as the same meats and produce items come up on sale again.
ALDI meal planning week of 2/19/17 – 2/25/17
Six complete dinners for a family of four for $60.00
Prices here are collected from this week's ad and my local store in the Chicago suburbs, but may vary by location & region. I'm assuming here that you already have pantry basics like olive oil and spices on hand.
Six Easy Dinners from ALDI for $60.00
Sunday: Lemon garlic roasted chicken with potatoes (adjust seasonings down for smaller bird, substitute additional rosemary & thyme if you don't have herbs de Provence, and start checking temperature at an hour). Chop half the broccoli into large florets, add in with the potatoes, and roast them along with the chicken for a one dish dinner. Serve with Cara Cara oranges.
Monday: Sausage & cheddar deep dish quiche. (Mince a small onion & a couple of garlic cloves. Saute onion, garlic, and 1/2 the roll of sausage, crumbling and breaking up sausage, until browned, then drain. Place sausage mixture in bottom of pie shell. Whisk together 6-7 eggs with 1 cup half & half, stir in 2 cups shredded cheddar and a little black pepper, paprika, & salt, then pour over sausage. Cover with foil and bake at 400 degrees for one hour or until set, removing foil for last 10-15 minutes. Allow to set a bit before slicing.) Sides: Skillet potatoes, sliced cantaloupe.
Tuesday: Ground beef tacos topped with diced avocado, cilantro, shredded cheese, and diced tomatoes. Sides: Simple black beans and garden salad topped with chopped tomatoes & carrots.
Wednesday: One pan paprika chicken drumsticks and rice. Sides: Saute a bag of spinach in a little olive oil with some minced garlic, a splash of lemon juice, black pepper, and crushed red pepper & steam the other half of the broccoli florets.
Thursday: Vegetable soup. (Substitute baby bella mushrooms for white. No Instant Pot? Use alternative stove top directions at the end.) Side: Salad topped with hard boiled eggs, chopped carrots, diced tomatoes, plus toasted Italian bread.
 Friday: Stuffed peppers (mix the rest of the breakfast sausage in with the ground beef, if desired) with leftover vegetable soup and Cara Cara oranges.
Saturday: Leftovers, or date night!
Shopping list
Dairy & refrigerated
Dozen Goldhen large eggs, $.79
12 oz shredded cheddar, $2.29
Friendly Farms quart half & half, $1.89
Frozen
Belmont 9″ deep dish pie crust, $1.69
Grocery
3 lbs Earthly Grains long grain white rice, $1.29
2 boxes vegetable broth, $2.78
2 eight oz cans tomato sauce, $.50
Can Happy Harvest fire roasted diced tomatoes, $.89
Can Dakota's Pride Cannellini beans, $.65
Can Dakota's Pride kidney beans, $.48
SimplyNature organic black beans, $.79
Tuscan Garden salad dressing of choice, $1.29
Casa Mamita taco seasoning, $.35
Casa Mamita taco shells, $.89
Specially Selected Italian bread, $1.69
Meat & seafood
3.5 lb chicken drumsticks, $2.42
2 lbs 80/20 ground beef, $5.58
4 lb Never Any whole chicken, $5.96
Appleton Farms breakfast sausage roll, $1.99
Produce
3 lb yellow onions, $1.49
3 heads garlic, $.99
8 oz baby bella mushrooms, $.99
Two 3-packs green bell peppers, $1.98
2 lb bag of lemons, $2.69
10 lb russet potatoes, $1.39
2 avocados, $1.38
8 oz jalapeños, $.59
2 lbs carrots, $.49
Celery, $1.19
Bag Italian salad, $1.49
Bag garden salad, $.69
2 bags spinach, $2.98
16 oz broccoli crowns, $1.49
Cilantro, $.69
16 oz Roma tomatoes, $1.19
Cantaloupe, $1.69
3 lbs cara Cara oranges, $2.99
---
That comes to $60.60.
You can adapt this ALDI meal plan
If one or more of these recipes aren't to your taste or if you have other ingredients to use up, just adapt this ALDI meal plan to your own family's preferences — or, use it to supplement your own meal planning for the week. These meals will likely run you even less if you supplement this week's ALDI purchases with clearance meat you already have in your freezer, produce you have on hand, and/or sale produce from your local produce market.
Let me know if you give it a try!
Subscribe above to receive a weekly email message about new ALDI meal plans — no spam, just one email a week with the new plan! 🙂
Browse all of the weekly ALDI meal plans here *** note: prices may have changed since originally posted.