ALDI Finds for the week of 10/26/22 include harvest chopping boards, box bags, stand mixers, nostalgic Christmas decor, crab cakes, and chai tea latte — plus so much more! Check them out below, and let me know what you want to Find this week.
Let's start with kitchen Finds this week, because there are just so many nice ones. First off: If you missed the beautiful Crofton harvest chopping blocks last year, they're back in this latest ad at $14.99 apiece. (Note: I had to oil/reseal mine to keep it looking nice from last year, but that's true of all of ALDI's wooden boards…)
And if you have ever been in the market for one of these children's kitchen helper learning towers, you know that they can be crazy pricy! Grab a SOHL kitchen helper for $89.99 this week, and let the little ones help you out safely.
For your kitchen or for your coffee bar, various Crofton stoneware containers are back at $13.99 apiece.
Another possibility for your coffee bar, or just to keep handy on a busy morning or for a mid-afternoon pickup: This Ambiano single-serve coffee maker runs $29.99. More coffee? Well, you can also look for a Crofton French press, at $16.99.
Also back, Crofton silicone mini utensils, $1.99 each. Good for your kids, or for you — I really like my own mini basting brush, and use it all the time because it's easier for my little hands to maneuver than the full-sized ones.) Other handy kitchen Finds this week include:
Crofton rubber grip sports bottle, $9.99
Huntington Home 20″x39″ comfort kitchen mat, $12.99
Huntington Home pantry organizer with labels, $8.99
Huntington Home kitchen drawer organizer, $9.99
Ambiano classic stand mixer, $69.99
Crofton to go assortment pack, $8.99
Crofton 10″ cast iron skillet, $9.99
Crofton cast iron 6 quart Dutch oven, $34.99
Crofton 2 quart tea kettle, $17.99
Crofton stoneware pitcher, $14.99
Crofton acacia wood + marble lazy Susan, $16.99
Crofton baking accessories, $6.69
Crofton rotating lock containers, $7.99
Crofton 3-piece cookie sheet set, $12.99
Crofton cooling rack set, $9.99
Huntington Home adult + child apron set, $12.99
Both advertised and unadvertised ALDI prices can vary by store and by region. Here are more of the top ALDI Finds for the week of 10/26/22. (You may also Find some on 10/23/22 in Sunday ad markets, or if your store tends to put products out early.)
Top ALDI Finds this week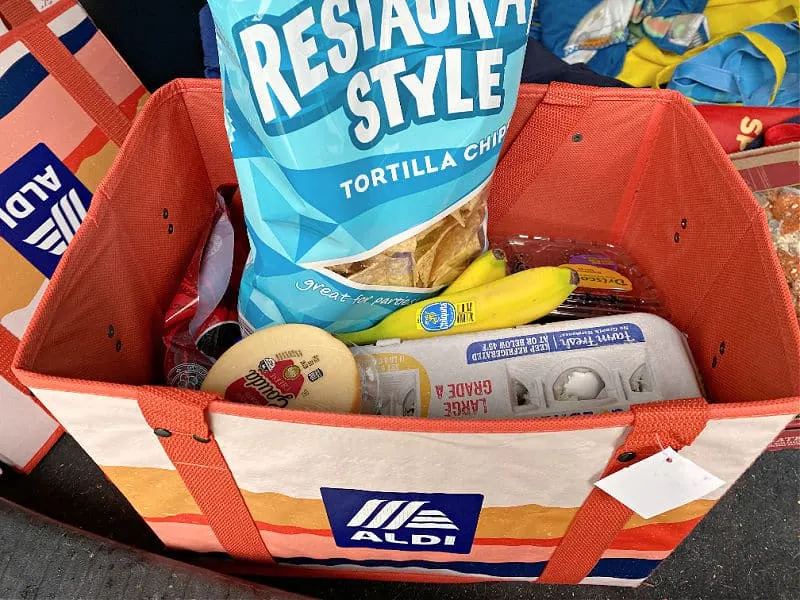 Hey! ALDI's most handiest of box bags are back again this week. I liked mine from last year (pictured above) so much that it made it into my top 5 Fave Finds of 2021, and actually picked up another couple the last go-round. You'll see two different designs this time (both blue and ALDI-themed), at $5.99 apiece.
Beyond the kitchen, here are twenty more top food Finds and thirty non-Food Finds for you, as well as new ALDI candles and a few more seasonal Finds to look for. All of these Finds (other than the seasonal ones) are for the week of 10/26/22.
Twenty new ALDI food Finds this week
So, what new tasty treats does ALDI have in store for us this week? Look for:
Barissimo 12 oz Honduras fair trade organic whole bean coffee, $5.99
Benner premium green teas 20 ct, $2.29
PurAqua flavored water juice boxes, $1.99
Simply Nature organic chai tea latte, $2.99
Bake Shop pumpkin donuts, $3.99
Bake Shop pumpkin pecan bundt cake, $4.49
Bake Shop orange cranberry or blueberry scones, $3.69
L'Oven Fresh keto friendly cinnamon or blueberry bread, $4.29
Mama Cozzi's buffalo chicken mac & cheese deli pizza, $3.99
Breakfast Best egg & cheese or sausage & cheese breakfast pitas, $5.99
Breakfast Best protein cinnamon French toast sticks, $4.49
De Wafelbakkers mini buttermilk pancakes 60 ct, $3.14
Earth Grown vegetable pot stickers, $5.49
Fremont Fish Market value pack crab cakes, $4.99
Mama Cozzi's Tuscan chicken or Mediterranean flatbread pizza, $5.49
Season's Choice cherry berry or pineapple greens keto blends, $7.49
Specially Selected bacon wrapped shrimp, $8.99
Specially Selected 1 lb fresh Waygu 75% lean ground beef, $5.99
Simply Nature coconut-avocado or coconut cooking spray, $3.99
Specially Selected apple pie spice or salted caramel maple syrup, $5.99
Yeah, this week's ad is all about holiday decorating and baking, but at least we get a few new foods…
Like, how about some little scones to go with your new coffee or chai tea…
You'll find this heat-and-serve white cheddar mac & cheese in the deli department, and it looks like a nice & easy side.
Back this week: 12 grams of protein in these French toast sticks, which microwave up in just a minute for a quick and easy breakfast.
The Fremont Fish Market crab cakes value pack is back this week as well — I reviewed these a while back, so see my thoughts here.
And, bacon-wrapped shrimp are back for your holiday gatherings — or, just for you, we don't judge around here.
And of course another week, another new pizza… or three! Mediterranean flatbread looks pretty good, doesn't it?
Thirty ALDI non-food Finds this week
Now that your kitchen is well stocked, let's move on to the rest of this week's non-food Finds — including some so-very-early-this-year holiday decor! Look for:
Merry Moments LED nostalgic tree or gnome, $19.99
Merry Moments LED holiday figurine or gingerbread house, $14.99
Merry Moments ornament wreath or tree, $14.99
Merry Moments 2′ LED tabletop tree, $8.99
Merry Moments LED nostalgic truck, tree, or gnome, $12.99
Merry Moments premium ribbon or wreath bow, $4.99
Merry Moments holiday mini wreath, $8.99
Christmas cookie jar or cake stand, $19.99
Crofton holiday coffee mug set, $9.99
Huntington Home ceramic coin bank, $8.99
SOHL rectangular storage ottoman, $24.99
Little Journey large retractable gate, $39.99
SOHL wood bench, $79.99
Huntington Home chunky knit basket, $19.99
Gardenline 1200 watt portable patio heater, $69.99
5″ exotic plant, $11.49
Adult winter boots, $27.99; Lily & Dan children's winter boots, $14.99
Adventuridge adult puffer jacket, $22.99
Crane adult touchscreen gloves, $7.99
Lily & Dan children's winter gloves or mittens, $5.99
Lily & Dan children's snow or ski socks, $4.99
Lily & Dan children's snow pants, $12.99
Serra XL vented or inverted umbrella, $9.99
Little Journey children's toilet seat or step stool, $5.99
Bee Happy wooden food play set, $9.99
Easy Home fox or sheep cool mist humidifier, $39.99
Pembrook all occasion cards, $1.49
Auto XS car or SUV cover, $19.99
Lily & Dan reusable snack or sandwich bags, $4.99
Huntington Home 2-in-1 steam mop, $49.99
Make a point of grabbing your little ceramic trees and decor early; they sold out pretty quickly last year.
And, I mean: Claus or gnome mugs? How cute for hot cocoa, don't you think?
The greeting cards have gone up to $1.49 recently (from their former $.99), but are still a nice size and quality for the price.
And the children's snow boots are a good price; grab them now while available, even though it's a bit early some places.
New ALDI candles
Hey, I have one of these Huntington Home coffee candles from ALDI a while back — and it smells sooo good that I actually don't want to burn it. Four varieties on sale in this week's ad, at $7.99 each.
My own coffee candle actually lives now on the DIY coffee bar we put together a few months ago (peek on the upper right…), and it works just perfectly up there!
Speaking of candles, also look for Huntington Home milk jug candles, at $4.99 apiece, as well as a Huntington Home merry & bright glass jar candle for $6.99.
New seasonal Finds out in stores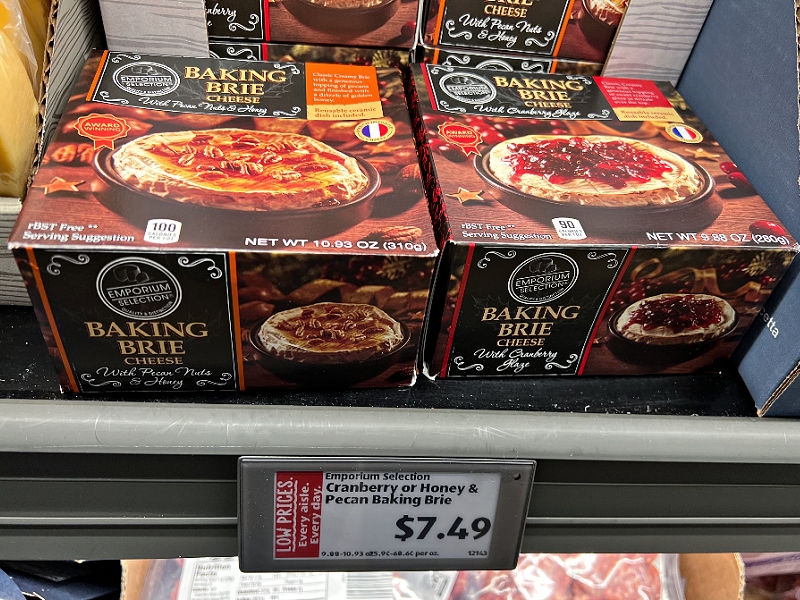 Let's round things out this week with some longer-lived special buys: Keep looking for new (and delicious) seasonal finds, such as Emporium Selection cranberry or honey pecan baking brie at $7.49.
And check that charcuterie endcap for Specially Selected cheese crisps, at $3.39 this year. Other seasonal Finds I spotted this week include:
Specially Selected hand-finished dessert bars, $2.99
Specially Selected mission figs, $2.39
Specially Selected cornichons, $2.99
Specially Selected chocolate sea salt cashews, $4.29
Specially Selected charcuterie trio salami, $9.89
Specially Selected infused olive oil, $3.29
Try using those Mission figs in making these easy-peasy figgy Parmesan cheese crisps.
See previous ALDI Finds roundups for additional seasonal Finds I've spotted in store lately, and check out ALDI's fall seasonal products page for much, much more. Note that prices may vary by region.
What's Up with ALDI Finds
What's up with ALDI Finds? These are limited time special buy items, and are available in stores only while supplies last. If you spot something you like, be sure to pick it up while you can. See also: What is the ALDI Aisle of Shame?
Before shopping for new Finds this week, you might also wish to visit the ALDI Finds product delays page. Because of ongoing shipping delays and materials shortages affecting ALDI and many other retailers, certain advertised products may not be available in all locations.
Finding the Finds
Where do you Find all of this week's special buys?
Check out the "ALDI Finds" and current weekly ad tabs (or mobile menu choices) on the ALDI site to window shop from home.
Products mentioned in this post were either spotted in store or are from the ad starting 10/23/22 in Sunday ad markets, 10/26/22 in Wednesday ad markets. What caught your eye among this week's ALDI Finds?