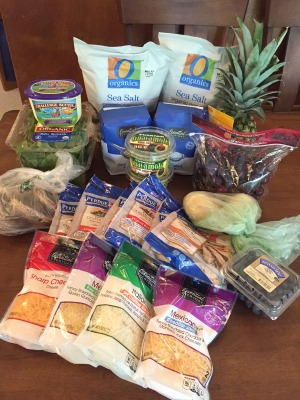 So I went to Jewel this morning. It was of course a zoo with the overlapping one day and four day sales, but that's to be expected. But things weren't ringing up right, coupons weren't scanning (the Yucatan one from yesterday scanned expired even though it's good through 7/14), and I have to go back to get my buck back on popcorn now.
The $.98 pineapple scanned at $1.98, so that required override.
The Challenge butter was tagged $3.00 but rang $4.29. (I got back the difference at customer service.)
The O Organics popcorn rang up 2/$4.00 rather than the advertised 2/$3.00, so I'll get back that $1.00 next time I go in.
None of the Perdue coupons would scan, and the Yucatan one scanned in as expired.
So that took a while… lol. Then I came home and ate some cherries, only to find a little cluster of moldy ones hiding in the middle of the bag. Grr.
What I bought today
2 Essential Everyday sugar, $1.96. Then a random $.98 MyMixx coupon came off — was there a $1.00 coupon for EE sugar on there at some point, and it just auto-adjusted down on me?
2 O Organics popcorn, $4.00. (Should have been $3.00.) Use $1.00/2 MyMixx coupon.
4 Essential Everyday cheese, $3.92. Got $.20 back on Ibotta.
Challenge Butter, $3.00. (See note above on it ringing $4.29.) Used $1.00/1 MyMixx coupon and got $.75 back on Ibotta.
6 Perdue Short Cuts, $13.47. Used six $1.25/1 printables. (Oh gosh, and $1.25 also came off on MyMixx that I didn't realize; I didn't do that on purpose.) Print $1.25/1 Short Cuts here (ZIP 77477).
Pineapple, $.98. (See above note, price adjusted to ad price.)
Blueberries, $1.25.
Cherries, $4.74. Got back on Ibotta.
2 Earthbound Farm organic salads, $3.00. Used $1.00/2 printable. Got $.20 back on spinach on Ibotta.
Vidalia onions, $.78. Got $.20 back on Ibotta.
Portobello mushroom caps, $2.00.
2 Yucatan guacamole, BOGO at $6.49. Used $2.50/1 printable. (Pick any recipe here and scroll down to the bottom to find a link for a $2.50/1 coupon; limit one per visit.)
Paid $30.14 with $1.55 back, and will get another $1.00 back on my next visit for the ring error on the popcorn = net $27.59.
Don't you miss the days when they used to give you the item for free if it scanned wrong?