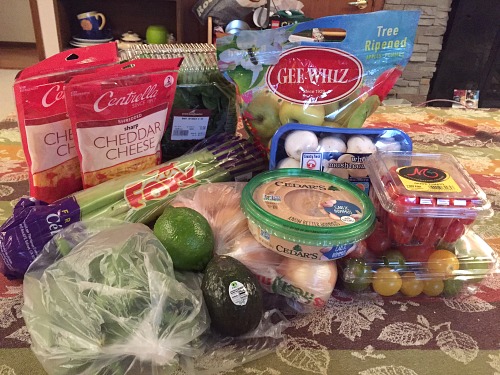 Was everyone in the entire world out shopping today?! I went to CVS, ALDI, and Pete's Market in a little line down Roosevelt Road this afternoon, and then felt like I had to come home and hibernate because all three stores were completely mobbed. At Pete's I spent $15.55 on the above — and this $.99 bag of "tree ripened apples" seems to be Golden Delicious, although it doesn't say so anywhere on the bag. I'm intrigued by the colorful mini heirloom tomatoes, too, so impulse bought those for $1.49.
At ALDI I spent $10.14 — and yes, that's the Notorious BKL nosing her way into the tortillas — which were still warm because the El Milagro truck was just pulling out as I got there! That's always the best, lol. My CVS was totally wiped out of milk, but so were we, so I reluctantly picked it up at ALDI for $2.38.
I'm thinking I might try my hand at making yogurt in the Instant Pot, too, so picked up a little plain Greek yogurt for a starter. Any tips on this?
And at CVS, where I still coupon, four Tide and three small Crest Pro-Health + 3D White toothpastes totaled net $8.12 on their spend $30 get $10 ECB back deal (after four $2.00/1 Tide and three $2.00/1 Crest coupons from the 1/1 PG insert). So, $34.81 for everything — and this is exactly why I shop at ALDI and Pete's for produce, but at CVS for household goods & toiletries!