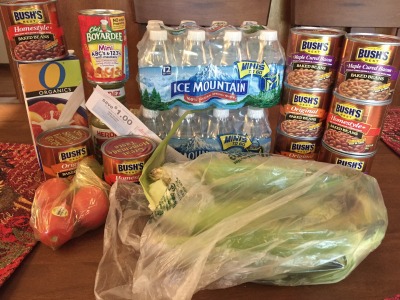 I went to Jewel this morning looking for the advertised $7.99/lb sockeye salmon. My Jewel of course had none — as they also had none on the last sockeye salmon sale, or the one before that. What's the definition of insanity, something like doing the same thing over and over and expecting a different result? lol — so, my NEW if somewhat less healthy meal plan for tomorrow is cheap corned beef in the slow cooker ($1.99/lb for points at Ultra Foods and another extra stop later…). Tonight I'm going to cook up this corn to have with our portobello mushroom pizzas, and maybe some $.88 salad. (Also from Ultra. Oh wait, it was actually net $.63 after Jewel Big Book coupon + Snap app rebate.)
Nine cans Bush's baked beans, $8.93. Used three $1.00/3 from the 4/12 SS.
O Organics soy milk, free with coupon that appeared randomly on my door last week.
Herdez salsa verde, $2.50. Used $.50/1 printable here.
Chef Boyardee, free with coupon from the Monopoly game.
Two 12 pack 8 oz Ice Mountain, $3.33. Used $.75/2 in the 3/8 RP.
Organic Roma tomatoes, $.52. Will get back $.25 from Ibotta and $.25 from Snap Groupon.
4 ears of corn, $1.00.
Paid $12.29 and got back a $1.00 Catalina from Ice Mountain + $.50 back from Ibotta & Snap for a net cost of $10.79.