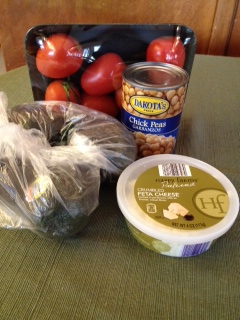 Who else didn't go to Jewel today? I know, some couponer I am, lol — but I looked and looked and looked at the offers, realized I didn't need Pantene OR Febreze, and wasn't in the mood to buy stuff just to buy stuff. So instead, I went to ALDI for cheap avocados… Is it weird to be more excited by cheap avocados than free Febreze candles?

ALDI shopping
4 avocados for $1.96, feta crumbles for $1.99, chickpeas for $.65, and tomatoes for $.99 = $5.69.
Gonna make guacamole and another batch of Roasted Chickpeas!