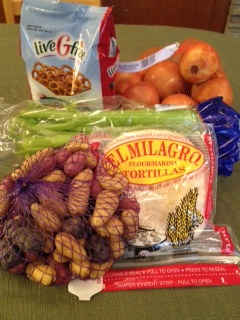 You may have noticed that the Black Friday week madness has… kicked up a notch. But we still gotta eat! Yesterday I made a big pot of soup and overnight in the crock pot went the old standby salsa chicken, so popped by ALDI for tortillas and a couple other things. We should have leftover soup for lunch, salsa chicken leftovers for tomorrow and that's as far as I've gotten.

Celery, $.79.
Onions, $.79. Will get back $.25 on Snap by Groupon.
Fingerling potatoes, $1.49. (There are also potatoes offers on Snap and C51, but I used both already.)
Tortillas, $.85.
Gluten free pretzels, $2.49.
Paid $6.52 and will get $.25 back for a net cost of $6.27.
Picked up the sneak peek ad and they will have silicone baking mats for $4.99 starting Wed., plus some other nice looking kitchen deals!