I wasn't planning on shopping at all today, but attended a fun little "Reader's Theater" play at Mr. 7's school… so since I was out and about near ALDI anyway, thought I'd grab some more $.49 avocados before the sale ended. The Villa Park ALDI on Roosevelt had all their spiral hams $5.00 off today only, and had cranberries down to just $.49.
They also had this new "Nature Raised Farms" chicken — no antibiotics, vegetarian diet, cage free, all natural. Whole chickens for $1.49/lb, and boneless skinless… something like $4.49/lb? I don't remember exactly.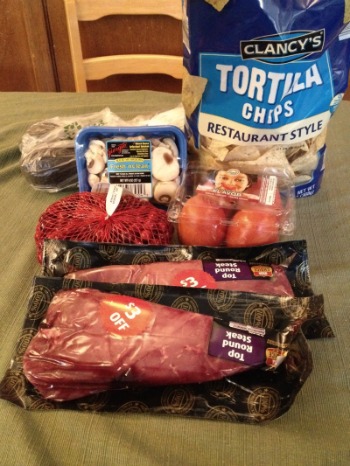 But I didn't buy one, since I actually have the Gold 'n Plump chicken I bought at Target yesterday roasting in the oven as I type, lol. I did, however, buy two packs of top round steak with $3.00 off stickers, and am thinking maybe fajitas. (And I bought tortilla chips, went to put them away, and found an unopened bag already in there… oh well, they'll keep!)
5 avocados, $2.45.
Tortilla chips, $1.19.
Mushrooms, $.99.
Tomatoes, $1.29.
Cranberries, $.49.
Clearance choice top round steak, $2.14.
Clearance choice top round steak, $2.39.
Paid $11.13.