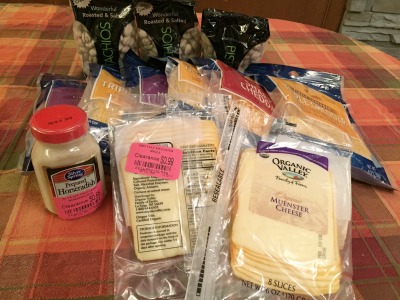 On the way back from Jewel today I also stopped at the Lombard Ultra Foods and they had a bunch of dairy clearance going. For instance:
Silver Springs horseradish, $.65.
Organic Valley 6 oz Muenster slices, $.99.
Four pack strawberry Dannon Oikos yogurt, $1.50.
Single Stonyfield Greek honey yogurt, $.39.
Single caramel something Yoplait, $.39.
Fat Free Breakstone's sour cream, $.49.
Bailey's creamer, $.99.
Queso Fresco, $1.50.
Plus little tubs of chicken livers, all around $2.00 each w/ $1.00 off stickers on them. Dozen Dutch Farms eggs were $1.49. But I just bought:
2 packs clearance Organic Valley Muenster, $1.98.
6 Kraft shredded cheese, $11.88. Used three $1.00/2 printables (no longer available).
3 bags Wonderful pistachios, $11.97. Used three $.50/1 from the 12/7 SS and will get back $7.50 from Snap Groupon and $.75 from Shopmium (use code GMEFHHTP on signup to unlock a welcome offer for 100% back on a Lindt bar).
Horseradish, $.65.
Paid $22.39 and will get back $8.25 for a net cost of $14.14.