So I went to Ultra Foods to pick up my free Redbox rental, and … spent $20 on groceries, but tried two new things with coupons! Over by the deli two of the bags of The Better Chip had "try me free" coupons taped to the front, so I took one and left the other for some other lucky person to find. The chipotle kind is very spicy. Good, but spicy, so I'm going to try some with guacamole later to balance that out.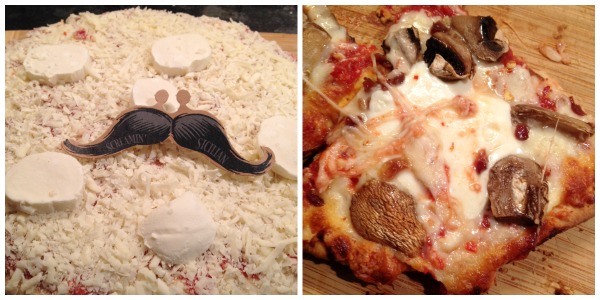 I also picked up Screamin' Sicilian pizza for the first time (punch out mustache on the back of the box, lol). It was pretty good — I added some mushrooms and stuff, cooked one up, and had a couple of pieces for lunch. The crust is very good for a frozen pizza, and it has lots of cheese.
So here's what I bought — hmm, this is not a shopping trip o' health, but I already bought produce etc. at Pete's & ALDI a few days ago.

Dole OJ, $1.88.
Oasis hummus, $.98 with store coupon that came in the mail.
Better Chips, $2.99. Used FREE coupon on package.
2 Screamin' Sicilian pizzas, $8.88 after instant savings when you buy two. Fill out this form for a $2.00/1 printable coupon (ZIP 60126), so used two of those.
4 Sargento shredded cheese, $8.00. Used two $.50/2 from the 11/9 SS.
Mushrooms, $1.50.
Corn King lower sodium bacon, $2.99.
Got $.10 off for bringing two bags and paid $19.62.