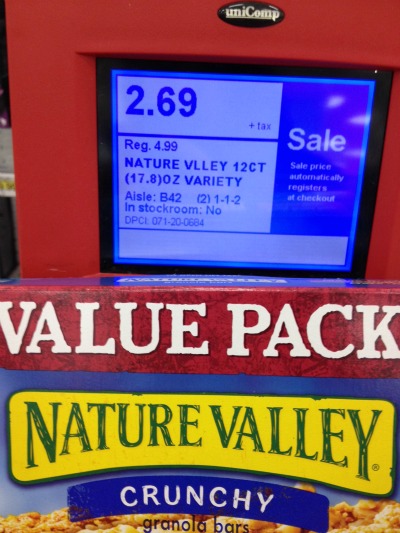 So Jennifer emailed this morning to say that in addition to the advertised $2.69 sale on 10 ct boxes Nature Valley, the 24 ct value pack boxes are also ringing $2.69. (It shows 12 on the screen, but it's the one with 12 packs, 2 bars in each.) If you have the $1.25/1 printable from earlier this month (NLA), use here and stack with the $1.00/2 Target coupon in the 3/2 SS to get the big boxes for $.94 each. If not, stack with $.50/1 in the 1/26 SS or the $.50/2 printable here.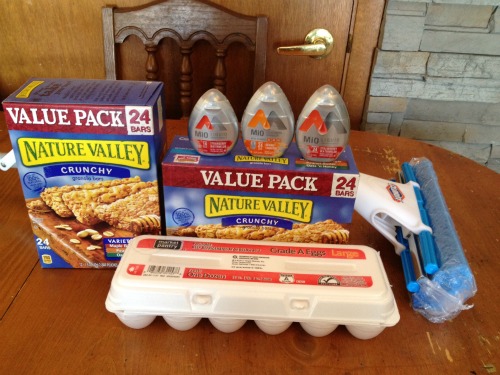 Secondly — I bought 3 MiO for the gift card deal. First, MiO was tagged $3.84 at my store, only some varieties of Crystal Light were $3.49. Then, one of my MiO rang up $2.79 and the gift card didn't trigger — so my very nice cashier took $5.00 off my order instead. So I get home and find: Which of these things is not like the other? Yeah. One MiO is tiiiny and makes 16 servings instead of 24 — I pulled them off the same display, and didn't even know they made a smaller size! So heads up there to watch the sizes on these.
Mop, $13.99.
3 MiO, $3.84, $3.84, $2.79. Used three $1.00/1 from the 3/9 SS.
2 Nature Valley value packs, $5.38. Used two $1.25/1 printables (no longer available) and the $1.00/2 Target coupon from the 3/2 SS.
Dozen Market Pantry eggs, $1.99. Used $.50 off eggs mobile coupon (text OFFERS or THANKS to 827438) and 5% off on Cartwheel, which dropped them to $1.41.
Got $.05 off for bringing my own bag. She took $5.00 off for the MiO non-gift card. Paid $20.72 — $5.00 with a Target gift card and $15.72 in cash.