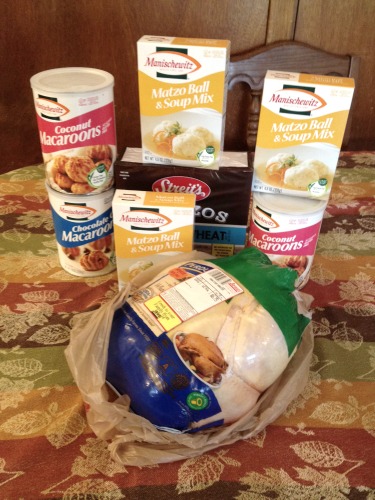 I had about half an hour to kill today while I was out, so decided to wander around Jewel and see what was on clearance. Passover stuff, apparently! And this big fat Perdue oven stuffer roaster, on manager's special at $.79/lb — "sell by" 4/25, so guess what's for dinner Friday night?
Matzos, $.75.
3 Manischewitz Matzo Ball Soup Mix, $1.95.
3 Manischewitz macaroons, $2.97.
Perdue oven stuffer roaster, $6.75.
Paid $12.64.
Food allergies? Check out Passover clearance! For instance: Manischewitz macaroons are both gluten free and Pareve, which means they are also dairy free — even these chocolate chip ones that I found. At $.99 a can (originally a crazy $5.29), I picked up three containers for Junior High Guy today. (I just noticed my graphic may be misleading. Pareve does NOT mean gluten free, but these macaroons are both Pareve AND gluten free.

)