This morning I stopped by Jewel looking for more portobellos on the last day of the sale — they had about five really yucky ones left, so I passed. I did, however, see a bunch of $1.00 clearance gefilte fish at the Lombard store (and dates are wayyyyy out there, so no worries) — and also found a $1.50 OYNO Catalina someone left sticking out of the machine at self checkout, so the trip wasn't a total loss. Bought two gefilte fish for MashupDad ($2.00), 2 ears corn ($.25), 100 sq ft Glad wrap ($1.99 & used $1.00/1 from the 5/3 SS1 and got $1.00 back on Ibotta). Used the $1.50 Catalina I found to pay $1.94 with $1.00 back for a net cost of $.94.
Then I decided to head down the road to the Villa Park ALDI for the last day of cheap blueberries. Turns out they didn't get any in, because that's how my day is going, lol. They did have a bunch of 40 oz peanut butter on clearance for $1.99, but I passed because I'm working on this healthier eating thing and it was full of sugar and hydrogenated oils and such. There, I bought organic popcorn ($1.79), clearance 16 oz cotija ($1.99), avocado ($.79), clearance olives ($1.25) = $5.92.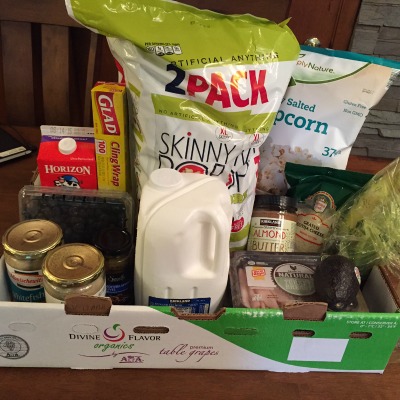 So then I said the heck with it and drove a little further down the road to Costco, where I found 2 lbs of blueberries for $6.49. OK, then! Costco:
Milk, $2.45. Got $.20 back on Ibotta.
2 lbs Oscar Mayer Selects lunch meat, $7.99.
Almond butter, $10.79.
2 lbs blueberries, $6.49.
Organic half & half, $5.99.
Skinny Pop, $6.59.
Spent $41.01 with $.20 back for a net cost of $40.81. Net cost for the day: $47.67 — and a horribly inefficient way to shop, but it's always fun to browse around Costco.
Taste Test To Come
Later on I'll do a taste test of Skinny Pop vs. SimplyNature. They both contain just popcorn, oil, and salt, while 18 oz Skinny Pop runs $6.59 at Costco, or 36.6 cents per oz. The 6 oz bag of SimplyNature cost $1.79 at ALDI, or 29.8 cents per oz. Both are non-GMO and gluten free, but the ALDI brand is also organic.