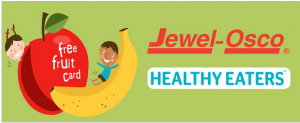 Just a reminder on this one: Be sure to stop at customer service and grab a "Healthy Eaters" free fruit card for any of your kids 12 and under — they can use it to pick a free banana or small Red Delicious apple on every visit through 12/31/14.
Pick up your Free Fruit Card at your local Jewel-Osco! Bring the card in every time you shop for (1) free banana or (1) small red delicious apple. Valid until 12/31/14. Child must be 12 years of ago or younger and accompanied by parent/legal guardian. Valid only at participating Jewel-Osco locations. Customer is responsible for any applicable sales tax.
I've never actually had them charge tax, since it rings in as a store coupon. I also have never found a store that carries "small" Red Delicious apples, but the regular ones work just fine — and Mr. 7 loves going to Jewel and picking out the biggest, reddest apple he can find, lol.