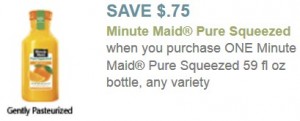 Yesterday I told you about this new $.75/1 Minute Maid Pure Squeezed coupon, which is still available!
Today we also have a new Ibotta offer for $1.00 back on Minute Maid Pure Squeezed — at a quick glance it looks like it's available in Chicagoland at Meijer, Jewel, and Mariano's. Hurry, I just looked at Jewel and it's only good through tomorrow 11/26.
So if you're in the OJ-buying mood, that is a total of $1.75 off one bottle after coupon + Ibotta rebate.