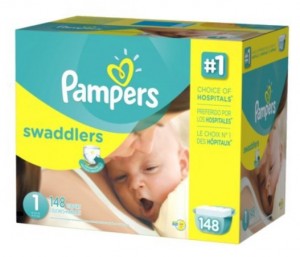 Here is yet another awesome deal using our $10/$40 when you purchase online and pick up in store Target offer this week! Thanks to Nancy M for spotting this one. Select Pampers Giant Pack diapers are offering a $20 Target gift card when you buy two:
All of these make for a good deal, but Baby Dry will be cheapest:
Size 3 Baby Dry giant packs have 144 diapers, so that works out to 11.8 cents a diaper. The up & up diapers deal works out to 10.6 cents a diaper when you buy size three, so it's only a penny more per diaper for the brand name — plus, save even more if you pay with REDcard.
Other Target instant savings deals this week