Head over to Target printable coupons and print yourself a $2.00 off select woman's sandals, including flip flops. Starting Sunday 5/19, select women's flip flips are going on sale for: $2.00! So print now to score free flip flops starting Sunday.
(Thanks, Totally Target)

Target's daily deal is for a Mossimo Supply Co. juniors tiered dress for only $10. Shipping is free!
Choose from 8 different colors.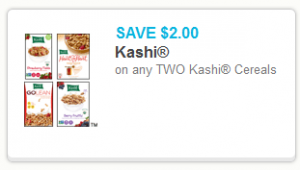 So we have this handy $2.00/2 Kashi cereals coupon.
Then we have this 10% off Kashi cereal on the new Target hot mess which is Cartwheel. Maybe it's just me, but I find this unnecessarily clunky and not amusing, lol — anyway, you go to Facebook, allow the app, load up to 15 offers (when you are in the "cards," search "kashi" to find this cereal one), then redeem them on your smartphone in store. You are supposed to be able to stack these with both manufacturer and Target store coupons, so we should see more good deals.
So, after you print your coupon and load your offer, Kashi Berry Fruitful cereal is reportedly on an unadvertised sale at $2.28. Get 10% off with Cartwheel = $2.06. Use the $2.00/2 coupon = $1.06 a box.
(Thanks, Give Me Neither)

Target has a T-Shirt dress available in 4 different colors for $12 shipped. This is normally $19.99, quite a good deal today!
Here are some Target deals and matchups from today's ad:

Target's daily deal of for a Gaiam ergonomic ball chair in one of 4 colors for $64. Shipping is free. These chairs are good if you are worried about the effects of sitting in a chair for too long every day.
This exercise ball office chair makes your body move constantly to enhance blood circulation and reduce feelings of fatigue. This fitness ball chair corrects your spinal alignment, releases tension in the spine and reduces nerve compression.
All that from a chair! But seriously, I know of a handful of bloggers who have this chair and swear by it. I think I get it, I mean it looks fun!
Update! You can also get this chair for the same price on Amazon today — black only, though, as the colors will run you more. Gaiam Balance Ball Chair (Black)
, $64.00 with free shipping — and the reviews look overall very good.
We have a couple of new Brita coupons today:
Brita Bottles for Kids should run about $7.89 (prices as always can vary by store) — so just $1.89 after both coupons!
(Thanks, Couponing for 4)
We already talked about the Gerber Good Start deal starting at Ultra tomorrow (see top deals here) — but if you don't have an Ultra, here's an even better one at Target you can do instead!
Your coupons
Your prices
Temporary price cuts can vary by store and region, so check prices at your own store.
Gerber Good Start Soothe 23.2 oz, $21.69.
Gerber Good Start Protect 23.2 oz, $16.99.
Your deals
Buy Gerber Good Start Soothe for $21.69. Use the 25% off Target coupon = $16.27. Use the $2.25/1 manufacturer coupon and pay $14.02!
Buy Gerber Good Start Protect for $16.99. Use the 25% off Target coupon = $12.75! (If your store lets you use two Target coupons in one order, use two 25% off Target coupons, and buy two for $25.50 minus the $3.25/2 printable = $22.25 for two, or $11.13 each.)
(Thanks, Totally Target)
Put in ZIP 77477 here and then reload the page to find $1.00/1 evenflo product. Single bottles and bowls reportedly run $1.18 at Target, so just $.18 after coupon! Let me know if you spot deals elsewhere, too.

(Thanks, The Shopper's Apprentice)
Here's a deal letsshop sent over, that she saw on Hip 2 Save:
Bengay ultra strength 2 oz cream is $4.89 at Target, buy 2 get a $5.00 Target gift card. So:
Buy two for $9.78.
Use a $3.00/1 from the 5/5 SS and a $2.00/1 printable here = $4.78.
Get back a $5.00 gift card for a little money maker.
Note — the reason I am not saying to use two $3.00 coupons is because this, like all Johnson & Johnson coupons, says "limit one per person."