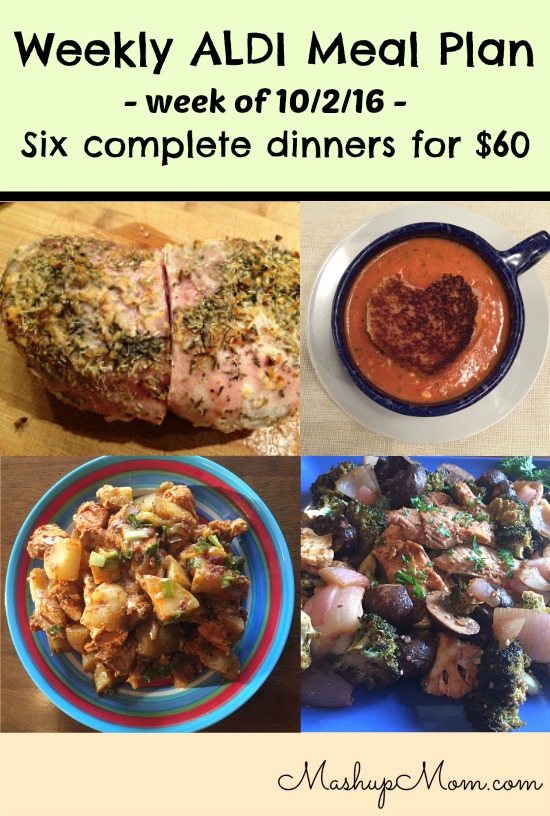 How about an easy ALDI meal plan for the week of 10/2/16? Pick up everything on the shopping list below by Saturday, then start cooking on Sunday! Hope you find it useful. 🙂
ALDI meal plan week of 10/2/16 – 10/8/16

Six complete dinners for a family of four for $60.00
Note: Prices here are collected from this week's ad and my local store, but may vary by location. I'm assuming here that you already have pantry basics like olive oil and spices on hand.
Six Easy Dinners from ALDI for $60.00
Sunday: Pork sirloin roast & potatoes. Make with half the bag of Yukon Gold potatoes (diced smaller than in my original recipe so they cook through better) & simple roasted butternut squash on the side. Just peel, seed, & cube the squash & toss with olive oil & seasonings of choice — salt & pepper if you want it plain, smoked paprika & garlic are also nice, or nutmeg & butter if you prefer sweet to savory — then roast on a rimmed greased cookie sheet at 375 degrees for 45 minutes. Start the pork roast & potatoes first, then start your cookie sheet of squash on your other oven rack a little less than halfway through the cooking time for the roast, and everything should be done around the same time.
Monday: Creamy tomato hummus soup & grilled cheese sandwiches. Side: Italian salad with ranch dressing, topped with diced tomato & onion.
Tuesday: Slow Cooker Salsa Chicken (use one pack of chicken & add drained black beans & corn), served in corn tortillas with one pack guacamole, diced tomatoes, half the can of olives, sliced, & sour cream. Sides: Grapes, apple slices.
Wednesday: Taco salad, made with the leftover salsa chicken over garden salad & blue corn tortilla chips. Serve with second pack of guacamole, diced tomato & onion, sliced olives, sour cream, & ranch dressing. Sides: Grapes, apple slices.
Thursday: Slow Cooker Buffalo Ranch chicken potato casserole (use 1/2 pack of chicken & other half of the potatoes). Sides: Steamed cauliflower & broccoli (use half of each pack), apple slices.
Friday: Easy One Pan Sriracha Chicken & veggies (use the other half of the chicken from Thursday, the other half of your broccoli & cauliflower, & yellow onion instead of red). Note: ALDI does not carry sesame oil — just a little bit adds a nice flavor & is a great product to have on hand for a lot of recipes, but feel free to leave out if you don't have in your pantry.

Saturday: Leftovers — or date night :)!
Shopping list
Dairy
Brick cream cheese, $1.29
10 oz hummus, $1.99.
32 oz shredded cheddar cheese, $5.99.
16 oz sour cream, $1.19.
Two pack guacamole, $2.99.
Grocery
28 oz can Happy Harvest crushed tomatoes, $.79.
32 oz box SimplyNature vegetable broth, $1.79.
L'Oven Fresh 100% whole wheat bread, $1.39.
Casa Mamita salsa, $1.49.
Packet Casa Mamita taco seasoning, $.35.
Pack of El Milagro corn tortillas, $.33.
SimplyNature organic black beans, $.79.
Can of corn, $.48.
Can of black olives, $1.29.
SimplyNature blue corn tortilla chips, $1.69.
Burman's hot sauce, $.85.
Tuscan Garden ranch dressing, $.99.
Tuscan Garden bacon bits, $1.29.
Fusia Sriracha, $1.99.
Meat — Note, these are both meat special buys through Tuesday 10/4 in the Chicago area

Two 3 lb packs boneless skinless chicken thighs, $7.74.
2 lb pork sirloin roast, $3.98.
Produce
2 lb red grapes, $1.58.
3 lb Gala apples, $1.69.
3 lb bag yellow onions, $1.69.
Bag garden salad, $.99.
Bag Italian salad, $1.99.
16 oz Roma tomatoes, $1.09.
3 lb petite yellow potatoes, $2.99.
Green onions, $.99.
1 lb broccoli, $1.49.
Head cauliflower, $2.49.
8 oz baby bella mushrooms, $1.69.
Michigan butternut squash, $.89.
---
That comes to $60.25.
You can adapt this ALDI meal plan
This ALDI meal plan is adaptable to your own family's preferences, and will likely run you less if you supplement this week's ALDI purchases with clearance meat you already have in your freezer, produce you have on hand, and/or sale produce from your local produce market. Let me know if you give it a try! 🙂
Save