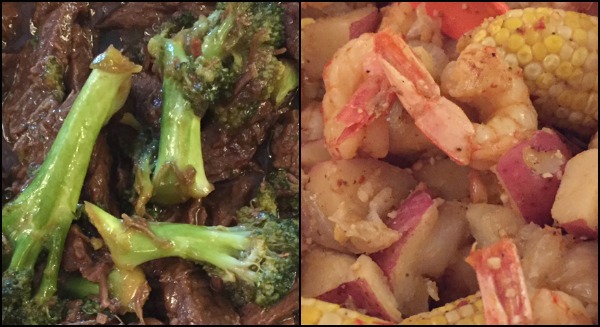 So I'm really enjoying playing with my new Instant Pot! In addition to the Instant Pot mashed potatoes recipe I scratched up and shared with you on Sunday, I also made a couple of other Instant Pot recipes over the last week, including pressure cooker shrimp boil and pressure cooker beef & broccoli. (The shrimp boil didn't all fit, so I had to do the veggies first, drain out the liquid and re-add it to the pot, then cook the shrimp separately — but it was awesome and totally worth the effort. 🙂 )
I saw both of these recipes in the Instant Pot Community on Facebook, which I'd highly recommend to any Instant Pot owner for recipe ideas & cooking advice. They also talk a lot there about making cheesecake and more, which I haven't dared yet — but I thought I'd share with you a little roundup of recommendations for Instant Pot accessories that I've had open in tabs. Partially so I don't forget them when I'm in need or decide to expand my own Instant Pot recipe repertoire, lol.
Instant Pot Accessories Roundup
Fat Daddio's 7″ anodized aluminum round cheesecake pan with removable bottom. (Change sizes in the middle of the page if necessary.)
Gabkey 7″ circular springform carbon cake pan. (Again, change sizes in the middle of the page if desired or necessary.)
Instant Pot silicone sealing rings, sweet & savory edition.
Deni round pressure cooker dessert pans.
Grifiti Bands — use as slings to remove pans or pots from your Instant Pot.
Secura 6 quart electric pressure cooker Steam Rack Basket Set.
Stainless Steel 3 quart wide rim mesh basket. Note: Read reviews — you'll need to bend handles up or remove them to use this in the Instant Pot, but apparently this is fairly easy to do.
Anything to add?
I know many of you have been using the Instant Pot much longer than I have, so what other accessories would you recommend?