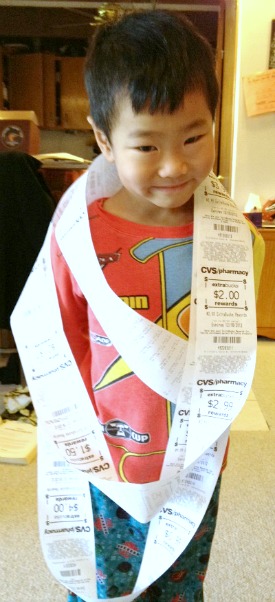 I'm probably the only person in the universe to be saddened by the thought of losing those super long CVS receipts — but they just give me such a feeling of abundance and plenty! Plus I appreciate having paper coupons to point to, rather than digital coupons where you're dependent on the technology to work. Just call me old school.
However, the future continues to pass me by: CVS announced yesterday that you'll be able to sign up to receive digital receipts through the CVS app rather than paper receipts at all CVS locations by the end of June, and you'll be able to send coupons to  your ExtraCare rewards card rather than using paper.
CVS Pharmacy today announced the company will launch digital receipts as a new option for all members of its ExtraCare Rewards program. The new option for digital receipts will roll out in early June and eventually be available in 7,900 retail locations. Customers will have the opportunity to opt-out of receiving paper receipts for all in-store purchases when completing their transactions in the front of the store. Once the one-time process is completed, customers will receive receipts digitally, along with their coupons and rewards, each time they shop at CVS Pharmacy.

…

To take advantage of digital receipts, customers must complete a simple, one-time opt-in process in store that includes enrolling in the ExtraCare Rewards program if they are not already a member, and providing a valid email address. Customers can do so at the front register by asking a store associate.
I won't be opting in… but have a feeling that this won't remain optional forever.
Whatever your feeling on paper vs. digital receipts, the official announcement on the Jimmy Kimmel Show is definitely worth watching! And you can
read the full official press release here.
What's your reaction to this news? Am I alone in my fondness for paper? 🙂