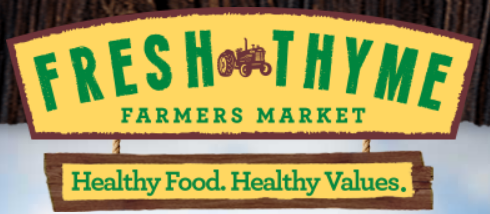 Here are the top Fresh Thyme produce deals (plus a few extra deals) I see for the week of 8/31/16 – 9/7/16.
I'm using the Downers Grove, IL ad for these matchups; view your own ad here. Ad prices can vary by location.
Fresh Thyme does not have a coupon policy online, but posted a very brief coupon statement on Facebook; view here.
Remember that Wed. is double ad day: Fresh Thyme ads run eight days, overlapping each week on Wednesday for one day only so you get the benefit of two sale ads on one day.
Top Fresh Thyme produce deals this week
Red, yellow, orange bell peppers $1.00 each.
Whole seedless watermelon, $1.97 each. Midwest grown.
Green cabbage or red rose potatoes, 2 lbs/$1.00.
Hass avocados, 2/$1.00.
Green onions, radishes, cilantro, parsley, or 1 lb carrots, $.50 each.
Sweet onions, $.88/lb.
On the vine cluster tomatoes, $.99/lb.
Midwest grown green or red leaf or Romaine lettuce, $.99 each.
5 pack sweet corn, $1.99.
Organic cantaloupe, $1.99.
Organicgirl salads, $2.99 each.
Organic bunch broccoli, $1.49/lb.
Organic yellow peaches, $1.99/lb.
Organic romaine hearts, $2.50.
A few other Fresh Thyme deals this week.
Kettle or Boulder Canyon kettle chips, $1.99.
18 ct large white eggs, $.99.
Brown Cow 6 oz yogurt cups, $.69.
Salt water taffy, $1.99/lb.
Bulk cashews, $4.99/lb.
Local honey, $4.99/lb.
64 oz Sweet Meadow Farms grass fed milk, $2.99.
North Star 15 oz twin pops, $1.00.
Katz gluten free donuts, BOGO at $6.99.
Hilary's veggie burgers, 2/$6.00.
Fresh Thyme baked-in-store hot dog or hamburger buns, $1.50.
Coleman organic boneless skinless chicken breast, $4.99/lb.
Boneless center cut pork roast or chops, $1.99/lb.