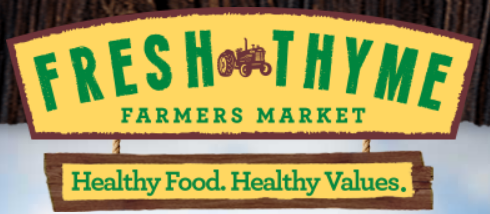 Heads up: Fresh Thyme is doing a one sale a day thing every day this week. Prices good one day only:
Weds 8/24: Dr. Bronner's liquid castile soap 32 oz, $9.99.
Thurs 8/25: Roasted salted deluxe mixed nuts, $4.99/lb.
Fri 8/26: Fresh Thyme 9 oz tortilla chips, 2/$3.00.
Sat 8/27: Fresh Thyme large dozen white eggs, $.49 AND Fresh Thyme deli style thick cut bacon, $2.99/lb.
Sun 8/28: Fresh Thyme pork sausage, $2.99/lb.
Mon 8/29: Mini seedless watermelon, Midwest grown, $.99 each.
Tues 8/30: Fresh Thyme 28 oz rotisserie chicken, $4.99.
A few all-week sales:
Cantaloupe, 2/$1.00.
Navel oranges, 2/$1.00.
Green beans, $.88/lb.
Bunch kale or celery, $.88 each.
Green or red leaf or romaine lettuce, $.99 each.
MaraNatha no stir almond butter 12 oz, $4.99.
Natural chuck roast, boneless, $2.99/lb.
Mahi Mahi fillets, $4.99/lb.
Fresh ground PB, $1.99/lb.
Almond Breeze 64 oz, $2.99.

Use $.50/1 in the 7/24 SS1.

Fresh Thyme soups and sides, BOGO.
Organic Peas Please Peeld Snacks, $1.99.
Lundberg rice chips, $2.00.
Boneless skinless chicken thighs, $1.99/lb.
Fresh Thyme chicken sausage, $2.99/lb.