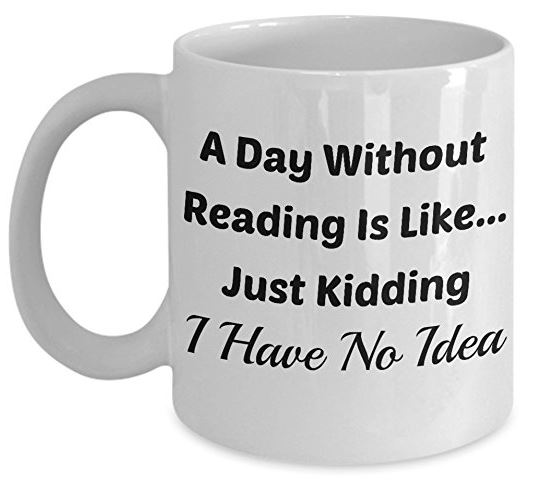 Since I've started doing weekly book reviews here, a few of you have asked: Where do you find the time to read? This isn't a new question — I heard it all the time when I worked as a librarian, and often hear from my friends that they can't find the time to read any more.
Here's a better question, though:
Where do you not find the time to read?
🙂

Let me ask you a slightly different question: Where do you find the time to watch TV? Where do you find the time to scroll through your Facebook wall, or where do you find the time to play Candy Crush or walk around the mall? We make time for what we want to do. We all make choices in our lives, and everything we choose to do has an opportunity cost attached. Binge watching The Walking Dead (OK, I think a lot of us have been there, right?) uses up time you could otherwise spend reading Hidden Figures or The Case Against Sugar or even a cozy mystery; time spent checking in with Dr. Phil is time not spent reading his latest book or even the latest Danielle Steel.
Where do I find the time to read? I make the time to read, because reading is important to me. Reading fuels my brain and my imagination; reading teaches me new things, lets me explore new ideas, and exposes me to viewpoints and ways of life that differ from my own. Everything I have read in my life has gone into shaping me into the person I am today, and everything I continue to read helps me continue to grow.
I read articles, blogs, and more online all day, but I also read books every day — and visit the library almost every week. And although I do like eBooks, I almost always prefer paper — and believe that the reading experience is fundamentally different in print than it is online. I find it fascinating that even "digital natives" often prefer print, especially for textbooks and other material that requires focus and concentration. Reading makes you slow down, makes you think, and makes you take some time to process.
Where do I find the time to read? The same way I find the time to do anything else — while I eat lunch, in the bath, sitting with Mr. 9 when he's doing his reading for school, in the evening after the kids are in bed, while in the waiting room at the dentist or in the pickup line for band…
Where do you find the time to read?
I think that as we've filled the time in our lives that we used to spend reading with other activities and slowly squeezed it out of our daily routines, we've really lost something along the way. We don't necessarily have less time, but we have different ways of spending that time — which is a very different way of framing the question. How do you choose to spend your time? What's important to you?
P.S. — Read as much as I do…?