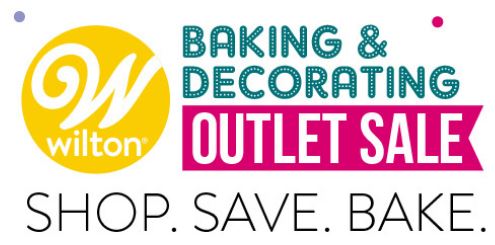 The Wilton Outlet Sale 2019 (Formerly the Wilton Tent Sale) started on June 1, 2019! Who's going this year?
The Wilton Outlet Sale 2019 starts soon
Who here loves baking? Who here loves kitchen and baking supplies? If so, this is where you need to be: Visit the annual Wilton Outlet Sale during the entire month of June 2019, guys! I know some of you have been waiting (im)patiently for the next Wilton Outlet Sale to roll around.
Annual Wilton Outlet Sale announced for 2019
Here are all your details: The 2019 Wilton Baking & Decorating Outlet Sale (formerly the Wilton Tent Sale) is back for June 2019! This year, the Wilton Outlet Sale is again running the whole month: From June 1-June 30, 2019. Find it at 460 S. Rte. 59, Naperville, IL (at the corner of Route 59 and Aurora Avenue).
Find more details on the Wilton Outlet Sale 2019 on the Wilton site, or check out the Wilton 2019 Outlet Sale Facebook event here. At this year's sale, you can again save up to 50% on more than 1500 baking & cake decorating items.
They have over 28,000 sq ft of space at this newer location, and this year's Wilton Outlet Sale will be open every day all month, from 11AM-7PM.
Note: The Wilton store will have shortened hours during the Wilton Outlet Sale, and will only be open Mon-Sat from 10-3 and closed on Sunday.