Rejoice: It's a second Wilton Outlet Sale for 2019 (Formerly the Wilton Tent Sale)! This year, Wilton has launched a fall baking & decorating Outlet Sale in addition to their normal summer outlet sale. Who's going over to check this one out?
The Fall Baking & Decorating Wilton Outlet Sale 2019 starts soon
Who here loves baking? Who here loves kitchen and baking supplies? If so, this is where you need to be: Visit the annual fall Wilton Outlet Sale during the entire month of November 2019, guys! I know some of you have been waiting (im)patiently for the next Wilton Outlet Sale to roll around, and your patience has now been rewarded.
What a great place to pick up, not only holiday baking supplies for yourself, but gifts for others!
Annual Fall Wilton Outlet Sale announced for 2019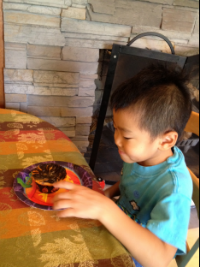 Yes, I may using this as an excuse to admire a gratuitous many-years-old photo from when Middle School Guy was cute and little and sooo loved his Halloween cupcakes. He's the baker in the family, I'll tell you that!
Details on the Wilton sale: Here are all your details: The fall 2019 Wilton Baking & Decorating Outlet Sale (formerly the Wilton Tent Sale) is here for November 2019. This year, the fall Wilton Outlet Sale is running the entire month of November: From November 1-December 1, 2019. Find it at 460 S. Rte. 59, Naperville, IL (at the corner of Route 59 and Aurora Avenue).
They have over 28,000 sq ft of space at this location, and this year's Wilton Outlet Sale will be open every day all month, from 11AM-7PM. They'll be closed on Thanksgiving Day.
Note: The Wilton Store in Darien will only be open THURSDAYS from 9AM-3PM during the November Wilton Outlet Sale, and will be closed on Thanksgiving.