As you may have noticed from some of the recipes and earlier discussions posted here, I've owned an Instant Pot since picking mine up on Prime Day last summer. I have been using it fairly regularly for meal prep (making things like homemade vegetable broth and boneless skinless chicken breast), as well as for a few tried-and-true favorite recipes such as Instant Pot chili or easy mashed potatoes, but still feel like I've just tapped the surface and am not using my IP to its fullest potential.
(I also cheat on it quite a bit, as I'm sitting here right now salivating over the scent of dinner wafting in from my Crock-Pot…!)
So this week's impulse grab from the library's new book shelf is The Instant Pot Electric Pressure Cooker Cookbook: Easy Recipes for Fast & Healthy Meals. What's not to like about easy, fast, and healthy?
Things I like, here
I do greatly appreciate that each recipe includes the time it takes for the pot to come to pressure as well as total prep and cook time. One thing to keep in mind when you're getting started with the Instant Pot is that it will take time for the pot to build up pressure and actually start cooking the food, which varies depending on how much liquid you use and how full the pot is. Sometimes recipes aren't as quick as they appear at first glance.
Also useful: A discussion on how to convert your existing recipes for the Instant Pot, as well as handy electric pressure cooking time charts for a number of common foods.
What else I would like to see, here
I'd like to see more discussion on what the IP is not good for, based on how it actually cooks the food. While there's info on how to convert recipes, there's no info on what kinds of recipes will be best suited for the pot and what will be best using the original recipe method. I'd also like to see a chart of common abbreviations like NR, QR, and more, since these take some getting used to when you first start looking up Instant Pot recipes online. Lastly, the explanation of the buttons on the IP makes no mention of the different models of Instant Pot — the IP DUO, for instance, has a yogurt button while the LUX model does not.
The book's major drawback, though: There are very few recipe photos included. When I'm making a recipe from a cookbook, I want to see what the finished product is supposed to look like — so that I can see if my version looks like it's coming out right, and see at a glance if it looks like something my family might enjoy.
Recipes I'm going to try, here
I bookmarked several recipe possibilities from The Instant Pot Electric Pressure Cooker Cookbook, including a one-hour matzo ball soup recipe that looks intriguing for the upcoming Passover holiday. I'm also going to give chipotle black beans a try (mmm, chipotle) as well as lentil & spinach stew with shrimp.
Who would benefit from this book?
The Instant Pot Electric Pressure Cooker Cookbook will be most useful to new IP users who are intimidated by the learning curve and the number of buttons. (Some of the info here duplicates what is found in the manual — but is presented much more clearly.) Most of the recipes here are straightforward starter recipes using common ingredients. These will let you experience a variety of foods while learning about the different functions of the Instant Pot, and then you can expand on the recipes here by dipping your toe into the wild world of Pinterest or Google search when you're more comfortable with the Pot and how it cooks.
This is an "official" Instant Pot cookbook, too, so you can be better assured of the quality and consistency of recipes than those in some of the free Kindle books and other resources floating around. Recommended for Instant Pot beginners.
I did buy my Instant Pot a pedestal recently…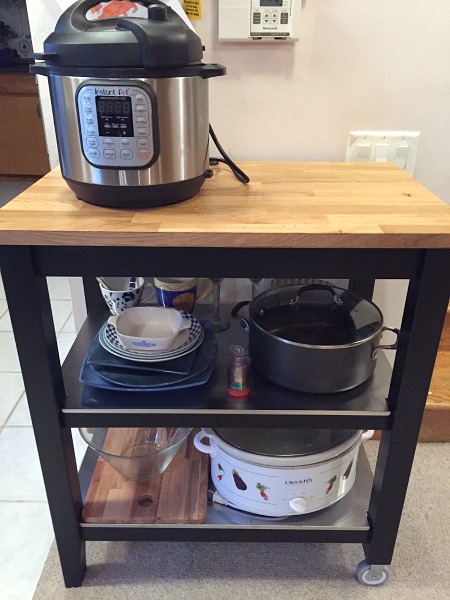 But as you can see, it still has to share the space with my beloved slow cooker. 😉