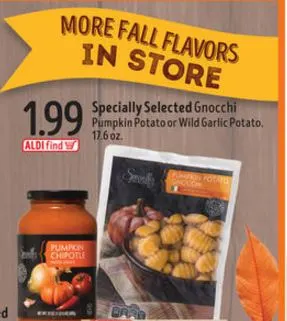 One of this week's seasonal special buys at ALDI is Specially Selected pumpkin potato or wild garlic potato gnocchi at $1.99. I shopped hungry today, so impulse bought the wild garlic potato gnocchi (as well as a little jar of sun dried tomato Priano pesto sauce for $1.29), then cooked up the pack tonight for myself and the kids while MashupDad was out of town.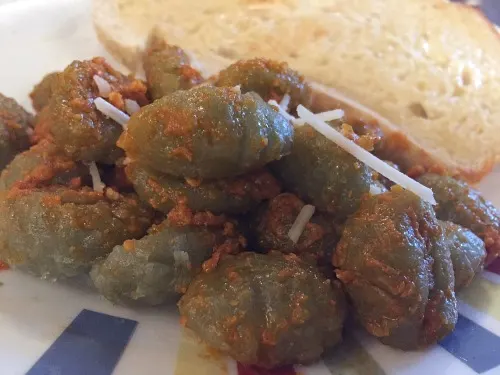 You'll note that the ad shows the pumpkin potato variety, which was probably a good call. The wild garlic ones are honestly a rather unappetizing shade of grayish green (and didn't cook up any prettier, lol). They were, however, pretty darn tasty, and went well with the pesto sauce for a super quick, affordable, and easy meatless meal that was a hit with the kids, too! Mr. 9 dubbed it "little squishy spaghetti." 😉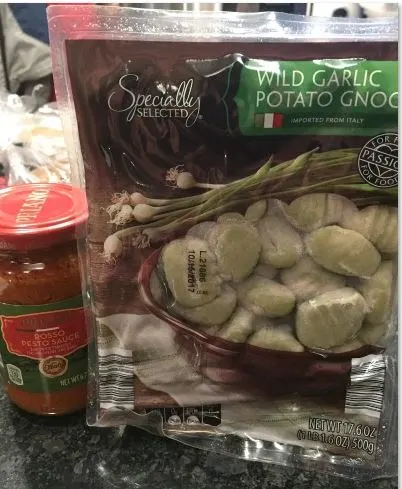 I'd recommend giving the gnocchi a try on your next meatless Monday, while they're still available in stores. Note that the pesto is pretty strong, so use sparingly — about half of their small jar was plenty for the whole pack of gnocchi.
Your turn: Out of curiosity, what special or seasonal buys have you impulse bought at ALDI lately?