Keurig DRM getting you down? Exercise your freedom of choice with these tips: Hack your Keurig 2.0 to take any brand of coffee!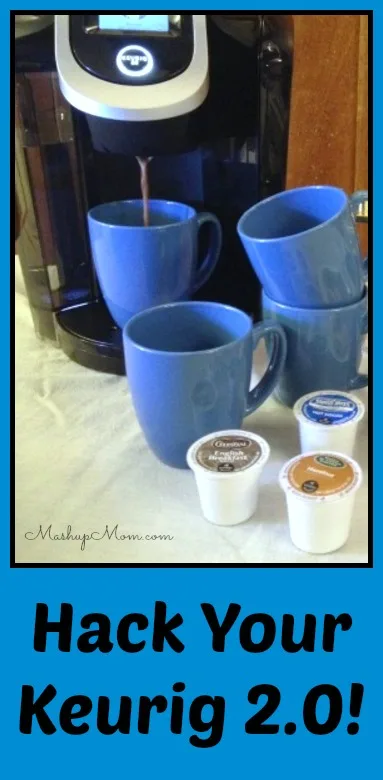 Today, let's discuss how to Hack your Keurig 2.0! It's been a while since we have talked about the various ways to hack the DRM in Keurig 2.0, so here are your top four solutions. As many newer Keurig owners have found out to their chagrin, some models of the Keurig 2.0 machines have DRM built in to prevent you from using (often more affordable) third party brands of coffee. This locks you out of the greater variety available in non-Keurig-branded K-Cups, and gives you less freedom of choice in your coffee.
Top Four Ways to Hack Your Keurig 2.0
Keurig 2.0 DRM is pretty easy to get around just by laying the lid from any licensed K-Cup over the lid of the one you want to use, but that's just a temporary solution. So, here are the top four ways to bypass the DRM in your Keurig 2.0 brewer more permanently so that you can use cheaper third party coffee or unlock your favorite brands.
Hack your Keurig 2.0, option 1
Option 1: Tape a piece of the lid from a licensed Keurig K-Cup inside your machine
Just follow the instructions in the above video to permanently bypass the Keurig 2.0 DRM with an old K-Cup lid. This will disable the Keurig 2.0 DRM and allow you to use any brand of Keurig-compatible coffee cups.
Hack your Keurig 2.0, option 2
Option 2: Pick up a MyClip or SoloClip
If you don't want to tape old lids inside your machine, a few companies sell simple add-ons to allow you to brew any coffee:
You leave one of these in place to hack the Keurig 2.0 DRM so that you can use any brand cup — see the reviews on each for additional tips
Hack your Keurig 2.0, option 3
Option 3: Pick up a pack of freedom stickers
Pick up a pack of K-Cup 2.0 freedom stickers to stick on your non-Keurig-branded cups. The sensor in your Keurig 2.0 will read the sticker and unlock the machine so you can brew your coffee of choice.
You can also try something similar at home with any orange sticker, or use use an orange highlighter on a piece of paper with Scotch tape, or use orange Duck tape… if you can hit the right shade. Experiment and see!
Hack your Keurig 2.0, option 4
Option 4: Substitute reusable & refillable K-Cups
Pick up reusable & refillable K-Cups for your Keurig 2.0 that you can fill with your own ground coffee.
There you have it
That's it: Your top 4 ways to hack your Keurig 2.0 and how to bypass Keurig 2.0 DRM! I hope these Keurig 2.0 hacks help you enjoy all of your favorite brands of coffee once again, and help you save by picking up third party brands.