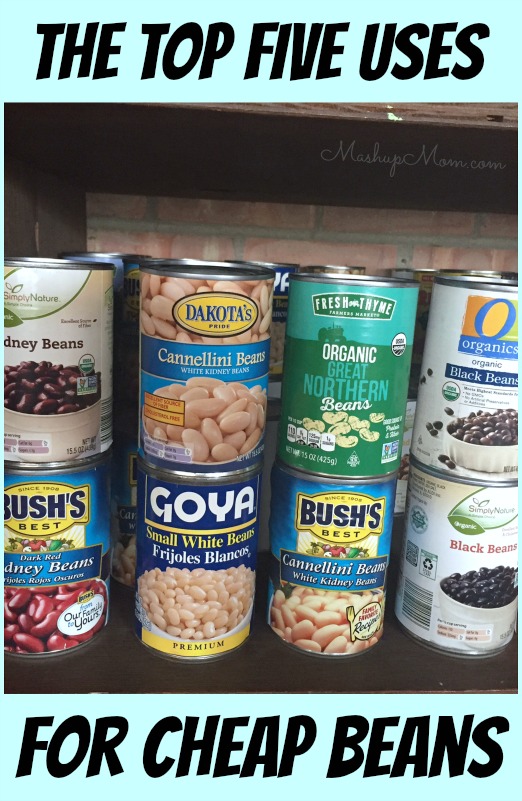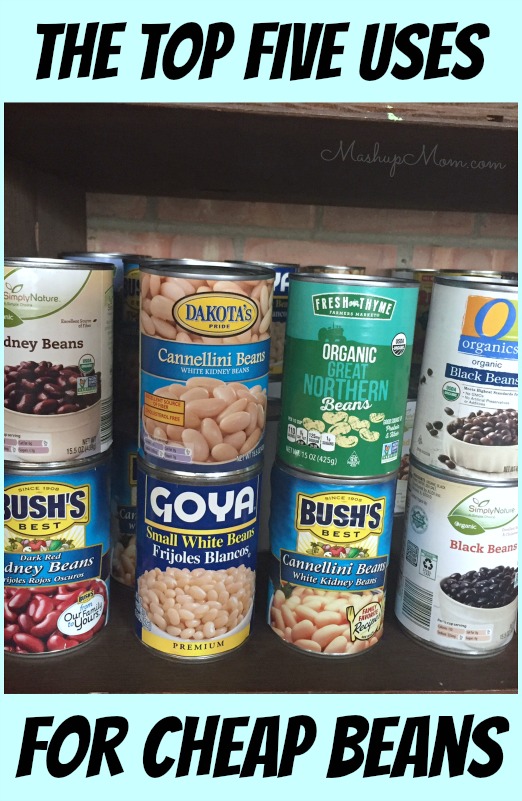 If you asked me to quickly name one item that's always in my pantry, beans would probably be right up there near the top! I love adding beans to recipes to stretch them further and to add texture, flavor, protein, and fiber. Stretch your meals and your budget by incorporating in more beans — which are always relatively cheap and filling, but it's great to stock up when they're on sale.
So, because they are on sale right now, here are my top five favorite ways to use beans. Please do comment with your own.
Get cheap organic beans at Jewel with this $1.00/1 O Organics product coupon (print limit 10!)
Get cheap (or net free) Bush's beans… anywhere… with $.75/1 in the 1/29 SS + $.75 back on Checkout 51.
Get organic beans for $.89 at ALDI every day.
* I usually use canned beans because I'm lazy — but bonus points if you're cooking up your own! 😉 Since my family members are unrepentant carnivores, I'm usually adding in beans rather than making them the main dish in and of themselves — but I do sneak meatless mains in there occasionally, shh.
1. Add beans to chili & soup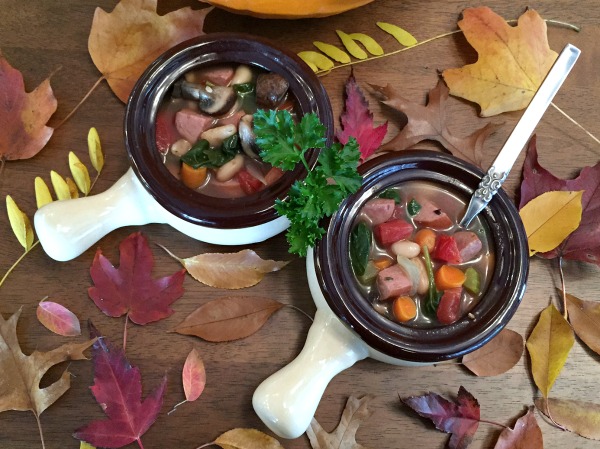 Well, duh: Right? Chili doesn't seem like chili to me sans beans, and I usually add three cans to each batch now. Stretching your chili further with beans also bulks it up to make for leftover chili the next night. Cook once, eat twice: Bonus! Try Instant Pot chili with canned beans, or cheesy chicken enchilada chili.
By the same token: Beans make most soups better. Whether you're making vegetable soup or smoked sausage & spinach soup or Tuscan chicken soup or creamy tomato hummus soup, they help make soup into a full meal in and of itself.
2. Add beans to tacos, nachos, burrito bowls…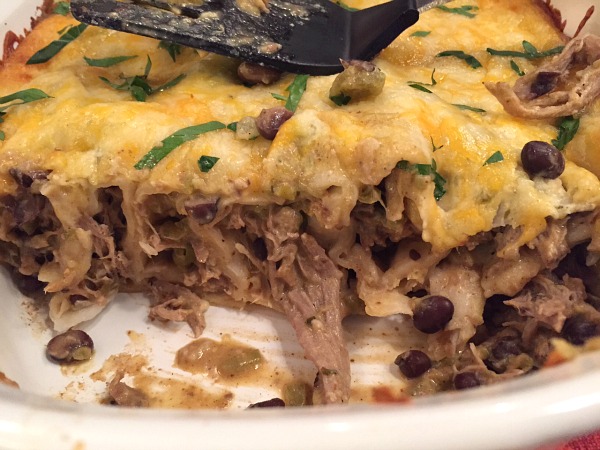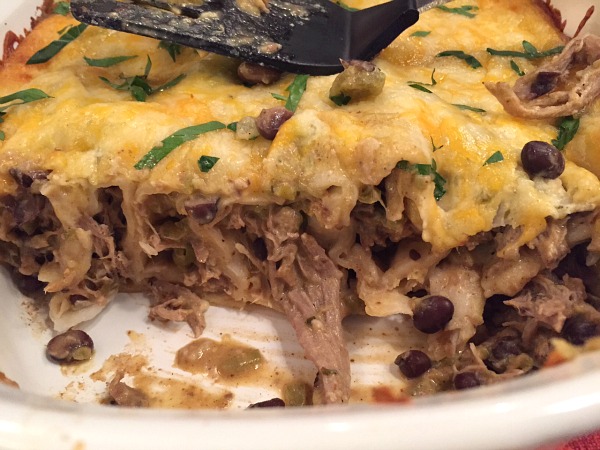 Stir in a couple of cans of black beans or pinto beans at the end of this slow cooker salsa chicken recipe, add them to pulled pork enchiladas, or just put out a bowl of warmed beans for people to add to their tacos. Add them into shrimp taco salad, throw them on top of nachos, incorporate them into your burrito bowls, or just make black beans & rice (or for a different flavor, red beans & rice!) for a completely vegetarian main dish.
3. Add beans to pasta
Beans go surprisingly well with pasta, and are a fantastic way to add protein and bulk to your Meatless Monday dinners. Try some mushroom, kale, and white bean pasta, for instance.
4. Add beans on the side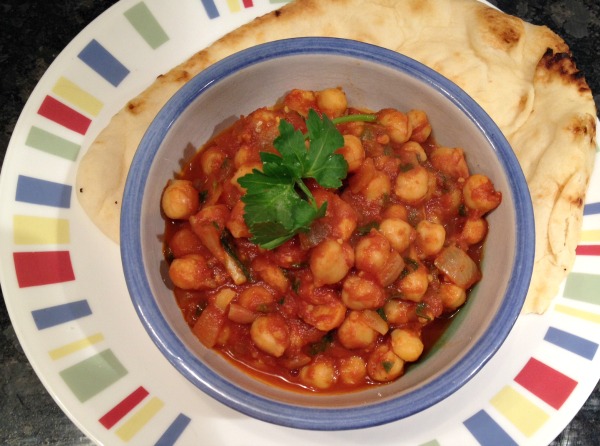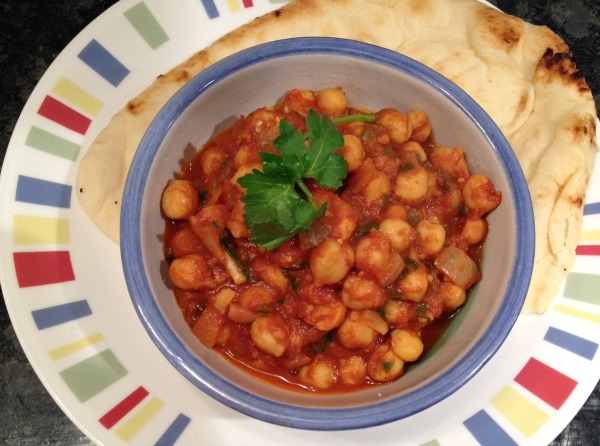 Looking for a filling side dish? Saute up some black beans with a little onion, garlic, cayenne, & cumin, make yourself a batch of simple baked or refried beans, cook up some spicy curried chickpeas or sweet & spicy oven roasted chickpeas, or make a batch of chili garlic Cannellini dip or hummus.
5. Add beans to green salads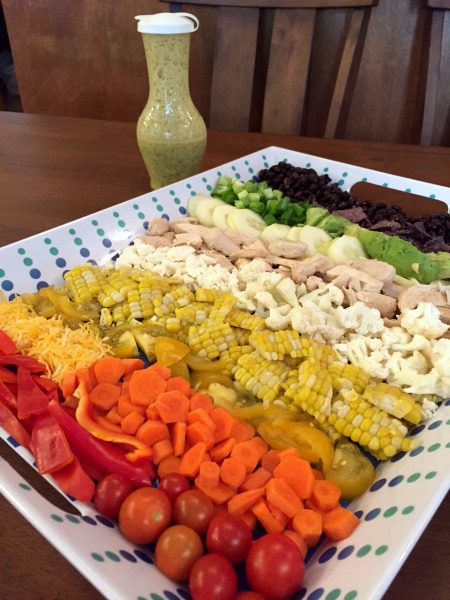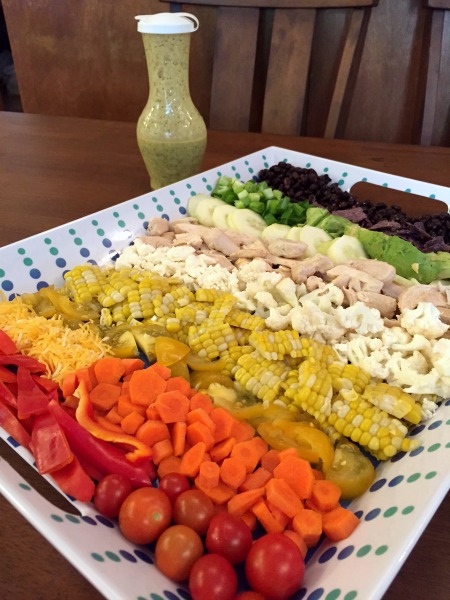 When you're making a rainbow salad bar, be sure to include beans in your topping options: Black beans, kidney beans, and chickpeas are all great options here. Throw them onto a lunch salad or as the bottom layer over dressing in a salad in a jar — they go really nicely with homemade avocado vinaigrette.
Your turn
There are so many more options for adding in beans to stretch your meals and your budget — What are your own favorite uses for beans?