Warm spices and hearty proteins meet cool fruit and creamy avocado — all in today's Strawberry Spinach Salad with Chicken & Chickpeas. Poppyseed dressing brings everything together, making this a great filling dinner salad to enjoy between seasons (or any time of the year!).
It's hard to compete with such lovely ripe strawberries, but perfectly juicy chicken strips really are the star of this Strawberry Spinach Salad with Chicken & Chickpeas. (Oh, who am I kidding — the spiced-up chickpeas taste pretty darn good too!) Really, everything works together in this lighter, yet filling, dinner salad.
ALDI has several spring-y vinaigrettes on sale this week, and I picked up a bottle of poppyseed dressing to use on some spinach-strawberry salad. Then I thought it would be fun to bulk up that spinach-strawberry idea into a heartier dinner salad — just to honor this in-between, almost-spring, hot-and-cold weather thing we have going on right now. (Note: Their poppyseed dressing is fairly sweet, so a little goes a long way.)
So: In today's pretty spinach salad recipe, cool & refreshing strawberries and avocado meet warm & hearty chicken & roasted chickpeas, in a celebration of texture, color, and flavor. That poppyseed dressing then does a bit of heavy lifting in pulling everything together.
Strawberry Spinach Salad with Chicken & Chickpeas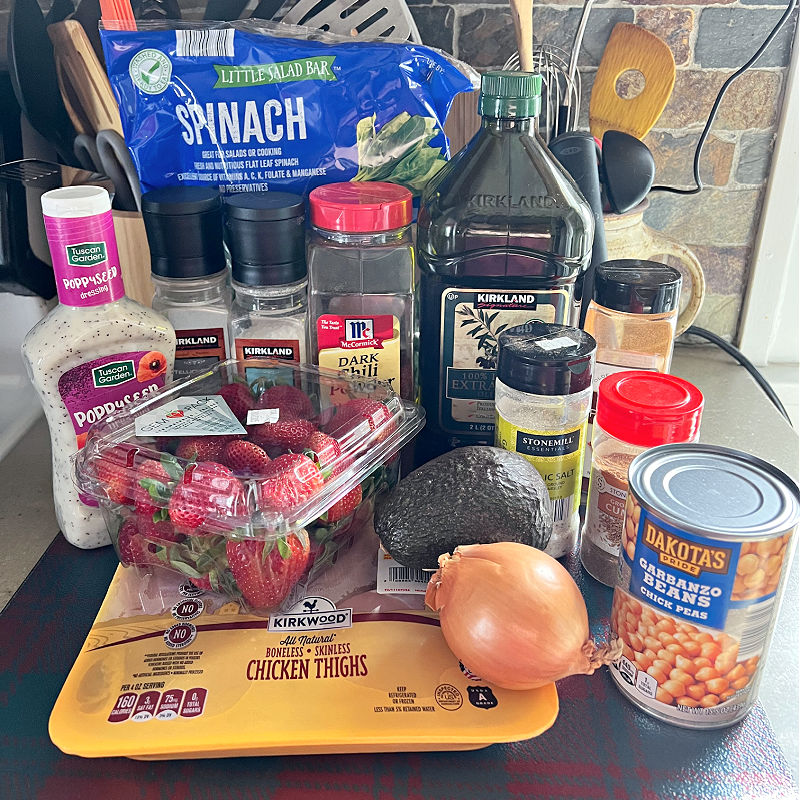 Ingredients
– for the chickpeas
1 can chickpeas (garbanzo beans), rinsed and drained
1.5 Tbsp olive oil
1 tsp smoked paprika
1 tsp garlic salt
1/2 tsp cumin
1/2 tsp chili powder
– for the chicken
1.5 lbs boneless skinless chicken thighs
1.5 Tbsp olive oil
1 tsp smoked paprika
Sea salt, to taste
Black pepper, to taste
– for the salad
8 oz fresh spinach
16 oz strawberries, washed and sliced
1 avocado, sliced
1/2 of a medium onion, thinly sliced
Poppyseed dressing (or substitute dressing of choice)
Directions
Preheat oven to 400 degrees. Drain and rinse the chickpeas, then blot dry with paper towels. (If some of the skins slough off, just discard those.)
Place chickpeas in a medium bowl. Stir in the olive oil, smoked paprika, garlic salt, cumin, and chili powder until chickpeas are nicely coated.
Spread out seasoned chickpeas in a single layer on one end of a rimmed baking sheet.
Trim the chicken thighs, if necessary. Place the trimmed chicken in the same bowl you used for the chickpeas, and stir in the olive oil, smoked paprika, sea salt, and black pepper until chicken is nicely coated.
Arrange the seasoned chicken in a single layer on the other end of the rimmed baking sheet.
Place your pan in the preheated oven and roast the chickpeas and chicken for 20 minutes, stirring the chickpeas and flipping the chicken halfway through.
Meanwhile, cut up the strawberries, avocado, and onion. Divide the spinach evenly among four plates.
After 20 minutes, remove the chicken from the pan and set it aside for a few minutes to cool. Stir the chickpeas and return them to the oven for another 5 minutes, or until crispy outside, tender inside, and golden brown.
Slice the chicken into strips. Dress each plate of spinach salad with chicken strips, roasted chickpeas, avocado, onion, and strawberries. Serve your strawberry spinach dinner salads with poppyseed dressing.
Note: If using boneless skinless chicken breast instead of thighs, slice lengthwise before cooking to create thinner pieces that cook through more quickly. I often prefer thighs in a sheet pan recipe like this, because they stay juicier in the oven.
All your salad cravings, satisfied
I've been craving more fresh greens and fruits lately, maybe as a reaction to our seemingly-endless Chicago winter. Then, the smoky chicken and chickpeas just work so well as a counterpart to the fresh produce: Mix everything together, add a touch of dressing, and enjoy the contrasting textures and flavors! Today's strawberry spinach salad really hit the spot as a complete, hearty meal.
Strawberry Spinach Salad with Chicken & Chickpeas, printable recipe
Recipes in the real world
Be sure not to miss the free weekly ALDI meal plans, which show you how to use these easy family recipes to meal plan affordably and realistically for your family. Or, find more recipe ideas with the Recipe Search!