Taco Tuesday teethers, crazy cat lady action figures, toilet timers, & more. Our weekly roundup of weird and fun Amazon products — for you, for fun, for white elephant or birthday gifts, or just to enjoy!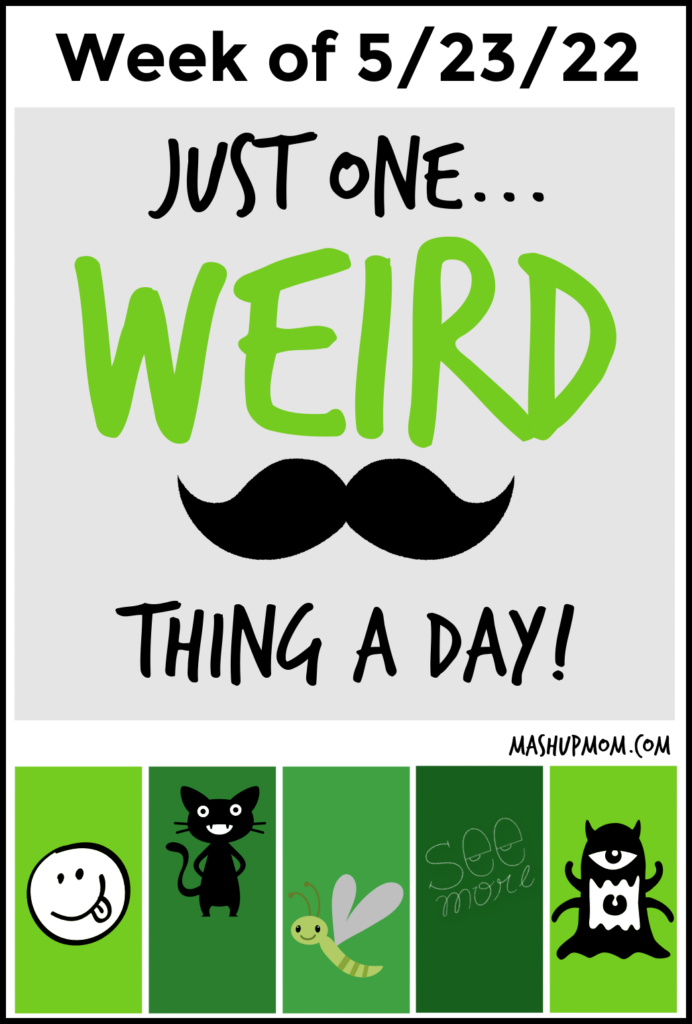 On this day before Memorial Day, let's look back on one weird Amazon product for every day over the last week. Why? Well, over on the Mashup Mom Facebook page you'll find a new fun, weird, or white elephant gift every morning. This Sunday roundup for the week of 5/23/22 then lets you catch up with anything you missed from this week of weird.
What's your own favorite from this week of weird Amazon products?
Weird Amazon products, week of 5/23/22
The next baby I need to get a gift for is totally getting a Taco Tuesday gift set. I mean: Just LOOK at the cuteness here! Avocado rattle, anyone? I kind of want one, lol.
I know, these really should have been flipped around, but here's our non-taco Amazon weird item for Tuesday. Long cat is truly LONG (43.3″ long, to be precise).
I don't think I'd try any of these sodas, ew. Would you? This Lester's Fixins 6 pack sampler set includes bottles of bacon, PB&J, ranch dressing, buffalo wing, pumpkin pie, and sweet corn soda.
Need new coat hooks? These Umbra buddy… people… wall hooks might be both decorative and useful.
Cooking, science, alchemy, or potions? You decide, with the help of your brand new 14-piece chemist's spice rack.
We're now all the way up to Caturday, so: Is there someone in your life who likes cats a little TOO much? Well, why not gift them this crazy cat lady action figure — It comes with SIX cats!
Be sure also to follow the ongoing adventures of The Notorious Bad Kitty Lucy and friends, if you are a cat person. 🙂
Last, but not least: Reclaim your bathroom with… the toilet timer! "As seen on ABC's "Shark Tank", this gift sends a clear message to the recipient."
More weird Amazon products here next week
Find another weekly Amazon Oddities roundup here next Sunday. If you can't wait, though: Head over to Facebook and start out your day with a new fun pick every morning (plus much, much more).
As an Amazon associate, I earn from qualifying purchases.