Can it be MARCH already?! ALDI Finds for the week of 3/2/22 include St. Patrick's Day foods & fun, seafood specials, tandoori potato chips, and so much more. Check them out below, and let me know what you want to Find this week!
Let's start with our fish on Friday Finds this week: We have a number of seafood special buys and ALDI saver sales to scope out, and advertised specials include:
Fremont Fish Market chilled crab cakes 12 oz, $5.99
Fremont Fish Market shrimp or salmon power bites 6 oz, $4.99
Fremont Fish Market swai fillets 32 oz, $6.99
Specially Selected salmon Wellington, $7.99
Fresh tilapia fillets, $5.49/lb
Fresh Atlantic salmon fillets or sides, $7.99/lb.
Fremont Fish Market beer battered cod fillets, $4.99
Fresh steelhead trout, $9.99/lb
Fresh Atlantic salmon with Mediterranean herbs, $8.99/lb
Fremont Fish Market large cooked shrimp, 12 oz frozen, $5.59
Fremont Fish Market jumbo EZ peel raw shrimp, 12 oz frozen, $5.99
Do note that fresh fish prices, especially, can vary by region. Be sure to check the local prices at your own store.
And if you're looking for the crab cakes, note that this time they are refrigerated, rather than frozen.
Note that both advertised and unadvertised ALDI prices can vary by store and by region. But now, let's talk about the rest of the top ALDI Finds for the week of 3/2/22. You'll also Find some on 2/27/22 in Sunday ad markets, or if your store tends to put products out early.
Top ALDI Finds of the week
In no particular order, here are the top St. Patrick's Day Finds of the week — and, then we'll discuss 10 more of the top ALDI food Finds and 20 top non-food Finds for this first week of March 2022.
St. Patrick's Day ALDI Finds
Let's start things off this week with St. Patrick's Day sweets, such as:
Lofthouse St. Patrick's Day frosted sugar cookies, $2.89
Two-bite St. Patrick's Day mini cupcakes, $2.89
Bake Shop Irish cream cheesecake 16 oz, $4.99
Lucky Charms cookie dough, $2.64
16 oz Sundae Shoppe Shamrockin' Swirl or Luck o' the Cookie Dough ice cream, $1.99
Benton's fudge mint striped shortbread cookies, $1.49
Benton's mint chocolate sandwich cremes, $1.99
The pints of St. Patrick's ice cream look like their other Ben & Jerry's knockoffs, so should be darn tasty.
These Emporium Selection Irish cheeses weren't advertised, but I found them on the shelf at my store at $3.99 apiece. Also look for Emporium Selection pesto gouda, sage derby, or Irish porter cheeses, at that same $3.99 price point.
Cattlemen's Ranch Reuben bites are back in stores again, at $7.99 per 24 oz bag. These have had mixed reviews in the past, but pick them up if you're a fan (or have been curious). They're also selling Morton's of Omaha fresh Black Angus USDA choice corned beef brisket flats at $4.99/lb this week.
Stores that carry alcohol might also have Connelly's mint chocolate country cream at $8.99 and Maguire's stout at $6.99 this week.
Non-food St. Patrick's Day Finds this week include:
Huntington Home 3-wick candles, $4.29
Huntington Home St. Patrick's Day gel clings, $1.99
St. Patrick's Day gnomes (unadvertised, but showing up in some stores now), $8.99
Check your store to see if there are more unadvertised holiday Finds floating around, too.
Do you go all out for St. Patrick's Day? I'm not sure about splurging on candles for this occasion. 🙂
Top ten food Finds this week
Beyond St. Patrick's Day and seafoods, Find more fun foods at ALDI this week:
Season's Choice waffle fries 22 oz, $1.49
Mama Cozzi's 3 cheese mini pizza bagels 28 oz, $5.79
Bremer pesto pasta shells or 4 cheese fettucine 32 oz, $5.29
Season's Choice bourbon or maple glazed vegetable blends 10 oz, $2.99
Simply Nature organic fresh 100% organic grass fed beef stew meat, $6.99/lb
Benton's unicorn sandwich cremes, $1.99
Journey To… tandoori BBQ or Thai curry potato chips, $1.72
Clancy's ranch or cheddar veggie straws, see price in store
GoGo squeeZ fruit on the go variety pack 12 pack, $6.98
Priano Italian meat & cheese tray 6.17 oz, $6.49
The Italian meat & cheese tray does seem very small for the price; has anyone tried it?
I reviewed the tandoori BBQ flavored potato chips a while back, so see my thoughts on those here.
And what do you think of a big bag of frozen fettuccine? At least it would be a quick & easy meal, and you could top yours with chicken, broccoli and more to fill that out.
Top twenty non-Food Finds this week
Lots of non-food Finds to choose from this week as well, and here are my top picks:
Ambiano mini food chopper, $9.99
Zak! licensed mug, $4.49
Ambiano rotating Belgian waffle maker, $24.99
Huntington Home 24″x36″ decorative accent rug, $14.99
Huntington Home 15 lb weighted blanket or 8 lb children's weighted blanket, $29.99
36″x48″ licensed 4.5 lb weighted blanket, $24.99
Huntington Home vintage glass candle, $4.99
Huntington Home luxury candle or reed diffuser, $2.99
Huntington Home 4 drawer storage tower, $19.99
Huntington Home closet organizing kit, $29.99
Easy Home corner garment rack, $19.99
Huntington Home large soy tin candle, $5.99
Huntington Home oversized towel or 2 pack bath towels, $12.99
Huntington Home 5'x7′ plush or berber area rug, $29.99
4″ foliage plants, $3.89
Gardenline spring bulbs, see price in store
Pembrook personal weekly/monthly planner, $7.99
Serra Ladies' cozy leggings, $7.99
Serra Ladies' long sleeve cozy lounge romper, $14.99
Visage facial, pore, or silicone cleanser, $12.99
Yes, another planner! Hopefully this one is also undated, given that we are into March 2022 now…
And the accent rugs are quite nice — they seem sturdy, and should hold up well to foot traffic.
What's Up with ALDI Finds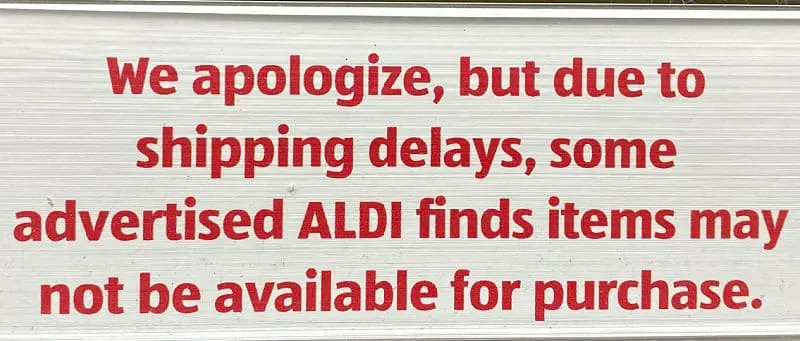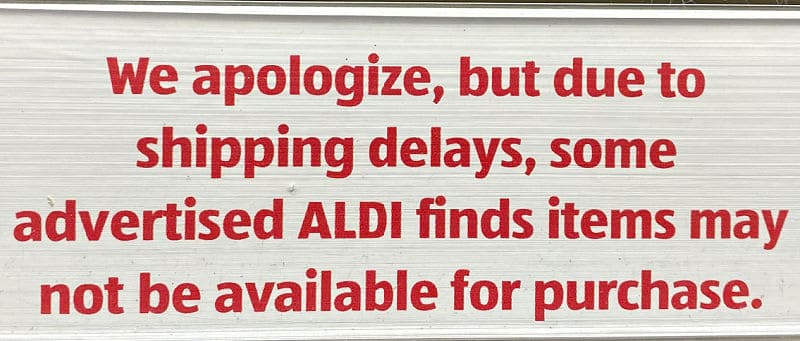 What's up with ALDI Finds? Well, these are limited time special buy items that are available in stores only while supplies last. So if you spot something you like, be sure to pick it up while you can.
Before shopping for new Finds this week, you might wish to visit the ALDI Finds product delays page. Because of ongoing shipping delays and materials shortages affecting ALDI and many other retailers, certain advertised products may not be available in all locations.
Finding the Finds
Where do you Find all of this week's special buys?
Check out the "ALDI Finds" and current weekly ad tabs (or mobile menu choices) on the ALDI site to window shop from home.
If you're planning an in-store shopping trip, use their online ad to help determine what you'll grab and purchase if you do see it in the store.
Products mentioned in this post were either spotted in store or are from the ads starting 2/26/22 in Sunday ad markets, 3/2/22 in Wednesday ad markets. What caught your eye among this week's ALDI Finds?