ALDI Finds for the week of 12/21/22 include some German Week foods (like Bavarian soft pretzels & sweet strudels), some convenience foods (like chicken Cordon Bleu, chicken nuggets, and meatballs), and some holiday organization products (like Christmas tree bags and holiday light organizers). Check out this week's picks below, and let me know what you want to Find!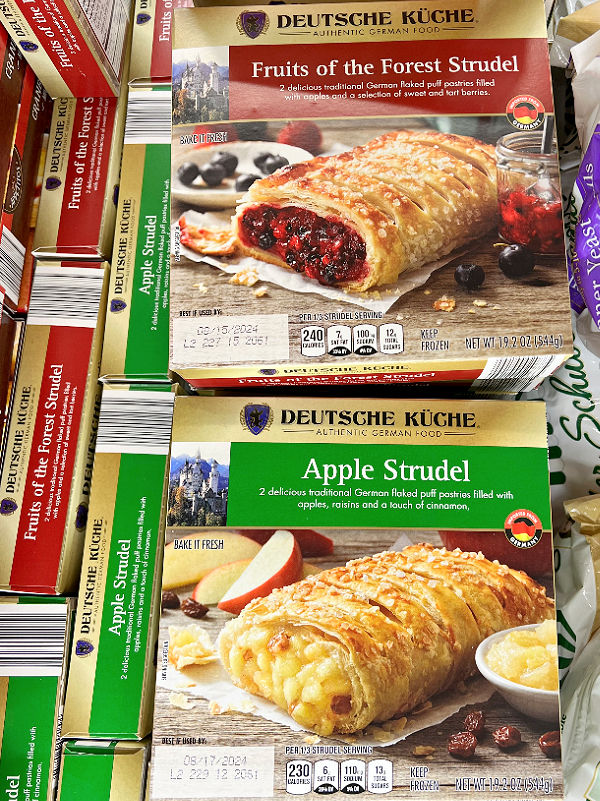 Happy holiday week grocery shopping, everyone! Let's get the ball rolling with everyone's favorites, because our latest ALDI ad sports a few random German Week items. Here's what you might Find:
Deutsche Küche Bavarian soft pretzels or pretzel sticks, $4.49
Deutsche Küche cabbage blend or warm potato salad 12 oz, $2.99
Specially Selected German mousse cake, $7.99
Deutsche Küche imported strudel (apple, caramel apple, or fruits of the forest), $2.99
Deutsche Küche Jaffa cakes, $2.99
Deutsche Küche German bread, $2.49
L'Oven Fresh pretzel breadsticks, $3.49
Just a few of these to choose from, but this is a nice little holiday week surprise if you're a fan of their authentic German foods.
All the kids here really enjoy the frozen soft pretzels, so we might be picking up a box of those to enjoy during winter break.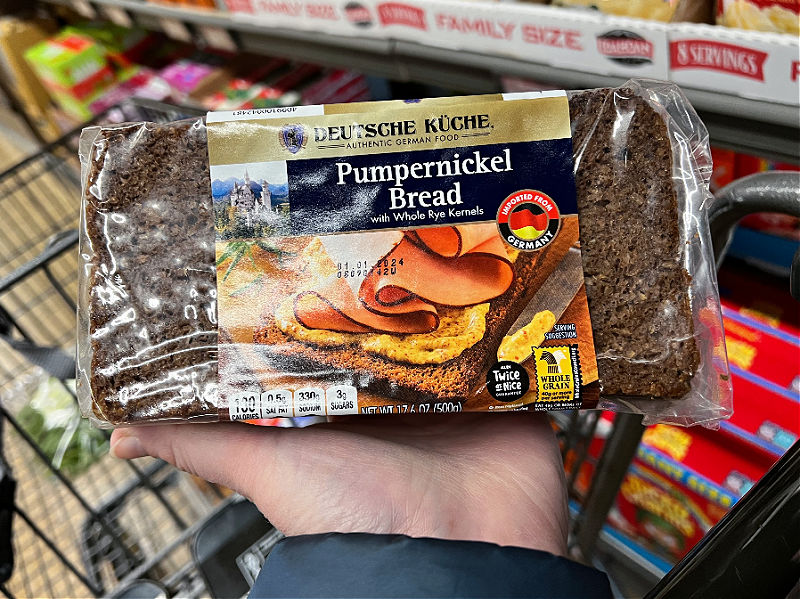 And these German breads are nicely dense and chewy, for those of you looking for an authentic experience.
As always, both advertised and unadvertised ALDI prices can vary by store and by region. Here are more of the top ALDI Finds for the week of 12/21/22. (You may also Find some on 12/18/22 in Sunday ad markets, or if your store tends to put products out early.)
Top ALDI Finds this week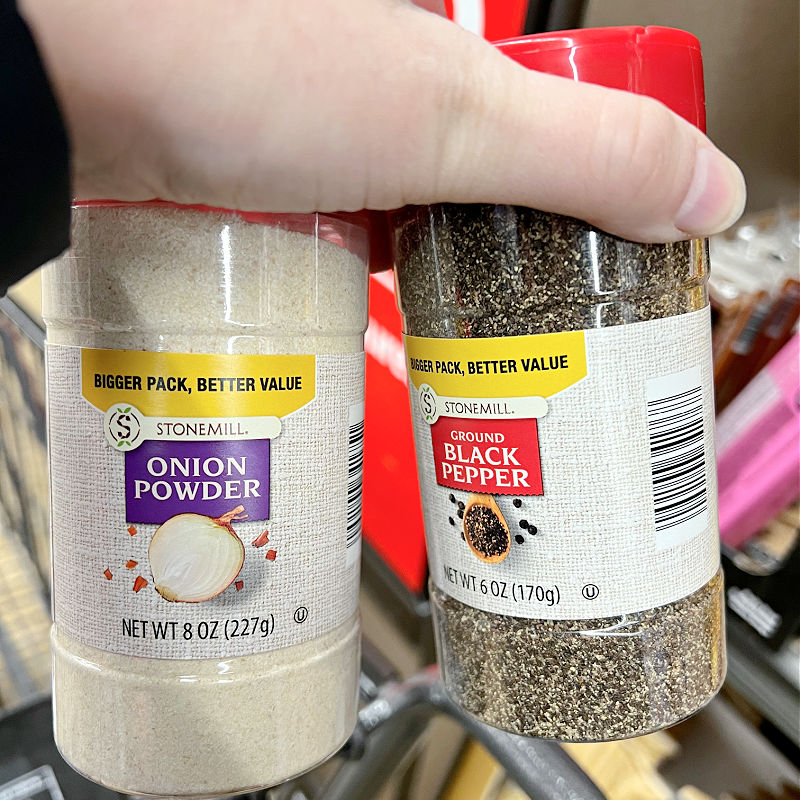 Stonemill value size spices are out in stores this week, where you have your choice of 6-8 oz containers of ground black pepper, onion powder, or garlic powder at $3.49. Then, here are twenty more advertised food Finds and thirty new non-Food Finds to look for. Let me know what you're planning to pick up during this week of 12/21/22.
Twenty new ALDI food Finds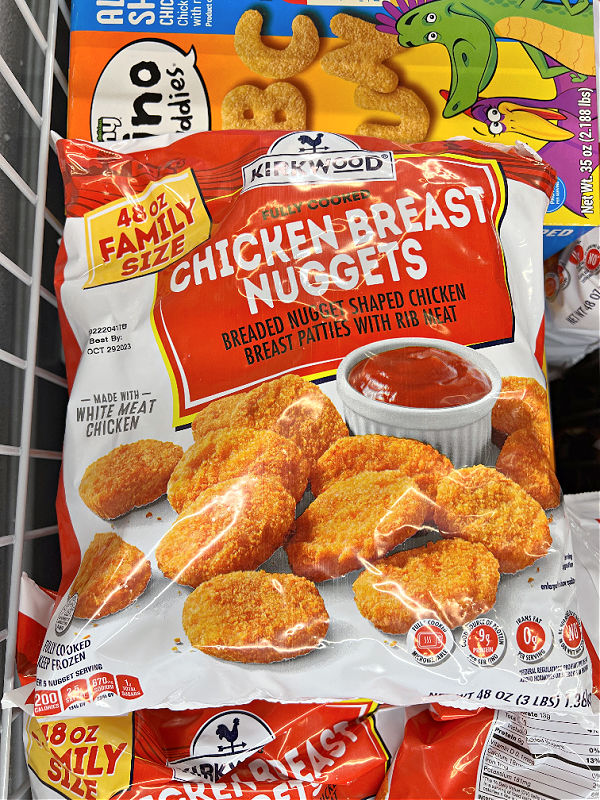 Other than the German Week items mentioned earlier, our foodie Finds this week focus largely on convenience foods. How handy, if you're running around with last-minute holiday errands, right? Look for:
Barissimo 48 ct coffee favorites variety pack, $14.98
Clancy's potato chip combo 18 pack, $4.99
Clancy's 6 ct sea salt veggie straw multipack, $3.49
Welch's mixed fruit 40 ct fruit snacks, $8.48
Jar Joy cheesecake jar desserts, $2.09
Park Street Deli 22.08 oz Mediterranean tapas tray, $10.59
Black Angus 3 lb premium beef meatballs (original or Italian), $13.99
Bremer chicken marsala or Parmigiana, $5.79
Fusia sweet teriyaki or sesame ginger chicken skillet, $5.99
Kirkwood 48 oz family size chicken breast nuggets, $6.79
Season's Choice quick fries, $2.69
Fusia chicken or beef Mandu dumplings 20-24 oz, $6.29
Cattlemen's Ranch country fried steak 24 oz, $5.49
Breakfast Best 24 ct blueberry waffles, $4.99
Kirkwood multi-pack 4 ct stuffed chicken cordon bleu, $6.29
Tyson fresh pork sirloin roast, $1.79/lb
Appleton Farms spiral sliced ham, $.85/lb

Specially Selected tall salt grinder, $4.49

Uncle Ben's jasmine ready rice, $2.12
Party size Ritz (8 sleeves), $5.49
(There are also some more name-brand single serve snacks to look at, but the prices on those aren't super.)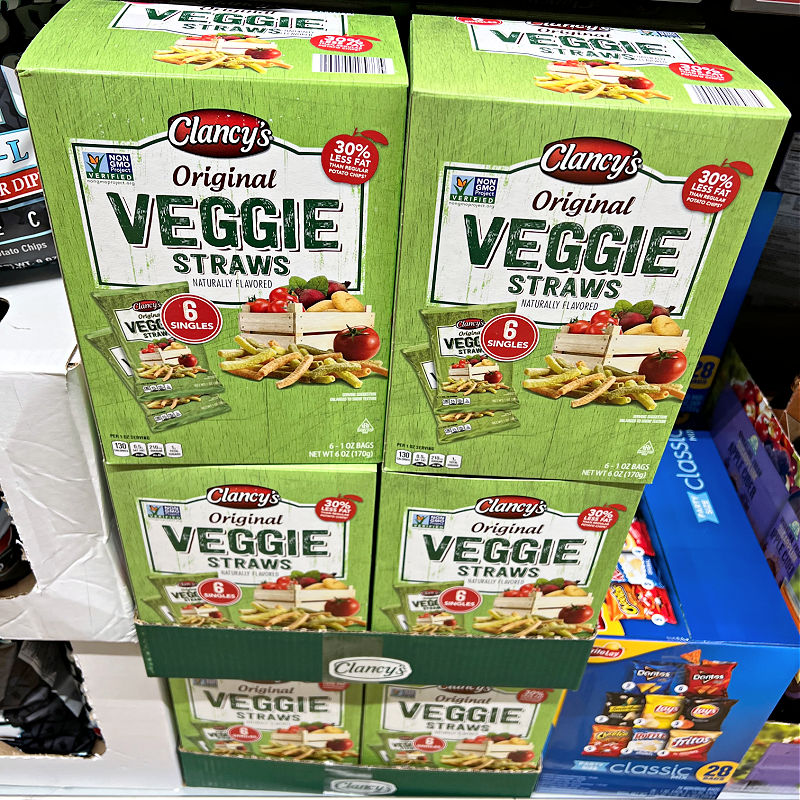 If your kids like veggie straws in their lunches, here are the convenience packs again…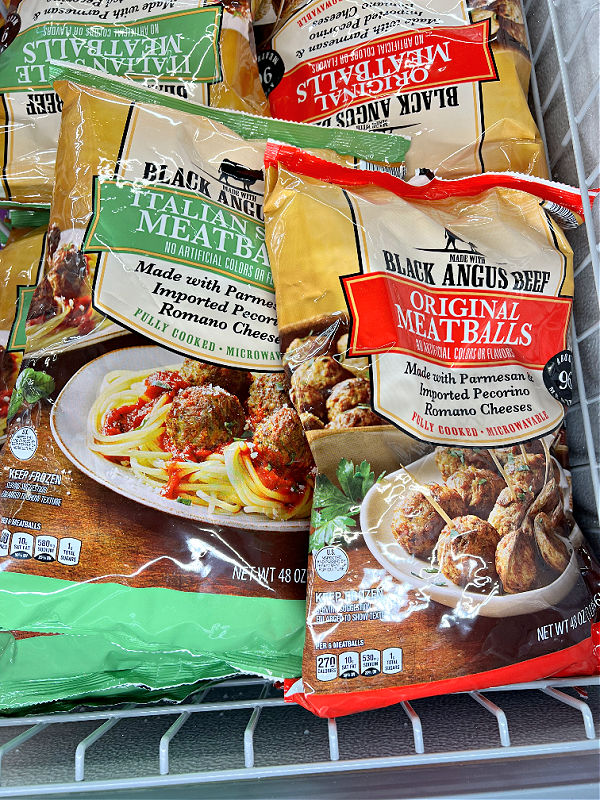 And these big bags of meatballs get generally positive reviews!
Stock up on a big box of blueberry waffles for busy mornings, maybe. (Their regular waffles are fine, and much more affordable than name-brand.)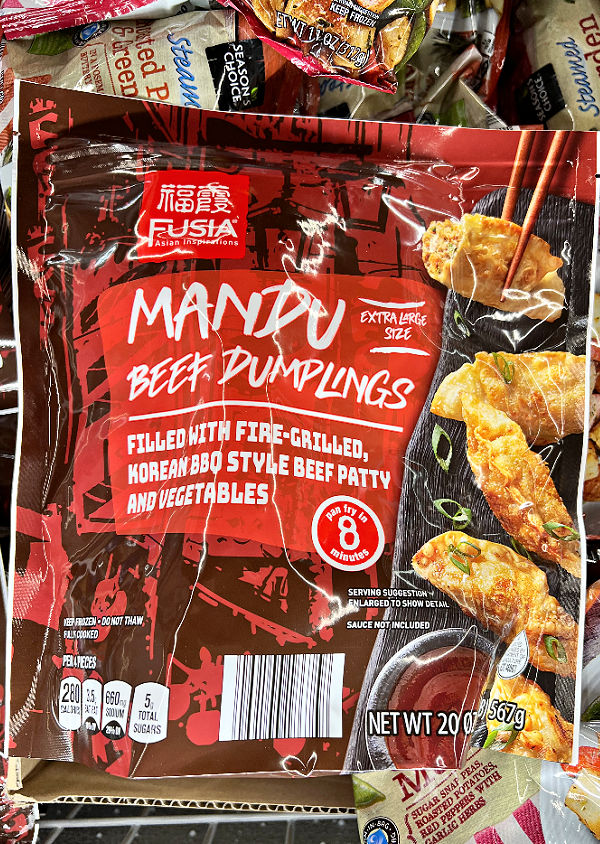 I keep eyeing this dumplings every time they show up, but haven't tried them yet. Don't they look good?!
Thirty ALDI non-food Finds this week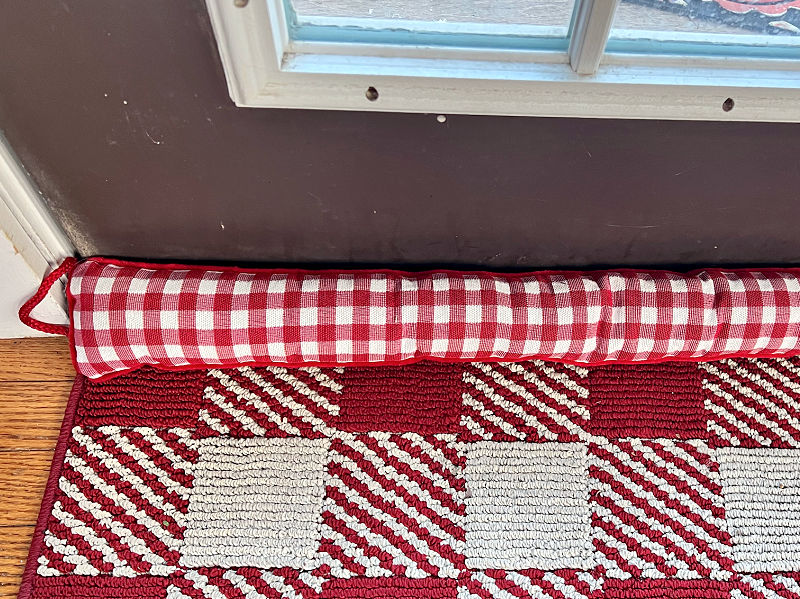 What winter-y Finds do I already have from ALDI? Well, this is my Huntington Home door insulator snake thing from last year; they're back in this week's ad for $6.99. (Not available in all locations.) Here are 30 more non-Food Finds to look for this week:
Huntington Home ornament or gift wrap storage, $9.99
Huntington Home wreath storage bag, $4.99
Huntington Home tree storage bag, $24.99
Huntington Home holiday light organizer, $6.99
Huntington Home down alternative comforter, $24.99
Huntington Home 60″x70″ feathersoft throw, $14.99
Huntington Home 2-pack memory fiber bed pillows, $19.99
WORKZONE 2'x3′ mega scraper mat, $12.99
Huntington Home large or 2-pack small woven totes, $9.99
Huntington Home 24″x72″ utility runner, $14.99
Visage king-size heating pad, $16.99
Huntington Home flannel sheets, $14.99-$29.99
Huntington Home double rod garment rack, $49.99
Pembrook premium planner, $6.99
HotHands hand warmer value pack, $5.49
Justin Case deluxe travel safety kit, $19.99
Auto XS 600-amp portable jump starter, $59.99
Auto XS frost/snow windshield cover, $9.99
Auto XS telescopic snow brush with ice scraper, $5.99
Auto XS 51″ snow broom, $9.99
Auto XS car organizer, $7.99
Auto XS 4-piece all-weather car mats, $14.99
Willow multipack facial tissue, $4.29
Boulder flex drawstring kitchen bags 120 ct, $12.99
Sterilite latching storage box, $8.99
Lysol toilet bowl cleaner, $1.92, or all-purpose cleaner, $2.44
Easy Home folding step stool, $8.99
Easy Home large storage bin, $4.99
Easy Home fan-forced heater, $14.99
Easy Home portable vacuum cleaner, $24.99
I also have one of the step stools from an earlier sale; the design looks like it's changed a bit, though. (These hold up to 200 lbs, and are handy in the kitchen etc.)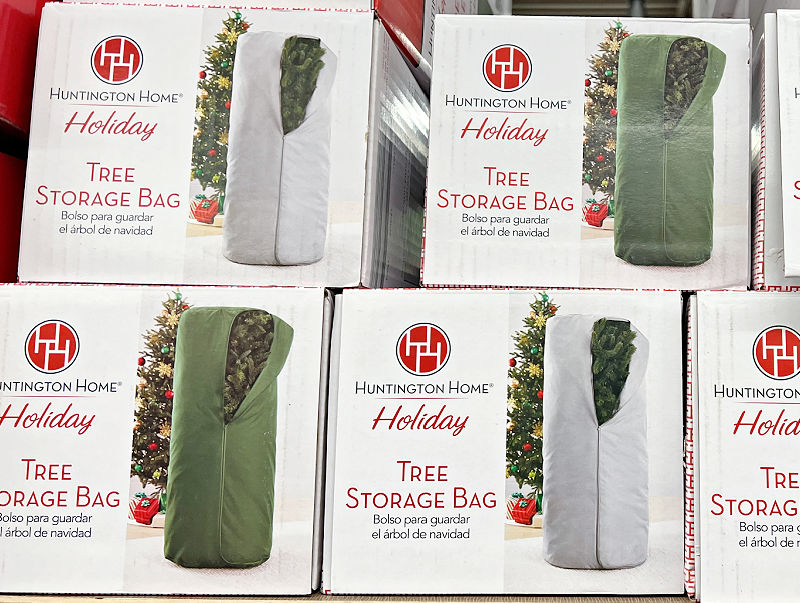 Our main non-food themes this week are apparently organization and coziness; plan ahead to get your holiday items stored away nicely in the new year.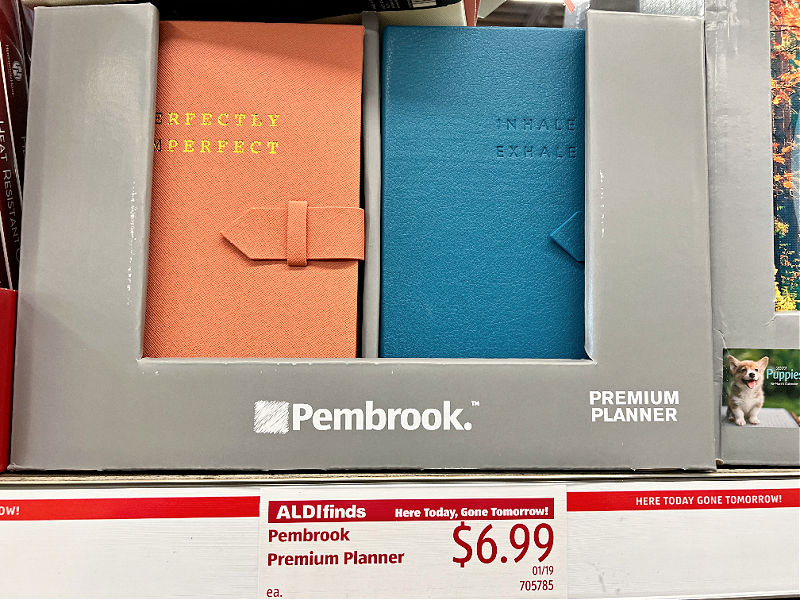 The Premium planners in stores this week are available in blue, green, purple, or cream, and $6.99 gets you an undated 6″x8.5″ 12-month planner sporting a faux leather cover and loop closure. Above is last year's photo, but this year's edition is similar in design.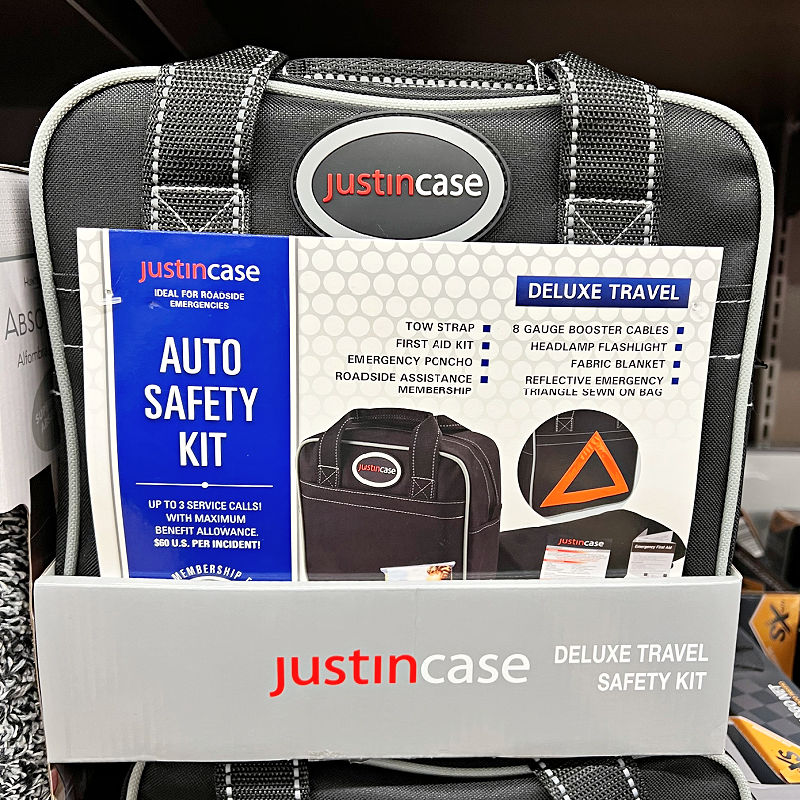 Given the winter weather this week, the auto safety kit seems like it might be a good idea!
What's Up with ALDI Finds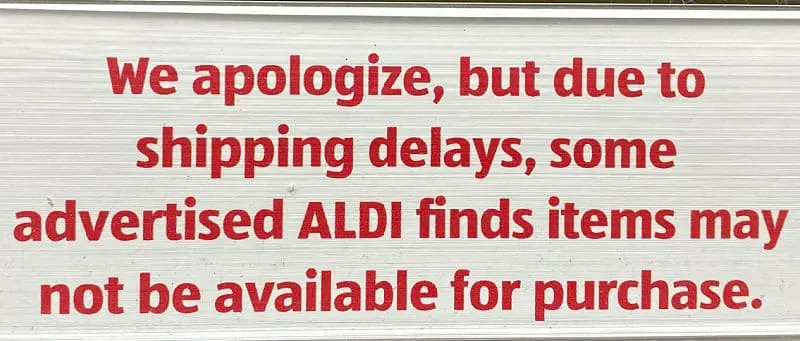 What's up with ALDI Finds? These are limited time special buy items, and are available in stores only while supplies last. If you spot something you like, be sure to pick it up while you can. See also: What is the ALDI Aisle of Shame?
Before shopping for new Finds this week, you might also wish to visit the ALDI Finds product delays page. Because of ongoing shipping delays and materials shortages affecting ALDI and many other retailers, certain advertised products may not be available in all locations.
Finding the Finds
Where do you Find all of this week's special buys?
Check out the "ALDI Finds" and current weekly ad tabs (or mobile menu choices) on the ALDI site to window shop from home.
Products mentioned in this post were either spotted in store or are from the ad starting 12/21/22 in Sunday ad markets, 12/18/22 in Wednesday ad markets. What caught your eye among this week's ALDI Finds?