ALDI Finds for the week of 3/9/22 include big jars of herring, big frozen pizzas, dill pickle hummus, corned beef & cabbage, and more. Check them out below, and let me know what you want to Find this week!
Let's start in the deli section at ALDI this week, where these big 32 oz jars of wild caught herring in wine sauce are tempting every time they roll around. Unfortunately, we never make it through this much herring! $6.99 is a good price, if your family will.
Then, there's this hummus. Specialty flavors of Park Street Deli hummus this week include garlic dill, dill pickle, or caramelized onion, each priced at $1.95 per 8 oz container. I like pickles. I like hummus. But… well, what do YOU think of this combination?
Poke bowls are also back this week, but have gone up to $6.79 this go-round. They're even pricier now for the size, but have always been SO good as a quick & easy lunch — I highly suggest adding chopped avocado & green onion.
And then, let's talk about these pretzel bites trays. $7.99 gets you a Park Street Deli pretzel tray with dip. These are available with either savory or sweet mustard & cheese dipping sauces.
Our last couple of deli Finds this week are:
Rana 40 oz meat lasagna, $11.99
Mama Cozzi's 12″ supreme cauliflower crust deli pizza, $7.49
Note that both advertised and unadvertised ALDI prices can vary by store and by region. But now, let's talk about the rest of the top ALDI Finds for the week of 3/9/22. You'll also Find some on 3/6/22 in Sunday ad markets, or if your store tends to put products out early.
Top ALDI Finds of the week
In no particular order, here are 15 more of the top March 2022 ALDI food Finds and 20 of the top non-food Finds leading up to St. Patrick's Day. Since we are getting closer to that holiday, also look for your typical sales on corned beef & cabbage: Cabbage will run around $.49 a head, while corned beef points are $2.99/lb while supplies last, flat cut is $3.99/lb. (These prices can vary by region.)
Top fifteen food Finds this week
This week's frozen onion rings are made from sliced whole onions, as pictured above. Some other food Finds this week:
Specially Selected mini muffins in strawberry or triple chocolate, $3.99
Gatorade Zero 32 oz, $1.18
Fremont Fish Market pub style shrimp or lobster bites, $4.99
Fusia chicken or beef mandu, $5.99
Mama Cozzi's stone baked pizza in four cheese or veggie, $4.19
Mama Cozzi's XXL pepperoni pizza, $6.19
Season's Choice whole onion rings, $2.49
Season's Choice cheesy jalapeño or loaded tots, $3.99
Specially Selected shrimp & scallop pot with champagne sauce, $6.99
Klement's 12 oz summer sausage, $3.49
Wild caught cod portions, $8.99/lb
Utz 23 oz cheese balls, $5.99
Gardetto's original or rye chips, or Snyder's hot buffalo wing or honey mustard & onion pretzel pieces, $1.99
Wahlburgers Wahl sauce, $3.49
Thomas Farms fresh meatball & meatloaf mix, $3.79/lb
Look for that XXL pizza in the frozen section, where you get 31.91 oz worth for your $6.19 this week.
Also in the frozen section, these flavored potato tots. Again, a little high priced for a small box like this, but intriguing!
Lastly: These mini muffins were located on an endcap at my store, if you don't see them with the other Finds.
Top twenty non-Food Finds this week
Lots of non-food Finds to choose from this week as well, and here are my top picks.
Boulder 8-roll multi-size paper towels, $6.99
Easy Home cordless cyclonic stick vacuum, $89.99
Crofton bamboo chopping block, $14.99
Crofton barware set, $24.99
Crofton 2-pack Moscow mule mugs or crystal wine or cocktail glasses, $9.99
Crofton whiskey or wine decanter, $19.99
Crofton ice bucket, $17.99
Crofton silicone bakeware, $5.99
Gardenline outdoor plants (regional): Berry bush, mixed spring bulbs, ornamental shrub, or shade or ornamental tree, see price in store
5″ foliage, see price in store
Gardenline 800-watt portable outdoor heater, $79.99
Crofton teppanyaki grill plate or reversible griddle-grill, $17.99
Crane 30-lb kettle bell set, $29.99
Crane foldable fitness trampoline, $34.99
Crane yoga or pilates kit, $24.99
Pembrook kitchen calendar, $4.99
Bee Happy Squishmallow travel pillow or National Geographic STEM activity kit, $8.99
Welby TENS EMS massage device, $34.99
Huntington Home zig-zag storage basket, $9.99
Huntington Home living boxes or flex trays, $4.99
You'll find a number of nicely matching items this week, if you're looking to set up a home bar.
Who's thinking spring? If you're looking at the (regional) outdoor plants this week, I've always had good luck with ALDI garden items. At my old house, for instance, a few of the cheap little bare root forsythia bushes took off after a while, blooming and bushing out like crazy.
And on the exercise equipment: I picked up a kettle bell set for High School Guy this winter. The 30 lb set is back again this week, and while the labeling looks slightly different this time, you'll find the same 15-10-5 lb weights in the box.) He's been quite happy with his.
What's Up with ALDI Finds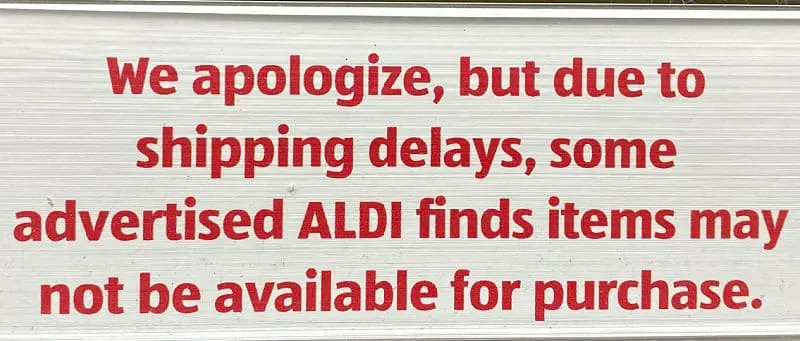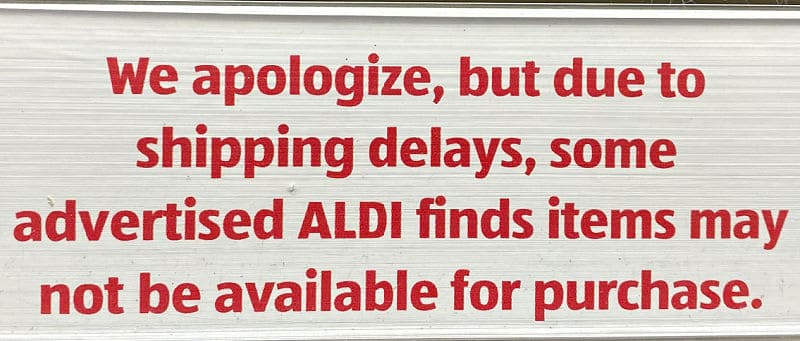 What's up with ALDI Finds? Well, these are limited time special buy items that are available in stores only while supplies last. So if you spot something you like, be sure to pick it up while you can.
Before shopping for new Finds this week, you might wish to visit the ALDI Finds product delays page. Because of ongoing shipping delays and materials shortages affecting ALDI and many other retailers, certain advertised products may not be available in all locations.
Finding the Finds
Where do you Find all of this week's special buys?
Check out the "ALDI Finds" and current weekly ad tabs (or mobile menu choices) on the ALDI site to window shop from home.
If you're planning an in-store shopping trip, use their online ad to help determine what you'll grab and purchase if you do see it in the store.
Products mentioned in this post were either spotted in store or are from the ads starting 3/6/22 in Sunday ad markets, 3/9/22 in Wednesday ad markets. What caught your eye among this week's ALDI Finds?