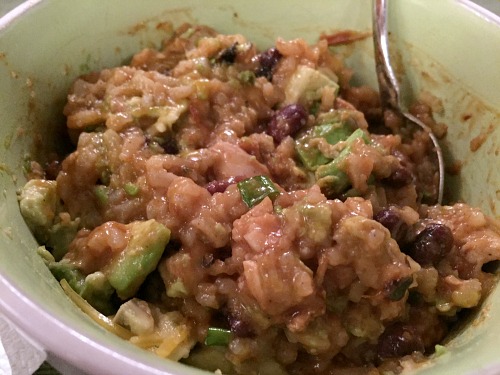 I always love hearing about the recipes that people run across online or in cookbooks and am always looking for new dinner recommendations, so was wondering: What new recipes has your family tried and loved lately?
Here's my new recipe of the day
Excuse the non-photogenic picture, but tonight I tried out these pressure cooker chicken, black bean, & rice burrito bowls in the Instant Pot. (I doubled the chili powder and garlic, used chipotle salsa, used boneless skinless chicken breast instead of thighs, and used Instant Pot vegetable broth instead of chicken broth. I also stirred in a little shredded cheese, avocado, and green onion at the end.)
These burrito bowls were awesome! It's an easy one-pot recipe — and both kids loved their dinner, so definitely a keeper. You could also cook up a batch and portion it out for easy lunches during the week, too.