Sardine candy canes, cat shaped veggie peelers, mop socks, & more. Our weekly roundup of weird and fun Amazon products — for you, for fun, for white elephant or birthday gifts, or just to enjoy!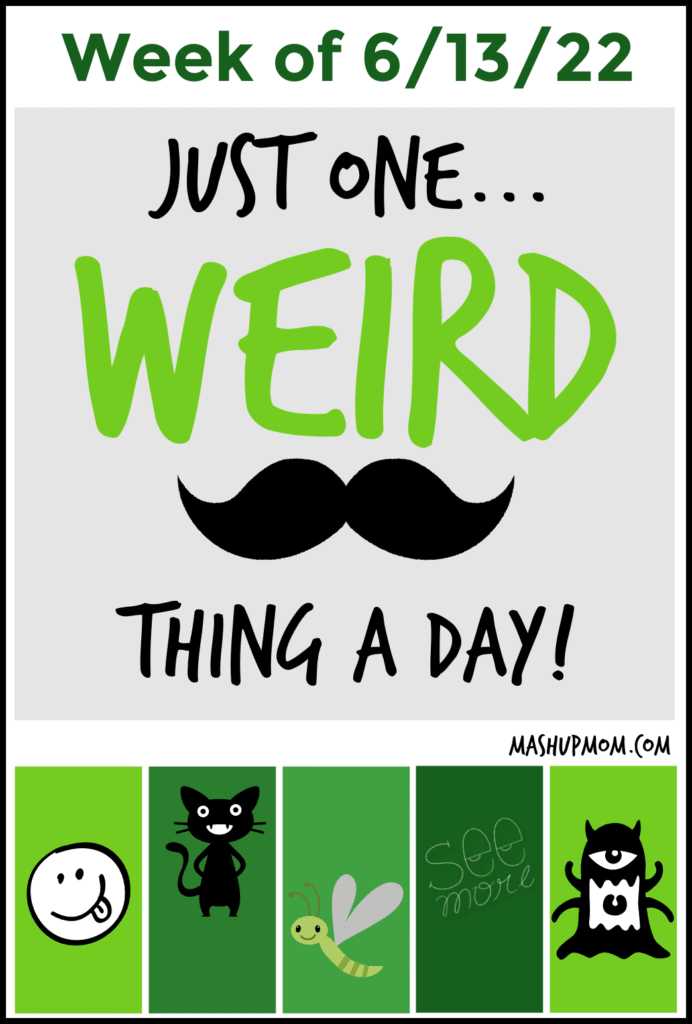 It's hot and humid here, so let's hang out inside and admire one weird Amazon product a day from the last week. How this works: On the Mashup Mom Facebook page, you'll find a new fun, weird, or white elephant gift idea every morning. Then, the Sunday roundups here let you catch up on anything you missed from our week of weird.
What's your own favorite from this past week of weird Amazon products?
Weird Amazon products, week of 6/13/22
Are you a huge fan of The Office TV series? Well, you can now enjoy it as ART on your wall, with this "The Office" Georges Seurat painting! You can't get much classier than that…
Next up: If the beard beanie did not speak to you last week, then how about this stylish inflatable beard of bees?
"Gag" gift about sums up this next weird Amazon product: Extra Fancy sardine flavored candy canes. (Or, put them aside for a prank next holiday season.)
Some wearable humor for you, too: "I've got your back!" — a t-shirt of stick figure friendship and faithfulness.
Speaking of wearable humor, even if you don't have a handy baby around to use the mop onesie from the other day, you can still have clean floors! Just pick up a set of these MOP SOCKS, then slide around picking up dust and pet hair to your heart's content.
This Caturday, why not make peeling veggies less of a chore with today's decidedly a-peeling kitty cat shaped CatPeeler.
Be sure also to follow the ongoing adventures of The Notorious Bad Kitty Lucy and friends, if you are a cat person. 🙂
Angry Mama, Chilly Mama: Here's our last fun Amazon find of the week! Pick up the set and use Angry Mama to clean your microwave, Chilly Mama as a fridge odor absorber.
More weird Amazon products here next week
Come on back for a new weekly Amazon Oddities roundup next Sunday. If you can't wait, though: Head over to Facebook and start out your day with a new fun pick every morning (plus much, much more).
As an Amazon associate, I earn from qualifying purchases.