Welcome back to Midweek Meal Planning for the week of 3/3/16! It's more traditional to meal plan on the weekend, but since our Chicago grocery deals mostly flip on Wednesdays and since midweek is when many of us start to run out of steam, we buck the trend here. In Midweek Meal Planning, we plan dinners for the rest of the week while also looking back to see how we've done so far.
Midweek Meal planning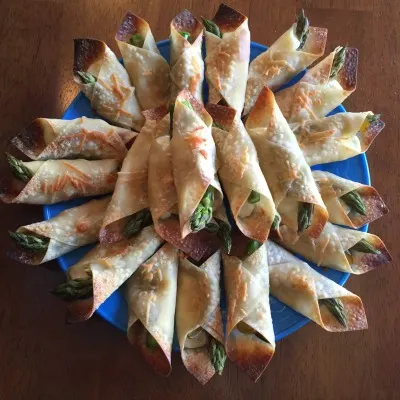 Watch for this Spicy Asparagus Roll-Ups recipe on Sunday! I actually made these at lunchtime one day, then had some of the leftovers for dinner on Monday — they reheated quite nicely in the toaster oven.
Here's our week
Sunday: Grilled salmon with potato & cauliflower packets, fruit.
Monday: Leftovers.
Tuesday: Chili, salad, broccoli, garlic bread, fruit.
Wednesday: Leftover chili.
Thursday: Rotisserie chicken from Costco with the last of the salad & roasted chile-lime potatoes — I might throw some cauliflower in there for MashupDad and see how that works, too.
Friday: Spicy chicken with the $.49/lb leg quarters from Pete's & clearance Frank's RedHot sauce from ALDI. (Since MashupDad only likes white meat, he'll have leftover Costco chicken.) Roasted asparagus, fruit.
Saturday: We may be going out to dinner with family — if not, I'll figure it out! 😉
Your turn
How's your week of meal planning going? Are you cooking mostly out of your pantry, or are you taking advantage of this week's grocery sales? Let's inspire each other!
And if you're looking for additional inspiration, read all the Midweek Meal Planning posts and others' comments here.