A few months ago we talked about some of the top ways to save on meat. Well, here's one more frugal idea for you: Buy large cuts of meat when they're on sale, and chop them up — yourself!
How to save on meat by buying larger cuts

I love these emailed grocery receipts from my local Jewel, because they really drive home what you spend if you just walk in and buy meat at its "regular price" without paying attention to sales cycles. (This is true of most items, but really tends to strike home with the loss leader sale items.)
Last weekend, for instance, my local store had half boneless center cut pork loins on sale for $.99/lb. But, if you do the math on the receipt above, the everyday price is a whopping $4.99/lb — or five times more expensive than this week's sale. 80% savings? Yeah, I'm down for that. Sure, some cut of pork or other is always on sale, but you really realize how much of a savings that is when you look at a large cut of meat, rather than one of the smaller packs you might impulse buy to cook up for dinner the same night.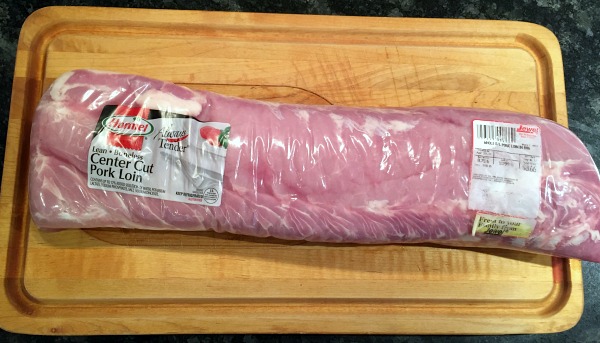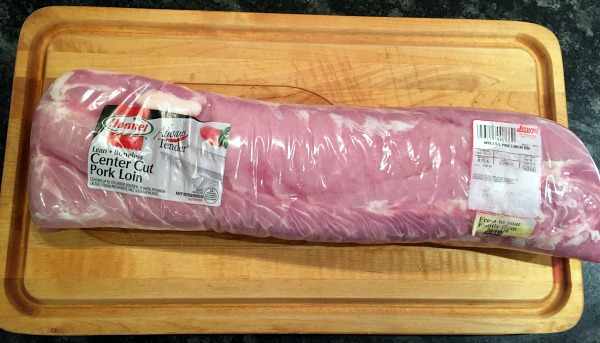 At $.99/lb, you can bet I brought home one of these. I've heard some of you comment in the past that you don't buy the large cuts of meat on these sales because you don't need that much meat, or because you don't know what to do with them. Well, the next time you see a sale like this, jump on it — because here's exactly what you do with one of these!
Chop it up: Yourself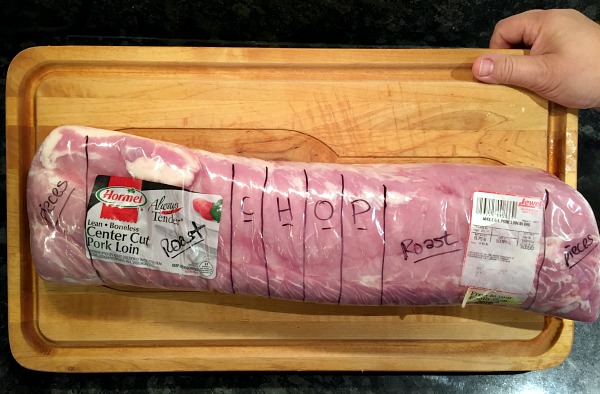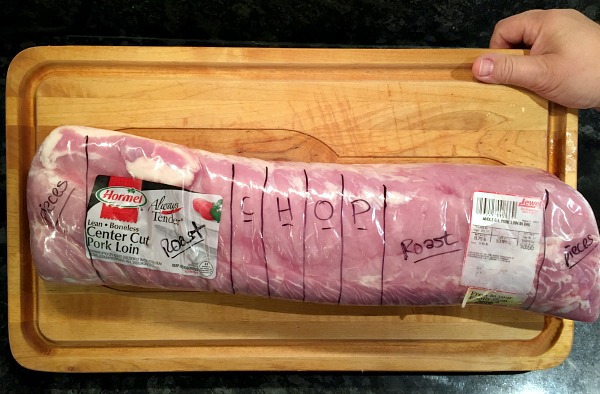 Think about the types of meals your future self might want to cook with pork. Does your family like pork roast? Do you grill up pork chops? Does a pork stew sound tasty?
Once you have some meals in mind, simply grab yourself a Sharpie and draw some dividing guidelines right on the plastic covering the meat. Here, we had a family request request for thick center-cut pork chops, I wanted to have a couple of roasts on hand for meals like garlic rosemary pork roast, and the end pieces seemed the perfect choice to chop up for a future Lazy Sunday pork & vegetable stew. (If you want to get really precise, you can measure yours out before slicing, but I just eyeballed it here.)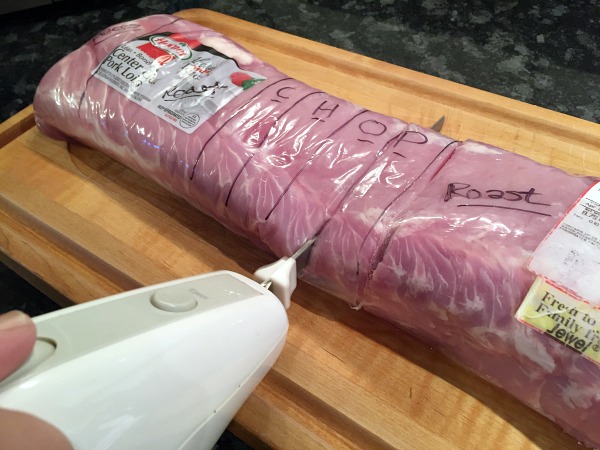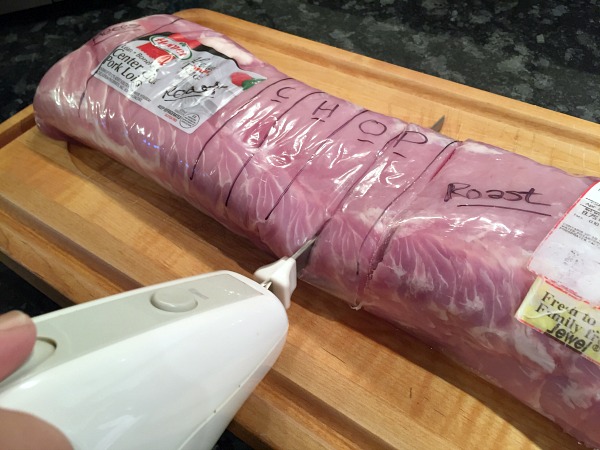 Then, just grab yourself a sharp sharp knife and get to chopping! (Here, we used an electric knife to cut through the plastic, and a large chef's knife to separate the pieces the rest of the way.) Yes, we are literally chopping ourselves some pork chops!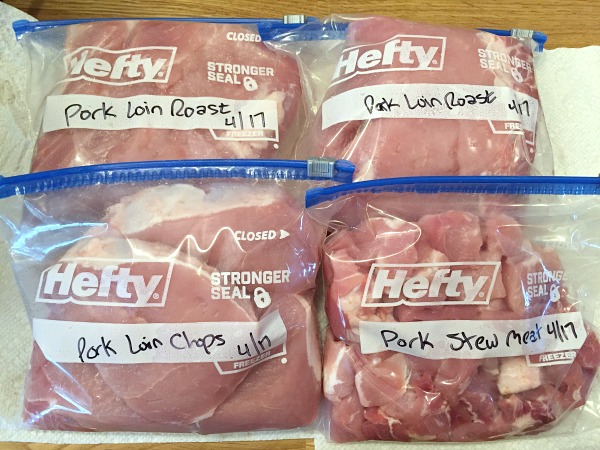 Ten minutes and four freezer bags later, here are four perfectly portioned out packs of meat that each run a little over two pounds. That's four hearty meals at just $2.17 a bag — and each of these bags ran much less than thick cut boneless pork loin chops, stew meat, or pork loin roast generally would have cost us, even on sale. They're all now nestled nicely in the freezer for use in future dinners.
So the next time you see a sale…
Don't be deterred by the amount of meat you have to purchase at once with one of these large roasts: Just envision multiple meal possibilities, and chop it up into smaller meal-sized packages as soon as you get home. Even if you're cooking for one or two people instead of a larger family, an 8 pound pork loin divides just as well into eight 1-lb freezer bags to give you over a week's worth of meals from one large purchase. Stock your freezer and save!
What are some of your best tips for how to save on meat?