Succulent Garlic Soy Roasted Chicken and Mushrooms, anyone? So much flavor, jam-packed into just seven ingredients! Try this easy roast chicken recipe for a change of pace.
Split chicken breast keeps going on sale lately, so I thought I'd share a different way to oven-roast this cut to help keep it moist and super flavorful. Garlic Soy Roasted Chicken and Mushrooms is downright delicious, and creates enough savory pan juices that you can serve it over rice, if desired.
These mushrooms, though… I just can't stop eating them! I'm kind of selfishly glad that College Guy doesn't care for mushrooms, meaning that: I get extra. 😉 His loss, right? Throw this easy roast chicken recipe into the oven on a Sunday evening — or even on a weeknight, to roast away while you do the 10,000 other things you probably have to do if your house is anything like mine).
Garlic Soy Roasted Chicken and Mushrooms
Ingredients
4 lbs bone-in split chicken breast
16 oz white or baby bella mushrooms
1/2 cup butter, melted
1/3 cup soy sauce
1 Tbsp minced garlic (about six cloves)
2 tsp oregano
1/2 tsp crushed red pepper
Directions
Preheat oven to 375 degrees and spray a 9×13 baking dish with cooking spray.
Using sharp kitchen shears, trim the chicken and cut each bone-in breast in half width-wise, so that you have six to eight smaller pieces. Place the chicken skin-side up in the prepared baking dish.
Melt the butter in a large bowl, then stir in the soy sauce, minced garlic, oregano, and crushed red pepper.
Brush the chicken with the butter soy mixture.
Add the mushrooms to the bowl with the remaining sauce and toss to coat.
Add the mushrooms into the baking dish around the chicken, then pour any remaining marinade over everything. (Don't worry if the butter starts to solidify back up on the colder chicken & mushrooms; it will melt beautifully back over everything in the hot oven.)
Roast at 375 degrees for 30 minutes, then baste the chicken and stir the mushrooms. Return the baking dish to the oven and continue roasting for another 15 minutes, or until chicken is cooked through to 165 degrees.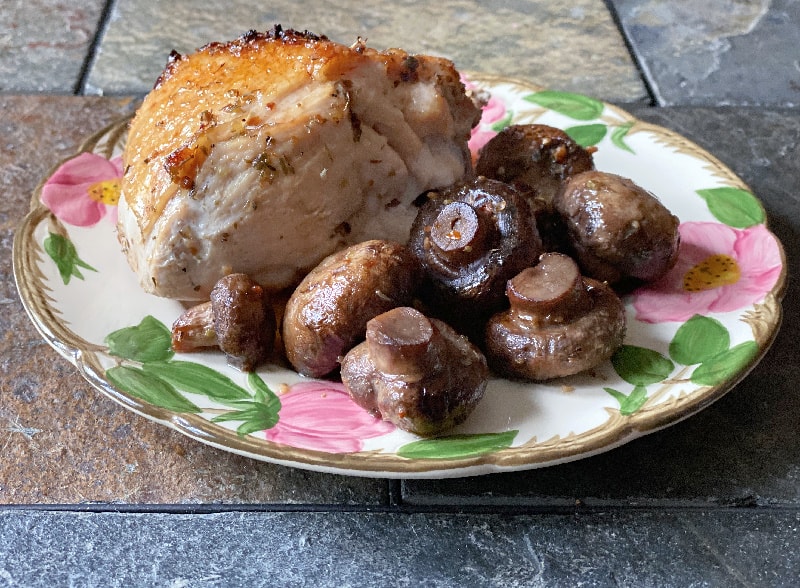 Baste chicken again with the pan juices, and serve it with the garlic soy mushrooms.
Note: Final cooking time depends on the size of the chicken breasts you pick up. Cutting them in half helps them cook through a little faster than they otherwise would, and if the pieces are unevenly sized, just remove the smaller ones from the pan a few minutes earlier than the larger ones so that they don't dry out. You can also use low sodium soy sauce and unsalted butter, if desired.
So much flavor in so few ingredients
That's it! Just seven ingredients, but all of the garlicky good flavor — and, look how beautifully the chicken browns up with that butter-soy marinade. Using bone-in, skin-on chicken helps lock in the juicy goodness here.
Serve your chicken & mushrooms with rice if you want to bulk this recipe up further, and/or add a green vegetable to round out your meal.
Garlic Soy Chicken and Mushrooms, printable recipe
Recipes in the real world
Be sure not to miss the free weekly ALDI meal plans, which show you how to use these easy family recipes to meal plan affordably and realistically for your family. Or, find more recipe ideas with the Recipe Search!