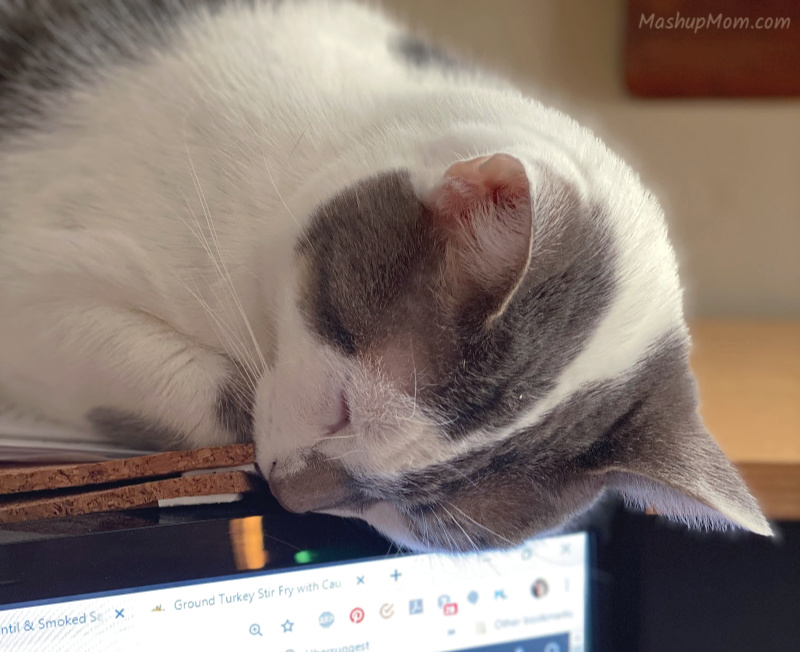 Welcome back to Caturday with the Notorious BKL and Friends: Not Enough Attention in the whole entire world edition. To wit: Bad Kitty Lucy (AKA: The Notorious BKL) actually started out as Middle School Guy's cat — but, over the past year she has gravitated firmly towards my corner. Miss Bad Kitty Gnocchi now adores the boy, and has taken over BKL's former duties there.
I think this may actually be because BKL realizes where her food comes from and who does the cooking around here. Like most of us, she's exceedingly food motivated. 🙂
As you're reading the recipes and meal plans on Mashup Mom, just picture my little shadow helping out behind the scenes. She usually can be found hanging about on my desk, on the shelf or the windowsill in my office, on my lap, or lying around above my computer monitor.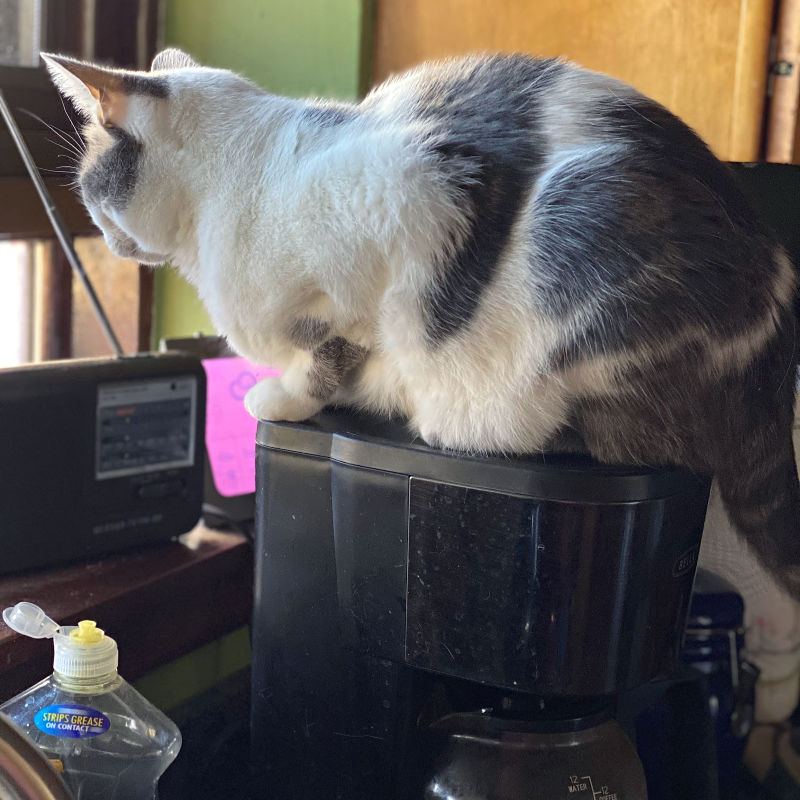 If she really wants to get my attention, though, the coffee pot is obviously the place to be. She's of course sure to rub herself along the side to ensure that it's appropriately covered with cat hair before plopping her furry body up on top… and I didn't realize quite how badly the windowsill needed dusting until looking at this photo, so I'll just go take of that right after this post. Thanks a lot, BKL! lol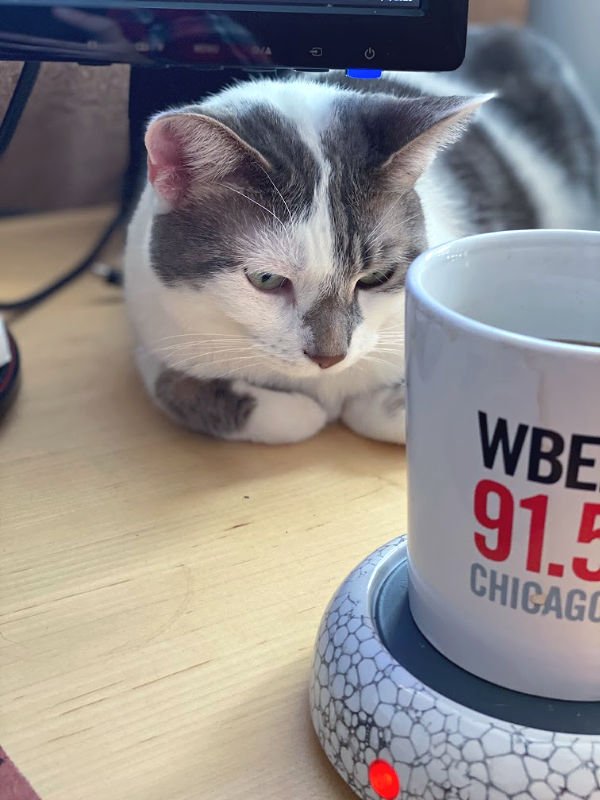 While we're talking about coffee, by the way, let me just say that I'm so happy with this year's Chanukah present to myself. This little plug-in cup warmer works really nicely for someone like myself who likes hot coffee, and often has to get up to microwave what's left in the mug. Highly recommended!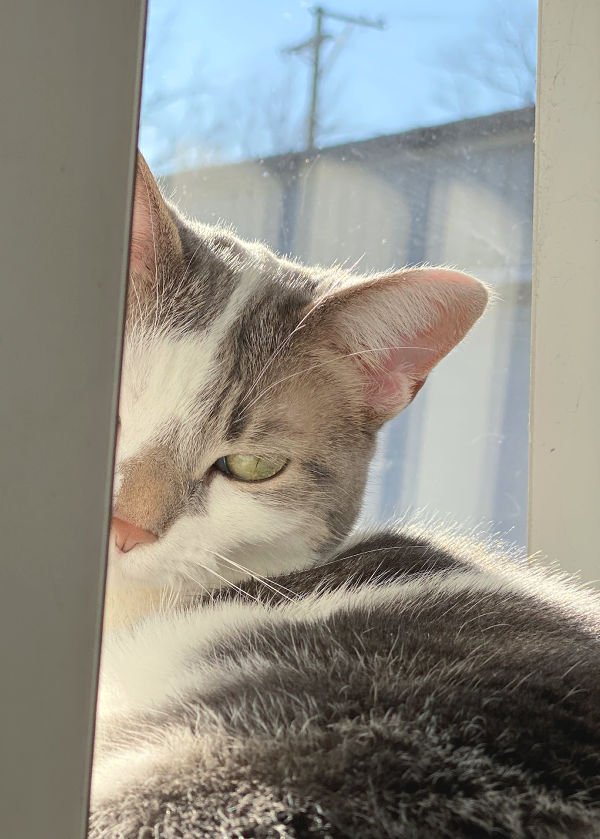 And what does BKL recommend? Well, she's more a fan of my getting off the Internet and cuddling up on the couch with her imperial self (and maybe a cozy blanket or two) as we hunker down and wait for tonight's winter storm to hit.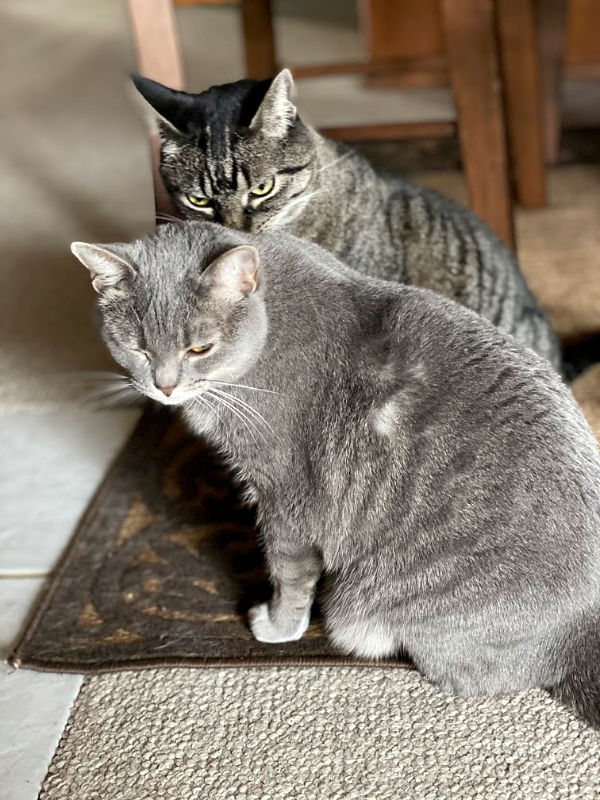 Jeremy and BKG, however, recommend that I bring back last week's sunbeams. Posthaste, if that's not terribly too much trouble…
So, how's YOUR Caturweek (or cat-free week) going?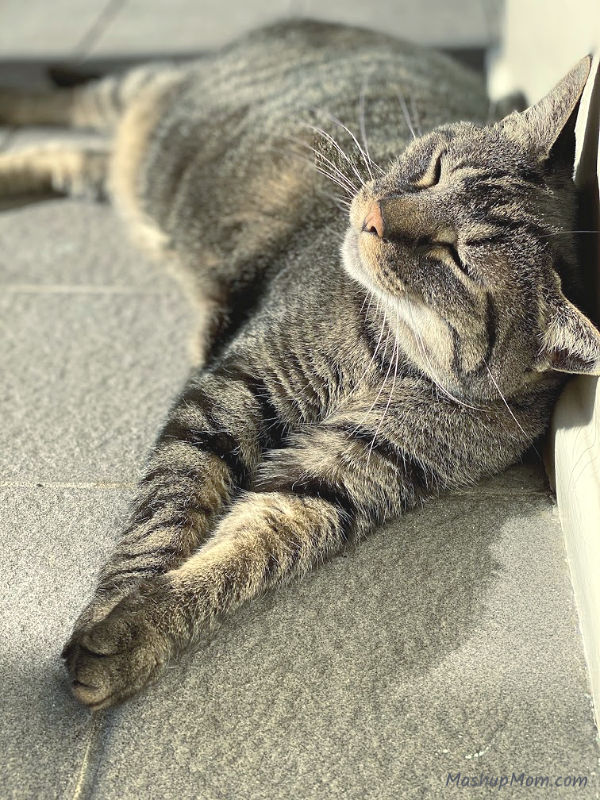 I'll leave you with the usual question on this winter storm watch Caturday: How's your own Caturweek (or cat-free week) going? And be sure to tune in next time for the latest installment in the exciting ongoing Caturday adventures of the Notorious BKL and Friends.