ALDI Finds for the week of 6/8/22 include lime tortilla chips, sparkling coconut water, wine cooler totes, the infamous BOX BAG, and more. Check them out below, and let me know what you want to Find this week.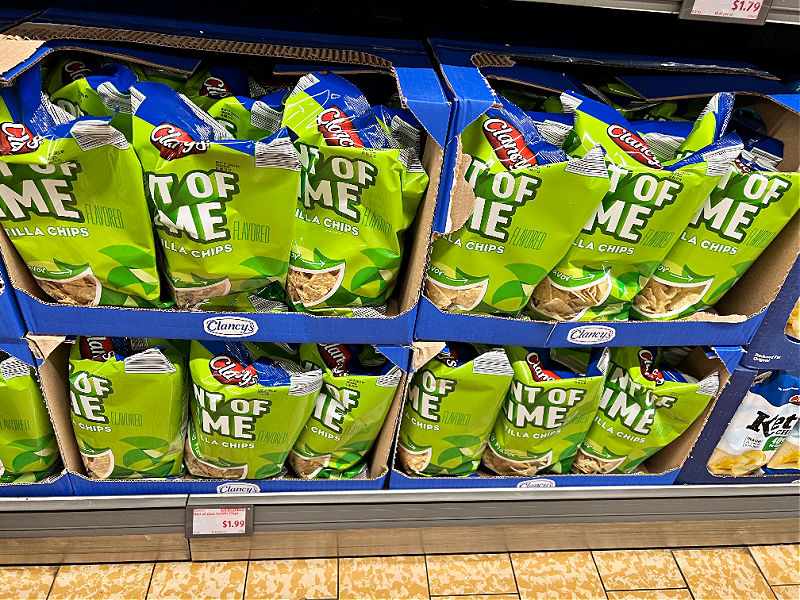 Let's talk about chips, ba-by, let's talk about you, and… Well, anyway, we have several different kinds of ALDI chips to check out this week! Let's start with these 13 oz bags of Clancy's hint of lime tortilla chips, at $1.99 a bag. How perfect for summer, right?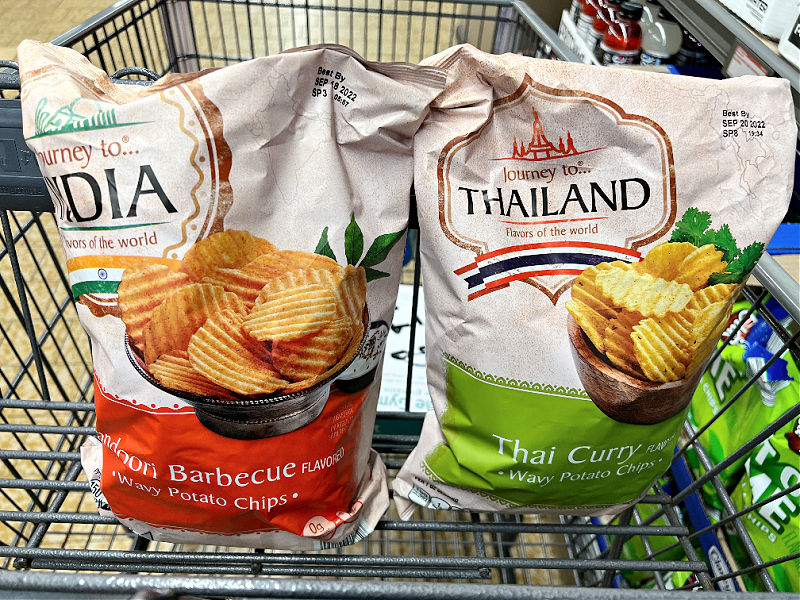 Next up, both Journey To… Tandoori BBQ and Thai curry flavored wavy potato chips are back on the shelf, for $1.79 per 9.5 oz bag. The tandoori ones, by the way, are most excellent! If neither of those floats your boat, also look for Clancy's grilled ribeye steak or Kentucky smoked bourbon krinkle cut kettle chips at $2.09 per 8 oz bag. They're also selling SunChips this week for $3.26.
Note that both advertised and unadvertised ALDI prices can vary by store and by region, and let's now talk about the rest of the top ALDI Finds for the week of 6/8/22. You'll also Find some on 6/5/22 in Sunday ad markets, or if your store tends to put products out early.
Top ALDI Finds of the week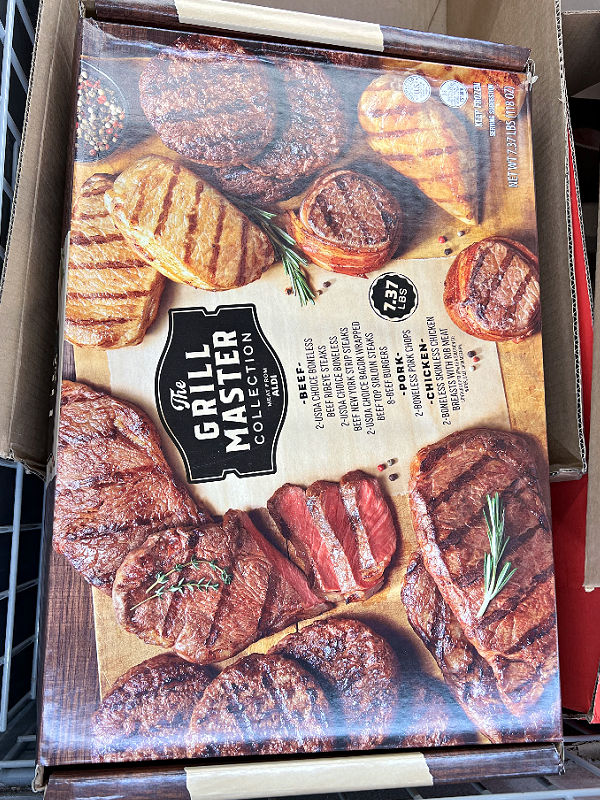 So this Grill Master Collection of frozen meats initially seems convenient, in that you get a little bit of everything. At $64.99 for 7.37 lbs, though, it works out to $8.82/lb. Given that you have burgers, chicken, and pork chops in there in addition to the little steaks, you could probably do better per pound picking up products individually — esp. if you watch for sales. What do you think?
But anyway: Here are fifteen more top food Finds (plus cookies!), as well as thirty more non-Food Finds, all for the week of 6/8/22.
Top 15 food Finds this week
Here are 15 more food Finds to check out this week:
Nature's Nectar sparkling coconut water, $3.89
Belmont lemon, orange, or black cherry sorbet, $2.29 for 14 oz
Fremont Fish Market 32 oz extra jumbo EZ peel raw shrimp, $14.99
Mama Cozzi's cauliflower crust pizza, $5.49
Mama Cozzi's crispy pepperoni pan pizza, $6.49
Roseland 24 oz original or honey garlic BBQ baby back ribs, $8.99
Season's Choice 12 oz steamed fiesta quinoa or Asian couscous blend, $2.95
Clancy's 8 oz kettlecorn, $1.95
Lunch Buddies 4 oz individual assorted fruit snacks, $.79
Deutsche Küche egg spaetzle, $2.19
New York Texas Toast croutons, $1.54
Specially Selected gourmet seasoning grinder, $3.49
Stonemill 4-in-1 BBQ seasonings, $4.19
Stonemill BBQ grill pack, $7.99
Bremer chicken marsala or parmigiana, $5.79
It's cheaper to buy the fruity snacks in the larger box, but if you just need a quick treat for a hungry kid while out shopping…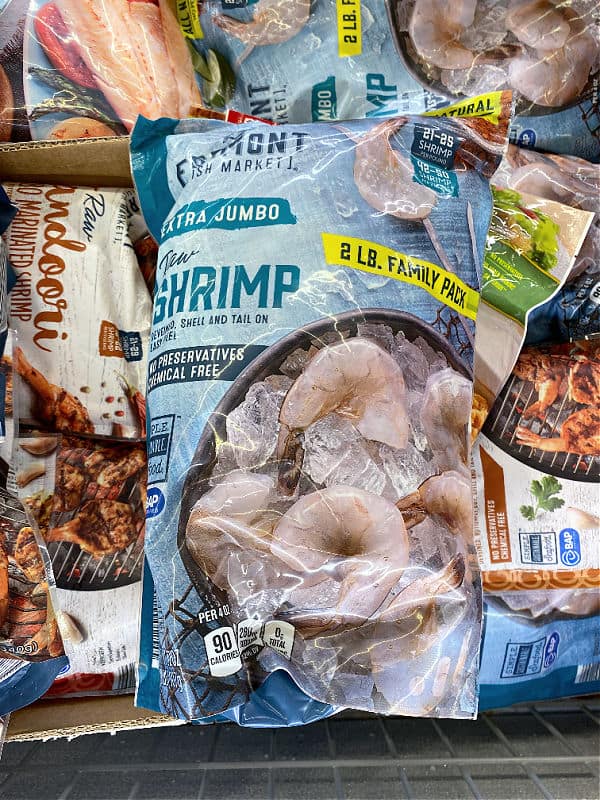 This shrimp is amazing, and such a good size! Try using some in this deliciously summer-y shrimp taco salad recipe.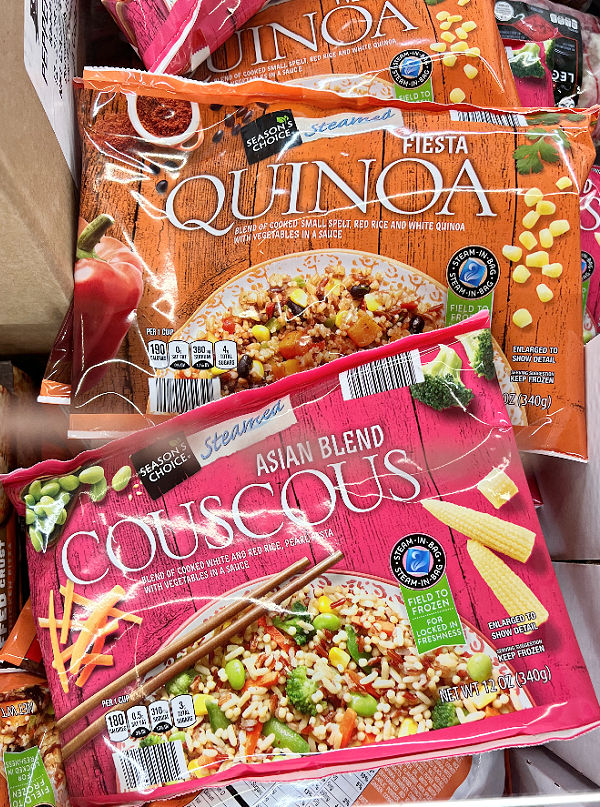 Note that the frozen quinoa and couscous are hearty blends, not just plain.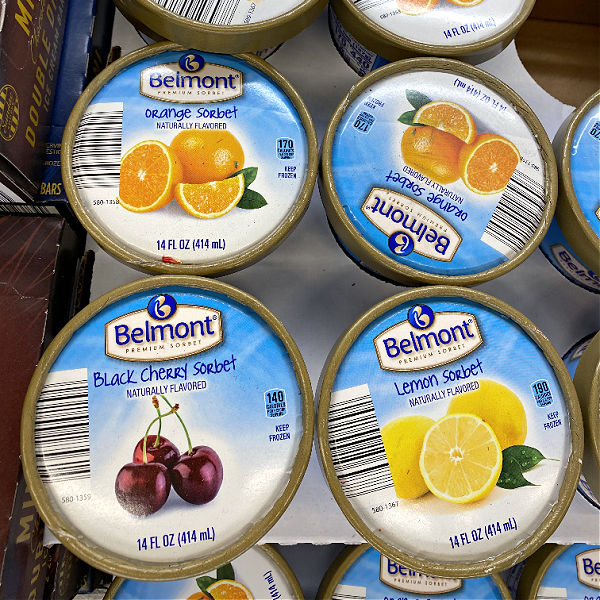 And the sorbet comes back every summer — it's so refreshing, but honestly very sugary.
Non-advertised cookies!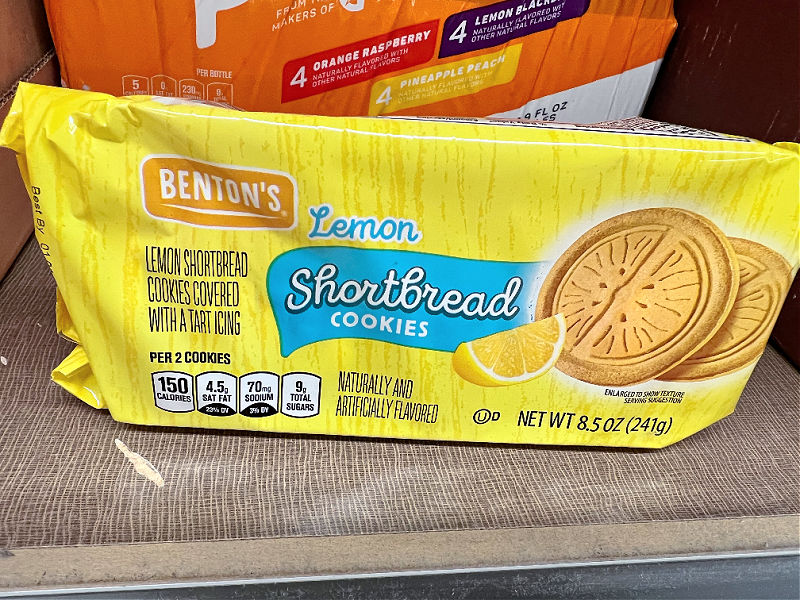 I also saw a few non-advertised types of summery cookies on the shelf this week. Fans of Girl Scout knockoffs will appreciate Benton's lemon shortbread cookies at $1.55 a pack, as well as Benton's mint striped fudge cookies for $1.49.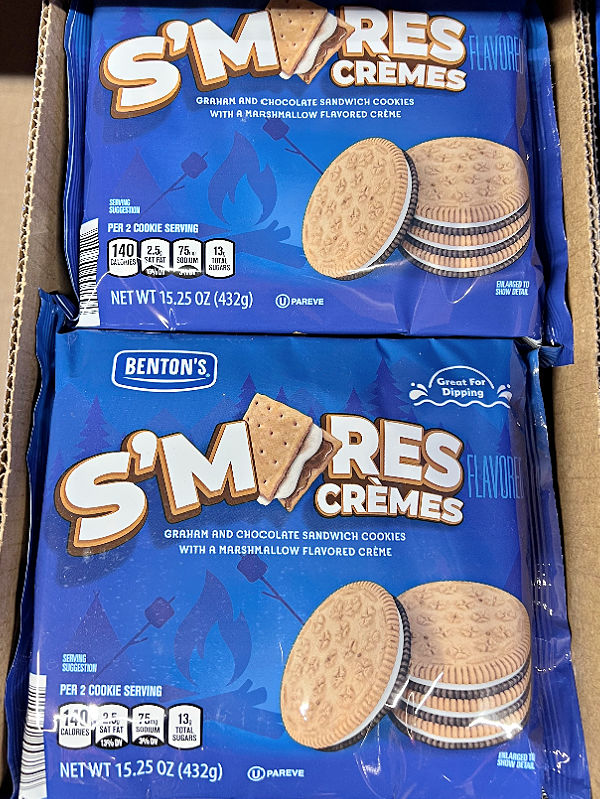 How about s'more? Talk about your summer flavors: Benton's s'mores cremes sandwich cookies are out in stores now as well, at $1.95 a bag.
Top 30 non-Food Finds this week
Hey! ALDI's most excellent box bags are back out on the shelf this week. I liked mine from last year so much that it made it into my top 5 Fave Finds of 2021, and will probably pick up another. (The picture above is of the box bag design I currently have, but you'll find different and more spring-y designs in this week's ad.)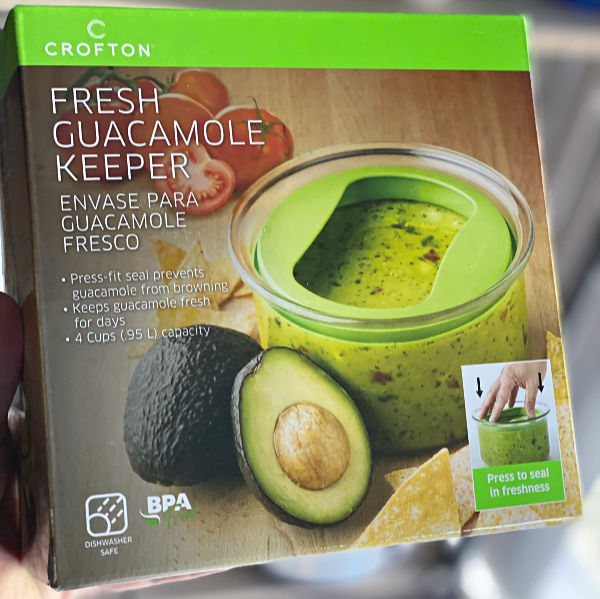 Here are 30 more non-food Finds from the June 8th ad.
Huntington Home 5'x7′ washable area rug, $49.99
Huntington Home 6'x9′ Earthkind indoor/outdoor rug, $19.99
Huntington Home microfiber sheet set: King, $17.99, queen, $15.99
Huntington Home window sheer curtain pair, $12.99
Serra wine cooler tote, $16.99
Little Journey safety gate, $29.99
Belavi citronella candle, $5.49
Crofton guacamole keeper, $8.99
Crofton oil & vinegar bottles, $7.99
Crofton salt & pepper mills, $12.99
Crofton 4-pack wine or margarita glasses, $5.99
Belavi double hanging planter, $14.99
Belavi plant bracket or caddy, $4.99
Belavi trough planter, $12.99
Gardenline 2-pack gardening gloves, $3.99
Gardenline 4-tier or drop-over greenhouse, $24.99
Belavi tall rattan planter, $39.99
5″ easy orchid, $11.99
8″ hydrangea, $12.99
Pembrook fashion portfolio with writing pad, $4.99
Bikemate bicycle accessories, $6.99
Heart to Tail collapsible ball launcher, $9.99
Heart to Tail wing or monster bone dog chew, $8.99
Little Journey eco friendly feeding set, $7.99
Easy Home twin window fan with remote, $34.99
Royal Class men's 2-pack sleep shorts, $9.99
Serra Ladies' short-sleeve cozy lounge romper, $12.99
Serra Ladies' sleep shirt, $7.99
Adventuridge men's stretch braided belt, $7.99
Serra Ladies' viscose from bamboo joggers, $12.99
Those wine cooler totes will probably go quickly…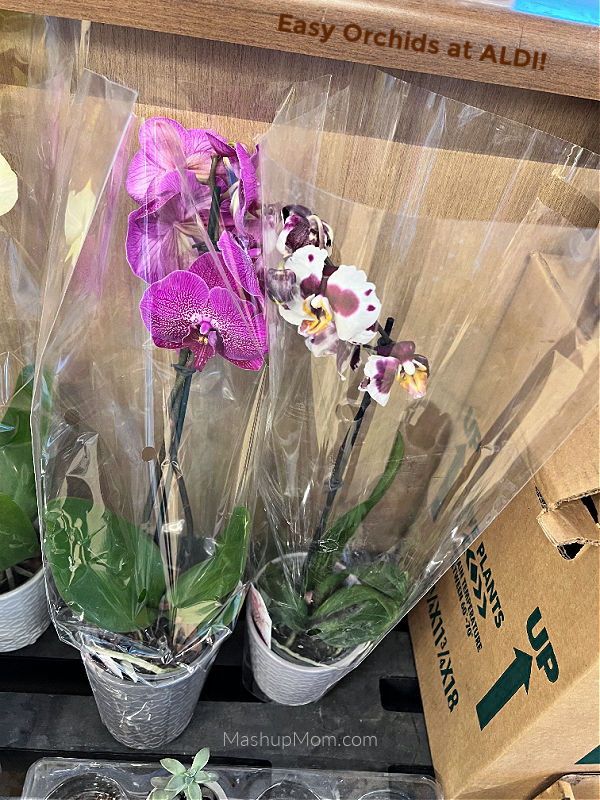 And the Easy Orchids are always so pretty, and a nice gift idea.
Speaking of plants, how handy is this greenhouse? Reuse yours year after year, and save money starting plants from seed.
What's Up with ALDI Finds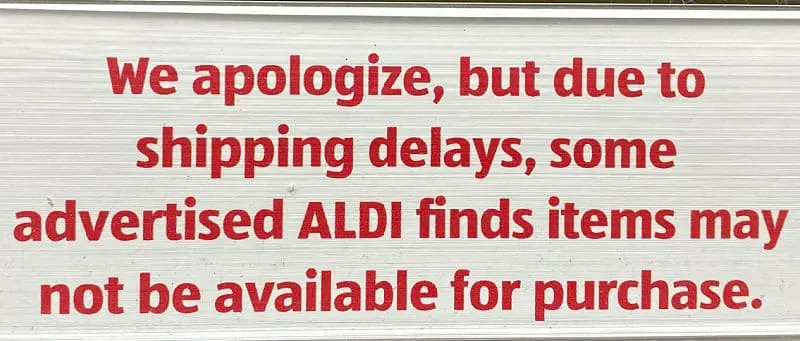 What's up with ALDI Finds? Well, these are limited time special buy items that are available in stores only while supplies last. So if you spot something you like, be sure to pick it up while you can. See also: What is the ALDI Aisle of Shame?
Before shopping for new Finds this week, you might also wish to visit the ALDI Finds product delays page. Because of ongoing shipping delays and materials shortages affecting ALDI and many other retailers, certain advertised products may not be available in all locations.
Finding the Finds
Where do you Find all of this week's special buys?
Check out the "ALDI Finds" and current weekly ad tabs (or mobile menu choices) on the ALDI site to window shop from home.
If you're planning an in-store shopping trip, use their online ad to help determine what you'll grab and purchase if you do see it in the store.
Products mentioned in this post were either spotted in store or are from the ad starting 6/5/22 in Sunday ad markets, 6/8/22 in Wednesday ad markets. What caught your eye among this week's ALDI Finds?