Back in August I opened up an "Ask Rachel Anything" post. (Because if you have a question, it's likely other readers have the same question as well!) So, here at long last… are the answers. 🙂
Have more questions? Drop them in comments here, and perhaps they'll show up in the next installment.
Q: My husband has stomach issues. He can't have tomato sauces, tomato paste. He doesn't eat fish (unless he catches it) or seafood. Do you have any recipes that do not have tomatoes, sauces, paste? Not any seafood? Any alternatives are welcomed. Thanks!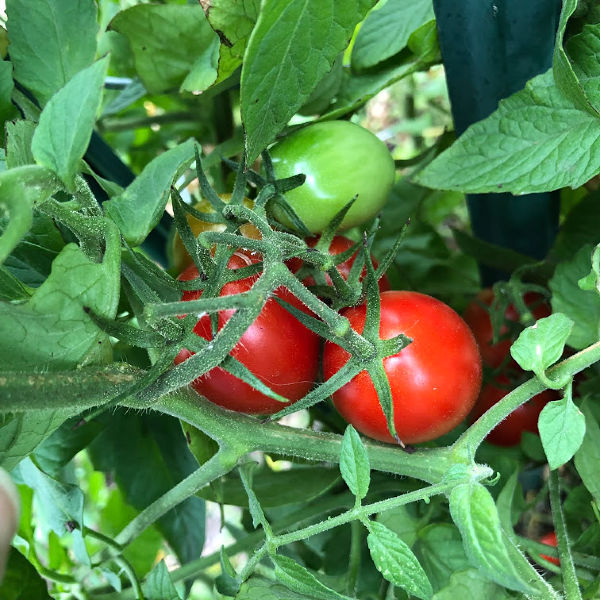 The short answer is: Of course, so many! You can search the recipes on Mashup Mom here, and you might also find this older post useful on how to modify a meal plan for your family. Here are a few easy tomato-and-fish-free favorites:
The longer answer is: I do use a lot of tomatoes in the meal plans and recipes, and here's why:
Fresh tomatoes tend to be all over the recipes I post the end of summer and in early fall, because they are in season, more affordable, and a lot of people (including myself) have garden tomatoes coming out their ears. Posts reflect that, because a lot of people are looking for ways to use up that garden bounty — but in many cases (especially in things like dinner salads) you can very easily replace the tomatoes with another seasonal fruit or veggie. Don't abandon a recipe without first seeing if something else might substitute nicely; try red bell peppers, for instance, for a similar pop of color and sweetness.
Canned tomatoes are an affordable pantry staple that again gives you a lot of bang for your buck — so with a $60 weekly meal plan budget, they show up a lot because they help add a lot of flavor to affordable recipes. Again, here, you can sometimes substitute or omit, depending on the recipe.
Q: This might be a strange one but my husband I always talk about how you very rarely use red onions in your recipes! We have always been curious if it's due to cost, the fact that Aldi doesn't sell them by the bag, or if maybe you just don't like them;) If you can't tell, we are big red onion fans so we usually add them to all of your recipes lol!
Actually, I love red onions — and, add away! That's the whole point, is to use the meal plan and recipes as a starting point and make them your own around your own tastes or dietary needs.
The real reason red onions don't appear in more of my recipes and meal plans is that ALDI only sells them by the bag. So again, with a $60 meal plan, committing to a whole bag of onions means that they need to appear in multiple recipes throughout the week in order to make the purchase cost effective. I usually include the more versatile yellow onions instead — but in many recipes, you could substitute red onion to good effect.
Here are a few recipes that do include red onion:
Beyond red onion, I'd have the same answer in terms of a lot of produce items that I wish ALDI sold singly. It's also why in a meal plan week where you see something like fresh lemon juice used in one recipe, you'll also see lemons pop up again in other recipes that week: To make it cost-effective to buy a whole darn bag of lemons.
Q: Do you meal prep a couple of hours for the week ahead?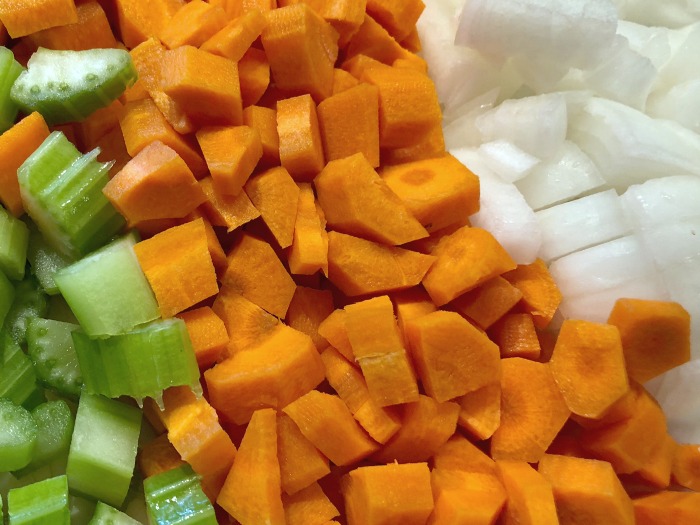 Well, I wish I could say yes. I often intend to meal prep a couple of hours for the week ahead, but only sometimes do I actually achieve that goal. Because, life, right? Whenever I manage to, though, it makes life so much easier during the rest of the week. So it's an ongoing goal.
Q: How do you pick what recipes for the week?
Oh, this is such a process! Here are a few of the basics of my weekly ALDI meal planning, though:
I start with the ALDI ad for the week and look at the sale meats, produce, and special buys. With the meats, if, say, family packs of boneless skinless chicken breast are on sale this week, I try to incorporate boneless skinless chicken breast into multiple recipes, to help stay under the $60 weekly budget.
I then look at seasonal special buys. ALDI rotates some items through seasonally (everything from lentils to tofu to refrigerated pie crust uncooked peeled shrimp). When these items reappear, I try to incorporate recipes including them into the weekly meal plan to take advantage of seasonal buys and add variety to the menus. So for instance: I have a slow cooker lentil & smoked sausage soup that I love — but that soup will only appear in meal plans the couple of times a year when lentils are available on the shelf at ALDI.
The same goes for seasonal or sale produce. Items like butternut squash are not available in stores right now, but will be showing up seasonally for fall in the next month or so. When that happens, you're likely to see butternut squash & kale browned butter pasta back on one of the menus.
Speaking of seasonal, holidays will also skew the meal plan a bit. If there's a grilling holiday (Labor Day, Memorial Day, 4th of July), you'll see something like burgers pop up on that day. If there's a holiday like Thanksgiving, you'll see a recipe with leftover turkey pop up on the Friday after. (I'm really looking forward to this leftover turkey soup, by the way! Yeah, I'm on a soup kick right now…) If we're in Lent, Friday night will have a vegetarian or seafood recipe.
Once I have a couple of meat and/or produce items in mind that should be used that week, I start by picking out a recipe or two using those items. I try to include a variety of recipes to keep things interesting, and to incorporate recipes that haven't shown up on an ALDI meal plan for at least the last month. (I keep a Google Docs spreadsheet of all of the meal plans for the past year or so, and consult that every week so that I don't repeat recipes too often.)
After picking a recipe or two to start with, I see what ingredients are left over that could be used in another recipe that week. Will I have leftover cooked chicken or shredded pork that could serve as an ingredient in another main dish? Did I use half a head of cauliflower, half a carton of broth, or half a brick of cream cheese? If so, then I'll look at recipes to help use up those ingredients.
I try to do at least one meatless recipe a week, often on Monday for Meatless Monday.
That's enough for starters! As I'm going through recipes for each night, I also keep an ongoing estimate of costs — and if it seems I'll be going over budget, I'll substitute out a different recipe, or incorporate a more affordable dinner another night to help balance things out across the week as a whole.
Q: What is your favorite…. -recipe that you've found? Recipe that you've developed? Celebratory meal/recipe?
Oh gosh, this is so hard. Picking a favorite recipe is kind of like picking a favorite song, or a favorite movie, or a favorite… child! You love them all in different ways, and as new recipes come along, they're always shiny and exciting for a while. But in all of these cases, I tend to go for simple and easy — because life is too hard and too complicated to add more stress with the recipes you choose to make. On that note:
My favorite recipe that I've found is actually this easy egg drop soup. I often include it in the meal plans, because it's simple, easy, affordable, and satisfying. So, why mess with what works? Sometimes I do add a drop of sesame oil, but otherwise, I don't mess with it.
My favorite recipe that I've developed tends to change with the season, but this week it's probably easy chipotle taco soup with ground beef. Because: Chipotle peppers, comfort food, easy, and fall.
My favorite celebratory meal/recipe. Hmm, let's go with: A perfectly grilled steak & baked potatoes. (Or, you know: Thanksgiving turkey!)
And you didn't ask this one, but the kids' favorite recipe is, hands down, slow cooker salsa chicken. They'd eat this every.single.week. Bonus for me, because it's just that easy!
Q: Do you think BKL will go into building inspection full time, or just when the work is available close to home? She has a lovely signature.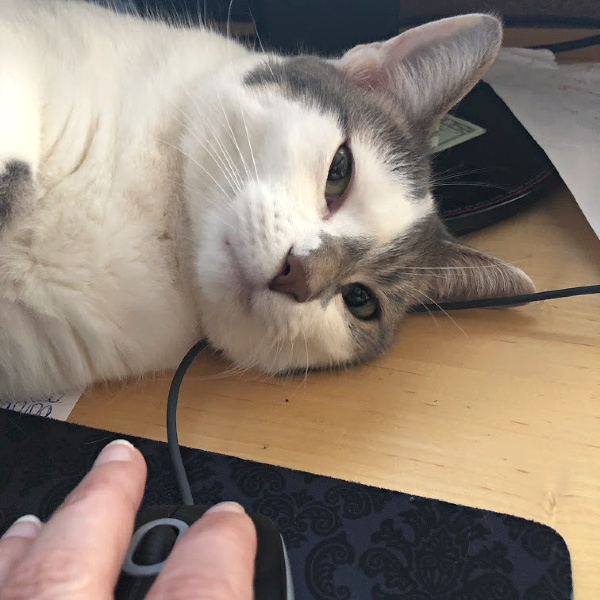 BKL prefers not to limit herself to one form of inspection; she's really a cat-of-all-trades. Today, for instance, she's inspecting my typing. As you've rightly noted, though: She and her able assistants do generally pride themselves on their investigative abilities!
More questions?
Ask me (almost) anything — If you have a question about anything on topics like:
Blogging how-tos
Recipe development
The three bad kitties
Diet and cutting out sugar
Meal planning
ALDI
And…?
Go ahead and comment here, or drop me an email at [email protected] if you want to ask something more anonymously. I'll write up my best answers to the most common questions in a future "ask me anything" feature. I look forward to hearing your questions and ideas!
It should go without saying, but please keep all questions appropriate and family friendly.
What are you curious about? It's your turn: Ask away!