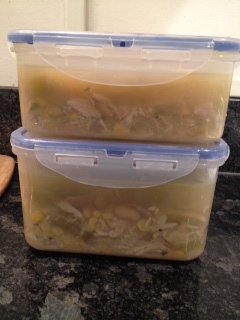 So, did you pick up those $5 rotisserie chickens at Whole Foods this week? I only bought two and am now thinking now I should have gotten more! One we are just having for dinner tomorrow with some leftover potatoes and veggies (since it's an activities night where we're not home til 6 and don't really want to start cooking that late).
The other, MashupDad shredded for me last night. I made stock with the bones in the Crock Pot overnight, then used that and the shredded chicken to make up this big batch of white chicken chili today.
So what did you make with yours?