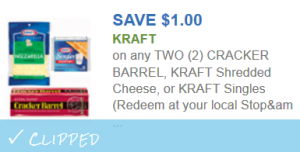 So, here's some cheesy fun! First, head over here and put in ZIP 10101 to find THREE different $1.00/2 Kraft shredded cheese, Cracker Barrel, or KRaft singles printables under "food." These all say "redeemable at" various stores, but not "redeemable only at," and are manufacturer coupons.
At Target
Get Kraft shredded cheese for $1.37 a bag!
Buy three bags at $2.69 each.
Now you're down to three bags for $4.11, or $1.37 each.
At Meijer
Through tomorrow 12/11 in Chicagoland Thursday ad stores, Kraft natural cheese slices and American Singles are on the buy ten, save $10 instantly mix/match Kraft instant savings deal.
If your Meijer takes Target printables like they are supposed to:
Buy three Kraft natural cheese slices as part of your mix/match ten instant savings items = $4.47.
Now you're down to $1.98 for all three, or $.66 each!
(Thanks, Couponing for 4 and Anne)