This is a nice deal! Over on LivingSocial this morning, $71 gets you a Smart Destinations pass to see SIX Chicago attractions. You don't have to see them all in one day, you have six months so can do something different every visit!
You'll have six months to visit 32,000+ animals at Shedd Aquarium, explore outer space at the Adler Planetarium, and check out mummies and dinosaur fossils at the Field Museum. Walk through 14 acres of hands-on exhibits — including a 40-foot tornado — at the Museum of Science and Industry, stand on the SkyDeck of Willis Tower, and cruise along the lake to see its architectural landmarks in the springtime.
You  never see this — Head over to Groupon, where $32 gets you admission for two to the Shedd Aquarium, including the Jellies exhibit!
Expires Dec 24, 2012
Limit 10 per person. Valid only for option purchased. Not valid until 11/25/12. Redeem for a ticket at Shedd Aquarium. Must show valid ID matching name on Groupon at John G. Shedd Aquarium. Must provide first and last name at checkout, which Groupon will provide to facilitate redemption of voucher. Refundable only on day of purchase. Discount reflects John G. Shedd Aquarium's current ticket prices-price may differ on day of the event. Aquatic show and 4D theater admission not included.
The first 50 people at the Shedd aquarium tomorrow 9/15 get a free rain barrel courtesy of Coca-Cola.
Date: Saturday, September 15
Start Time: 10:00 a.m.
Location: Shedd Aquarium's loading dock/service entrance
Limit of one rain barrel per person. As quantity is limited, rain barrels will be given out on a first-come, first-served basis. Rain barrels will be fully assembled upon distribution and may not fit in a compact car.
(Thanks, Chi-Town Cheapskate)
Today Groupon has discount tickets to Jazzin' at the Shedd — two all-access tickets for $18.00!
Other deals include:
The Shedd Aquarium is offering free admission to Illinois residents through June 22. If you go, plan on a lengthy line!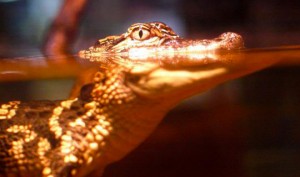 Here's one for this weekend! Plum District is featuring a $5.00 pass to ReptileFest April 14 or 15. SOLD OUT
Get ready for the coolest collection of critters you've ever seen! ReptileFest is completely interactive and boast 40,000 square feet of hands-on attractions:

There's an indoor pond teeming with live alligators of all sizes.
There are snakes so small you'll hold them in one hand and others so big they require about 20 hands.
Check out frogs so colorfully exotic they seem unreal.

You'll see, touch, and taste (just kidding, Mom!) hundreds of other reptiles and amphibians. This is a once in a lifetime event that will entertain and educate the entire family (there's no limit to the number of vouchers you can purchase, and they are good for both parents and kids).
On LivingSocial, $49 gets you an 8-hour Trolley tour pass PLUS admission to the Adler Planetarium AND the Shedd Aquarium.
For $49 (regularly $98), get an eight-hour pass to the Hop-On Hop-Off Trolley Tour by Gray Line, along with admission to two popular Chicago destinations: Adler Planetarium and Shedd Aquarium. Smart Destinations offers the unique opportunity to obtain multi-attraction passes, maximizing the fun of a day's worth of sightseeing. Your printed admission pass will have a unique QR code that'll be scanned at every attraction, and you'll have 60 days from the first time you use the pass to visit all three of the attractions included in this offer.
Alas, it's not just a general Shedd Aquarium admission discount — but if you have been eying fancy options like the Beluga encounter or trainer for day for your budding marine biologist, those you can get half price on LivingSocial this morning!
OK, now LivingSocial also has a new food takeout and delivery service, and today's deal is $1.00 for $10.00! In Chicago, the service is only available in Chicago and the northern suburbs; it told me nothing was available in the Western burbs. But see what's offered in your city/area and if any restaurants you like participate.
Speaking of food, how about $10 for $20 to spend at Al's Beef and Nancy's pizza in Chicago Heights.
Two Shedd deals for you:
I heard a commercial on the radio this morning — print out this coupon for $7.00 off an oil change at Jiffy Lube, plus two general admission tickets to the Shedd Aquarium.
Jen emailed this BOGO Shedd Aquarium pass from their website. Sign up and they'll send you a printable coupon in email. Plus free days in February: Feb. 1, 7, 8, 14, 15, 28 and Feb 20-24.
Here are the deals you have shared over the past 24 hours! Share deals any time with other Mashup Mom readers by emailing me, commenting on the blog, or posting on the Facebook Wall.
I've also added a new "reader deals" category for these posts. You can see them here (starting with today's) or by clicking "reader deals" under categories on the right. (If you are reading this in email, you'd need to click through to the website to see the categories.)
Freebies
Barbara comments on Facebook: "Free Book from Read It Forward (limited time offer): Walking to Gatlinburg, Secrets of Eden or The Immortal Life of Henrietta Lacks." These ones are limited quantities — I've requested stuff from Read it Forward before but never received any of the books. Have any of you?
Ground turkey tip
You guys sent a lot of good recipes, thanks! And Jennifer emailed with a tip that I'm going to try: "you can use your ground turkey in any beef recipe….just add one cup of beef broth to it and it will even taste like beef!" dh won't eat ground turkey because he says it's too strong, though the kids and I like it, so this is definitely worth a go. Again, ground Butterball is cheap at Jewel and Ultra this week: 1lb is BOGO at Jewel at $4.99 (use two $.75/1 from the preferred card update booklet or printable) and it's 2/$5.00 at Ultra (use the same printable). That's $1.75/lb for lean ground turkey, which is great.
Jewel
Erin has a great tip on getting cheap rotisserie chicken: "After reading about your enchiladas and chicken soup, I had to post one of my favorite Jewel tips.  In the deli department, they sell cold chickens for $2.99 (aka rotisserie chickens from the previous day).  There are usually several when I shop in the morning, but they go fast.  If there is a chicken available, I usually always purchase it for chicken enchiladas or chicken tortilla soup.  For soup, I simmer the whole roasted chicken–it makes a great stock–especially the herb flavored chicken.  If I already have dinner plans, I simply put the whole rotissiere chicken in a gallon ziploc bag and stuff it in the freezer for later in the week." I actually saw these at VP today and they were marked down to $2.30 — my freezer is full of things like pierogies and pot roast right now, but definitely keeping this one in mind for the future.
Kortney found another clearance deal at her store: "At my Jewel (Lee st in Des Plaines) Nonnis Soft baked Tusconi's are on clearance for 1.00. I think normally these are 3.99.  These things are really yummy and SO worth 1.00!!"
Allison found a good deal on new Keebler Wheatables nut crisps: "In the meat/deli/produce area at Jewel they had cardboard display stands for a new product by Keebler called Wheatables Nut Crisps.  They are on sale with your preferred card for $1.88 and the display stand had a tearpad coupon for $1.50 off one box.  So 38cents a box after the sale and coupon – not a bad price if you didn't stock up on all the Nabisco cracker deals lately or just want to try this product!  They come in two flavors – Roasted Almond and Toasted Pecan." I didn't see these at VP this morning but will definitely be on the lookout.
Melissa N has two deals: "Jollytime [popcorn] is still $1 and there are coupons in 1/10 SS (mine was for .50c/1, but there's also $1/2).  And there's still a cat deal there on the Ice Mountain water wyb .5 L 24-packs, wyb 2, get $2; wyb 3, get $3 and wyb 4, get $5. It expires on 2/7/10." If you buy the Jolly Time, send in 3 UPCs for a free reusable grocery bag. Apparently some cartons also have a coupon for a free game of bowling.
Meijer
Shedd Aquarium
Walgreens
Cheri found a great Gatorade clearance deal at her Walgreens that goes very nicely with the Pepsi RR deal this week (buy $20 worth of participating products, get $10 RR). "I went to my local Walgreens to do the Pepsi/Tostitos/Gatorade deal. They had a big display set up but I there was no G2 there (which is what I really wanted because of the lower sugar and I had coupons) so I went to the cooler to see if they had any there. They did and it was included in the deal —- but I noticed that they had two flavors of Gatorade Focus (the Tiger Woods brand) on clearance for 50 cents each. (Go figure, Tiger's been clearanced.) It just so happened that we were in charge of the snack and drink for indoor soccer this week so I bought 20. I added 2 bags of Tostitos and 2 jars of salsa for a total of $20 and got a $10 RR. So if your readers can find the Focus Gatorade on clearance they can maximize the number of gatorades they take home. Conversely, they might want to be aware of it in case that's one of the bottles they grab and it throws their $20 total off." So, be sure to take a look for the Tiger Woods ones at your store to see if they're clearanced.