Reader Deals 7/20/15: Here are the deals, heads up, and requests you shared over the last 24 hours — Thanks! How do you share your own deal?
Email Rachel: rachel@mashupmom.com.
Comment below, or on any post where it seems to fit.
Post on the Mashup Mom Facebook page.
*** If you are sharing a deal from another site or an online coupon, please include the link. If you found a deal at a specific store, please include the location.
Home Depot
From Wendy: "Update: I called HD, and YES they will match the 11% Menards rebate!"
Migraines
On yesterday's question of snacks for a kid with migraines, Rhonda suggests: "dont forget to have his eyes checked may need glasses or have prescription changed."
Restaurants
If you are taking advantage of the free appetizer sampler at Applebee's on 7/21, San suggests: "Our favorite server said Uber the car service is hosting an event and it's going to jammed packed. If anyone goes please tip your server very kindly."
Target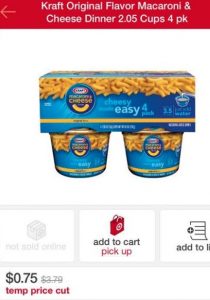 If you are headed to Target, check for Kraft Easy Mac 4 packs for $.75 — thanks to Cari for sharing. (May vary by store, price can change at any time, scan to confirm.
Cari also reminds us of the big Skylanders 75% off Cartwheel offers, making Swap Force Starter Pack as low as $9.99.
Heads up from Kelly on the Lay's + Doritos deal: "Did not work at Wheaton either. The $2.50 bags were not being recognized by cartwheel DESPITE the cartwheel saying to purchase the XL and XXL bags for $2.50 and get 30% off. It was a big mess to fix at customer service with the $5 coupon." Hopefully they'll fix this.