feelgood sends over free after rebate Kaspersky anti-virus at Frys.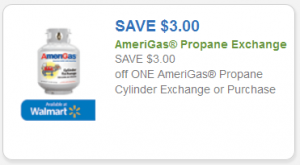 Here's a brand spanking new $3.00 off one AmeriGas propane cylinder exchange or purchase. Yeah. Grilling seasons is sneaking up on us… But, even better?
So that's a total of $6.00 in savings on AmeriGas propane. I just used their location finder and it looks like this is available at Home Depot all over the place, as well as Jewel, Walmart, and more.
(Thanks, Penny Pinchin Mom)
Head over and print yourself the following free-after-easy-rebate coupons for Staples!
Ream of Staples multipurpose paper, $6.99 get $6.99 rebate.
Staples Photo Plus paper, $9.99 get $9.99 rebate.
(Thanks, The Shopper's Apprentice)
Here's kind of a different rebate offer: Click above and print a rebate form to get up to $120 back in a Visa prepaid card when you purchase Monroe shocks or struts. I'm posting this for those of you who appreciated the recent Valvoline rebate and other auto-related deals — see, couponing isn't just for groceries!

I know you all have been working this out in comments, and perhaps I was too begrudging about the Jewel P&G deal this week. So here is a super deal you can do on Pantene — but through tomorrow 2/28 only, since the 1/27 PG insert coupons expire tomorrow. Jill Cataldo confirms on her site that the Catalina is already printing, and that it is working on the pre-coupon pricing. (This is still of course do at your own risk, since that's not what it states in the ad.)
There's a "spend $25 on select products get $5.00 OYNO" deal going, advertised to start tomorrow but already printing today.
This includes Pantene, priced at $2.99 (priced at $3.50 if you run out tonight — but I wouldn't, since we're getting close to the Catalina overnight updates witching hour of 11pm-2am, lol).
It also includes gallon jugs of Hawaiian Punch at $2.49. Why do you need this? Here's why…
Scenario
Buy eight Pantene for $23.92.
Buy one Hawaiian Punch Aloha Morning for $2.49. Now you're at $26.41, over the $25.00 needed to trigger the Catalina.
Use the $1.10/1 Aloha Morning printable here = $25.31.
Use four BOGO Pantene from the 2/17 P&G one page flyer = $13.35.
Use two $3.00/2 Pantene from the 1/27 PG (exp. 2/28!) = $7.35.
Get back $5.00 OYNO for a net cost of $2.35 for eight bottles of Pantene, plus a bonus bottle of sugar juice stuff.
If you run out of coupons or don't get there on 2/28, there is also a $2.00/2 Pantene printable here. Run the deal using four BOGO and two $2.00/2 instead of $3.00/2, and your net cost is $4.35 for eight bottles plus the Hawaiian Punch.
But wait there's more
There's also a spend $50 get $15 mail in rebate for P&G beauty products that includes Pantene, and multiple receipts are fine. So save your receipt from this, or do the same deal twice and throw in an extra qualifying product to bump you over $50 in qualifying P&G beauty purchases — to get the $15 rebate back as well!
Bumping cause it is now back, if you missed it yesterday.
There's a new $10 mail-in rebate for Valvoline NextGen Motor oil. Print here and save away.
Head over to EcoBonus and you can print several Annie's coupons, plus a rebate form for a free herb kit when you buy two Annie's products!
(Thanks, Organic Deals)
Hey, the Johnson & Johnson Neosporin Essentials and First Aid rebate forms are back up! Print now!
It's SmartSource, so if I can manage to get it to print (grr), I can get my $5.00 back from CVS shopping this weekend and feel much better about my couponing prowess

…. Well, nevermind that. Apparently the actual rebate form says you have to buy three items, and I only bought two for my $10 purchase. Wish I'd known that… oh well!
Here's a new link for the Neosporin Essentials Trial pack rebate advertised in the 1/6 inserts, since it disappeared so insanely quickly. Note this is only good on purchases made through 1/13, so hurry!
There's a $2.00/1 coupon in the 1/6 SS.
Check your Ibotta for an offer for $1.25 back — I have it in mine but not everyone gets the same offers.
(Thanks, The Shopper's Apprentice)
Here's a Beringer wine deal for you! Don't try it til tomorrow 12/30, since the rebate starts 12/30.
Beringer rebate dealio
Straight from The Shopper's Apprentice:
There is a mail in rebate form for select wines inside the CVS ad for the week of 12/30. This rebate is not limited to items purchased at CVS, and is valid in the states of AZ, CA, IL, MI, NM, KY, NV and WI. Here is a deal you can do at Meijer:
Buy twelve bottles of Beringer Pinot Grigio, on price drop for $5.00 through 1/5, for $60.00
Submit for the $27 MIR wyb 12 bottles of Beringer found in the CVS ad
Net cost $33.00/12 bottles or $2.75 each!
This rebate doesn't begin until 12/30, so don't shop today! Also, you do not have to purchase 12 bottles to submit for the rebate. You will get $4 back if you just buy two, so that makes the net cost $3.00 each after rebate! And other varieties of Beringer were also on price drop over at Meijer (most at $6.99), but the Pino Grigio was the lowest priced!