Today we stopped by ALDI and decided to try their gluten free frozen pancakes. The blueberry ones do not contain dairy, but they also have a buttermilk variety, which, well, does, lol. So we went with blueberry for Mr. dairy-free 10.
These are in the "SimplyNature" line so contain no artificial colors or flavors — although they do have plenty of sugar. Both boys highly approved of how sweet these were, but I thought they ran too sweet.
I did approve, however, of how they came prepacked in groups of threes, so you can make a few but not leave the rest in the box open. 12 pancakes ran $2.89, which for a gluten free product isn't bad. If you think about the non-sale, non-coupon cost of conventional name-brand freezer pancakes, this price is actually comparable to that, rather than to their gluten free equivalents.
So, just thought I'd show you these since many of you have been asking about the gluten free products at ALDI. As with the gluten free brownies I bought last week, these are also a limited time special buy — but I'm hoping that the fact that we keep seeing gluten free products appear means that they're becoming a regular part of the rotation. (Because if anyone needs more ways to save on food, it's people with food allergies and sensitivities!)
And, hey ALDI — bring back those gluten free chicken nuggets! Please.
A few months ago, there was an insanely good deal on Bob's Red Mill all purpose gluten free baking flour on Amazon: Four bags for $5.50 shipped. (Alas, it is no longer this price…) A couple of you purchased it and were asking for recipes using this flour, especially those that didn't require adding Xanthan gum. So here's one for gluten free, dairy free pancakes, which is based originally off a recipe on the Bob's Red Mill site. I'd link to it directly if their recipe site wasn't down! But, here's their general Bob's Red Mill recipes link to browse when it comes back up.
MashupDad often cooks Sunday brunch, which is not our day for healthy eating in this house; just a warning before we start! Over time he has tweaked the original pancake recipe from their site: Since the Bob's Red Mill gluten free flour includes garbanzo and fava bean flour, it has a pretty strong and somewhat bitter aftertaste, which is why this recipe calls for the extra sweeteners that you might not normally add — they do a good job of counterbalancing the bitterness, and these pancakes are now beloved by both boys. If you are substituting a different gluten free flour, you may need to mess with the ratios, depending on the product.
Ingredients
1 1/3 cups Bob's Red Mill gluten free all purpose baking flour
1 tsp baking powder
1/2 tsp baking soda
1/2 tsp sea salt
1 1/2 tsp white granulated sugar
1 Tbsp honey
1 tsp vanilla
2 eggs
1/2 cup dairy free milk (preferably vanilla flavored — we used Silk Very Vanilla soy this morning), plus extra for thinning batter if necessary
2 Tbsp canola oil
Whatever add-ins you like — dairy free chocolate morsels, blueberries… (This batch has a handful of dark chocolate morsels.)
Directions
Combine dry ingredients: Flour, baking powder, baking soda, sugar, salt in a medium bowl.
Combine wet ingredients: Honey, vanilla, eggs, non-dairy milk, canola oil in a separate larger bowl.
Whisk together wet ingredients.
Add dry ingredients to wet ingredients and whisk until smooth. (Add in more milk to thin out batter, if needed.)
Mix in chocolate morsels, blueberries, or other add-in ingredients to taste.
Cook on greased pan (used Pam). Flip over when pancakes are starting to bubble, then cook the other side til it all looks good and pancake-y.
See, I warned you it wasn't a necessarily healthy breakfast — although you are not required to eat yours with bacon.

But, ta-da — gluten free, dairy free pancakes!
Want more affordable and easy recipes?
Easy print version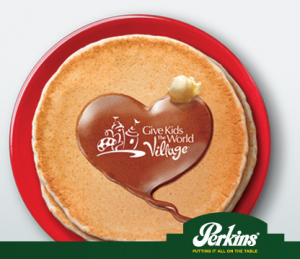 Head over to Perkins on September 15 for a free short stack of pancakes for Give Kids the World Day. Donations to Give Kids the World are suggested.
Bump reminder — several of you have reminded that…
IHOP's annual national pancake day is on 2/28 this year. Everyone gets a free short stack! They ask you consider leaving a donation to the Children's Miracle Network (or other local charities).
Kids 12 and under get a free scary face pancake at IHOP today 10/29 only, dine-in only.
Hey! I was just on Coupons.com, as is my wont, and noticed a new coupon for $1.00 off Quaker Oatmeal pancake mix.  (It was on page 17 for me, so be patient in your scrolling.) At Walgreens this week, they have a Quaker deal going — buy two at 2/$5.00. Use two printables, pay $3.00, and get $2.00 RR back. Anyone tried these yet? I'm intrigued.
Mark your calendar — if you like pancakes, stop by IHOP on Feb. 24 for FREE PANCAKES to celebrate "National Pancake Day." One free short stack (3 pancakes) per person, 7:00AM-10:00 PM,  no additional purchase required.