Reader deals 4/28/16: Here are some of the deals, heads up, and requests you shared recently — Thanks! How do you share your own deal?
CVS
On the Skintimate shave gel deal, from jane: "Also, look through your crt stash for $3 off any Schick purchase (CVS store coupon). If your store takes expireds you might be able to use it on the Edge."
And from rifat: "If you are uncomfortable using Skintimate, the deal is also for Edge. The store as well as the coupon and ECB. Did it yesterday."
Food 4 Less
An addition to this week's Food 4 Less deals from jane: "Also included in the B4/S$4 are Brownberry bread and sandwich thins, $1.99 each sale price." Use $.55/1 bread or thins in the 2/7 SS or $.55/1 bread in the 3/6 SS.
Freebies
Artie shares that the Illinois Tollway will be offering 15,000 free tree seedlings to customers at their Downers Grove HQ and all seven oases from 7AM-6PM tomorrow, Friday April 29. See details on the Tollway site here.
Jewel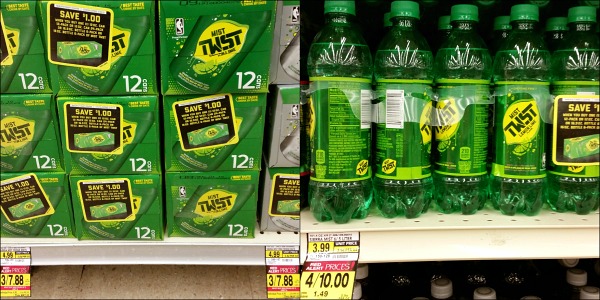 Look for these $1.00 peelies on Sierra Mist Twist at Jewel. From kitty: "This is a remake of Sierra Mist.  Rep says it has more lime flavor. On sale 3 for $7.88 at Jewel.  Must buy 3. After $3 coupons $4.88 for 3 pre tax. Coupon also good on 1 of these 6 packs 16.9 oz., so $6 for 24 bottles. The tag on these doesn't give an individual price, so maybe you don't have to buy 4."
On the Jolly Time popcorn deal, feelgood adds: "Also check your Jewel Monopoly tickets, have some $.25 off on Jolly Time."
Also on the popcorn deal, Jane shares: "And the ones I saw at Jewel had free Redbox movies on them!"
Laura found: "Lots of new coupons on Jewel MyMixx that can combine with the Monopoly coupons. 50 cents of Capri Sun, 50 cents off 1 pack of Oreos, 50 cents off Honey Maid Graham Crackers, 50 cents off 1.5oz kit kat bar, 50 cents off 1 package of Eggo Waffles, $1 off 1 pint Open Nature Ice cream, 50 cents off 1 2 liter bottle of Dr Pepper, 7up etc., 50 cents of 1 package of Quaker Chewy granola bars, 50 cents off 1 snickers bar, 50 cents off 1 dole fruit cup package. I have seen all these as Monopoly coupons also so pair MyMIxx coupons with your Monopoly coupons for a better deal."
From feelgood: "Stopped at the Jewel on 179th and Wolf Rd in Orland Park tonight, they had two huge stands of General Mills Batman and Superman cereals marked for $1.00 each, right in front of the service desk next to the self checkouts. Got three boxes for $.25 each, used two $.75/1 printables and the $.75 off on MyMixx."
Meijer
Artie shares: "Meijer Merrillville,In had Kraft 24oz dressings for $1.49 as part of a Buy 5 mix or match promotion and found .75 peelies on the Ranch dressing so paid .74 Watch for it in the IL ads on Thursday."
Office Depot | OfficeMax
Kathleen comments on the question of which Folgers are included in the rewards deal this week: "Before I checked out I used the "Live Help" option and confirmed that the large size folgers and the batteries I had in my cart were eligible for the rewards. The CSR checked my item numbers for me. He also told me that if I wanted to get both rewards items I should do them in separate orders, but I clicked to close the window and missed the explanation as to why I should."
Reader requests
Rebecca asks on Facebook: "Metro Chicago request: Looking for inexpensive boys' bikes. Any spring sales on the horizon? (Not Walmart)"
TaShena is also looking for bikes: "I need a set for the whole family. Men's, women's, and 2 girls."
Kristin replies: "Why not Walmart? They have cute bikes. I'd check a going out of business Kmart sale if you find one. They had good bikes last go round"
And Yvette is wondering: "do you know of any car rental deals, looking to rent a car beginning of June… thanks"
Schnucks
Debbie shares: "Our Schnuck's in Champaign advertised in the ad $3 off 3 Hallmark cards and this includes $.99 cards. It states in the ad coupon in store but a clerk and I couldn't find it around the cards. I went to Customer Service and she had some copies of a coupon but they were the wrong ones since they expired the day before the ad started! So, she wrote up a "We Care About You" slip for $3 and I got $3 off 3 $.99 cards so it was free (or a small moneymaker)! Just in time for Mother's Day and graduations!"
Target
Walgreens
From feelgood: "If you have a birthday coming up in a month or so, check your Balance Rewards account online. Mine had an offer to clip for 5x points, valid for in store and online purchases."
And from SmartShopper on issues with entering codes from Skittles: "Yesterday, I entered 15 codes into the Skittles promo site to receive the Fandango movie tickets. I'm not sure what you did wrong and why you got that error message–I did not have any problems. For every 5 codes I entered, the site indicated to check e-mail for a Fandango code to redeem for a movie ticket. I did check each time I enterted 5 codes and the e-mail is there with the code. I do recall that the Skittles site said that all codes are saved to your e-mail address once they are entered–this is probably why it won't let you re-enter the already inputted codes. My advice: go back to the Skittles page. Scroll down to the bottom and look for a customer service e-mail or phone number. Contact them and see what went wrong. Good luck."
Where should I buy it?
Additions to this week's Where Should I Buy It? post, from rifat: "Aldi – avocados $0.69 (they are always large). Eggs- Treasure Island thru 5/3 – Extra Large $0.89 and Jumbo $0.99 a dozen." The avocados price at ALDI may vary by store since it is unadvertised.