Reader deals 3/31/15: Here are the deals, heads up, and requests you shared over the last 24 hours — Thanks! How do you share your own deal?
Email Rachel: rachel@mashupmom.com.
Comment below, or on any post where it seems to fit.
Post on the Mashup Mom Facebook page.
*** If you are sharing a deal from another site or an online coupon, please include the link. If you found a deal at a specific store, please include the location.
Coupons
A reminder from Debbie: "And Bed, Bath, and Beyond coupons don't expire (except the 20% off through a certain date, then 10% off a later date). I've got a stack on hand!"
On the new Eight O' Clock coffee coupon, Jane says: "The 11-12oz. bags are always $4.99 at Wal-Mart. They also have decaf. for the same price AND several other flavors to choose from. I like the chocolate mint one!"
Dollar Tree
Jewel
Jane asks: "I finally found the Nut Exactly on a display today in the produce section in my Jewel. Has anyone tried them yet? They do look tasty."
And on the $.55 Claussen coupon for this week's pickles deal, Jane also comments: "I found another 55c/1 coupon for the pickles on MyMixx."
Another find from Jane: "For the Fiora TP and paper towel deals tomorrow Apr. 1st only, I found several coupons on MyMixx for $1/1. Make sure you select the correct ones to match the sale and you have yourself $1.88 after coupon!"
But couponer4eva reminds us of the ongoing register glitch: "If you use a myMix coupon on the Fiora tp, it will automatically adjust the final price back to $2.88 . Same with coupons, so post-redeem them at the service desk."
Reader requests
One from Christy on Facebook: "Any deals/coupons for the Chicago children's museum on navy pier besides free Thursday hours?"
And Trish asks: "Is there anywhere I could buy new or refurbished Sprint phones at a reasonable cost? My daughters is swimming with the fishes…and no we didn't get the insurance. An IPhone (any generation) is preferred but we're not too fussy. Thanks in advance!"
Target
Disappointed by the lack of cheap eggs at Jewel this week? Grandma g points out that: "Eggs are 99 cents at Target this week. "
And carrie r comments: "I just wanted to remind anyone if you're heading to Target, don't forget to load the 5% off eggs on Cartwheel, it will make your first 4 dozen eggs .94 each. Honestly that's the best price for a dozen eggs I've seen in a LONG while. Also the $4 off $25 Archer Farms/Market Pantry Target Coupon and the 5% Archer Farms Maple syrup Cartwheel deal worked well on the 32 ounce, 100% Pure Maple Syrup by Archer Farms. Regular price is $15.19 – 5%= $14.43, I purchased 2 so my total was $28.86-$4 coupon= $24.86 (just $12.43 per bottle) Plus other purchases and the $10 Target coupon I was a happy camper."
Walmart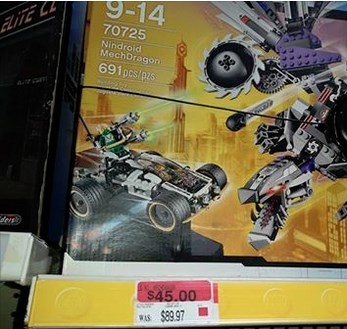 Check your Walmart for clearance LEGO — Raegan found this Nindroid MechDragon for $45 (down from $88.97).