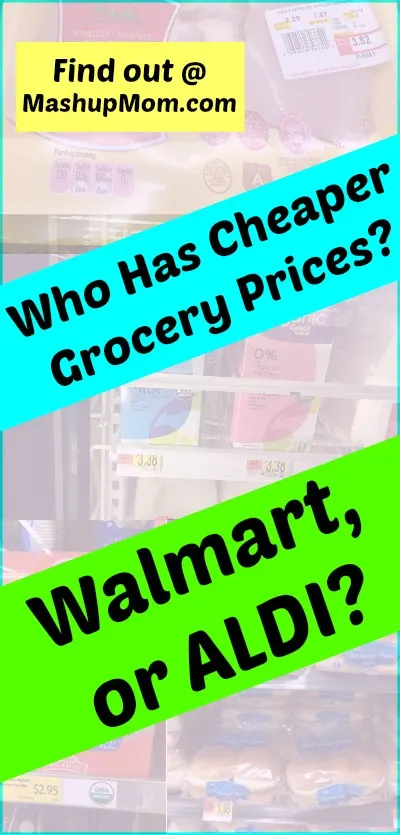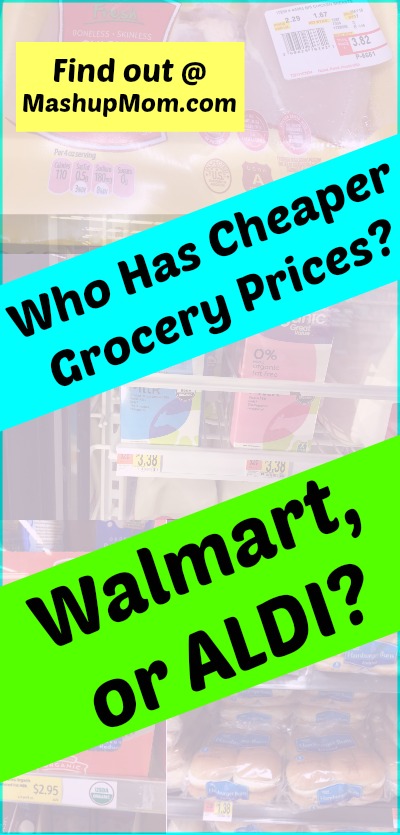 See the 2019 ALDI vs Walmart price comparison update here!
A couple of months ago we saw a little flurry of articles about how Walmart is targeting ALDI in its ongoing price wars in stores across several states, including Illinois. In the initial tests reported in these articles, spot checks of various grocery items tended to come out cheaper at Walmart than at ALDI. That didn't sound right to me at all for the Chicago area, but since I'm not a regular Walmart shopper I thought it might be worthwhile to go do my own snapshot test of grocery prices — to see if my suspicion that ALDI is cheaper than Walmart was actually true.
ALDI vs Walmart Prices: My Methodology
On May 12 I stopped at both a Walmart store and an ALDI store located 2.5 miles apart in the same town (Villa Park, Illinois), and wrote down prices on a number of common grocery items to see how you might fare when shopping at one retailer over another. Here:
I only checked food items.
I compared store brand to store brand whenever possible.
I compared identical sized items whenever possible; when not possible, I've provided per pound or per ounce equivalents in the charts below.
Note that prices at both Walmart and ALDI stores outside the Chicago area are often lower, and that the Reuters spot tests at Illinois Walmart and ALDI stores this February were not conducted in Chicago or its suburbs. You might get different results in a different geographical area than I am getting on my spot-check here, and, since this is just a one-day snapshot, realize that pricing on dairy, produce, and meat items is always highly variable. Lastly, you can use coupons at Walmart, which sometimes knocks the prices of name brand items down to a more competitive level.
ALDI Beats Walmart on Grocery Prices: In Every Category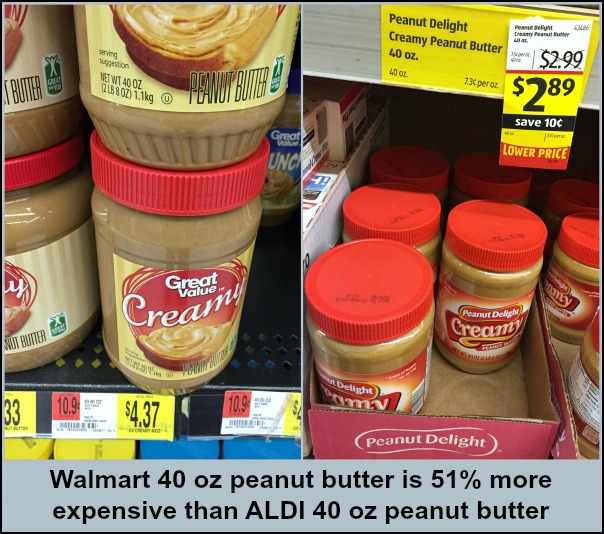 I'll admit that going into this experiment I did expect ALDI to be cheaper on most grocery items, but I was honestly surprised by how much cheaper it was in many cases. While sometimes items were only a few cents off in price, other items were easily 50% more expensive at Walmart — even comparing store brand to store brand.
So here are some handy ALDI vs. Walmart price comparison charts I put together for you on a number of common grocery items. The cheaper of the two prices on each item is highlighted in yellow.
ALDI is Cheaper Than Walmart: On Shelf-Stable Grocery Items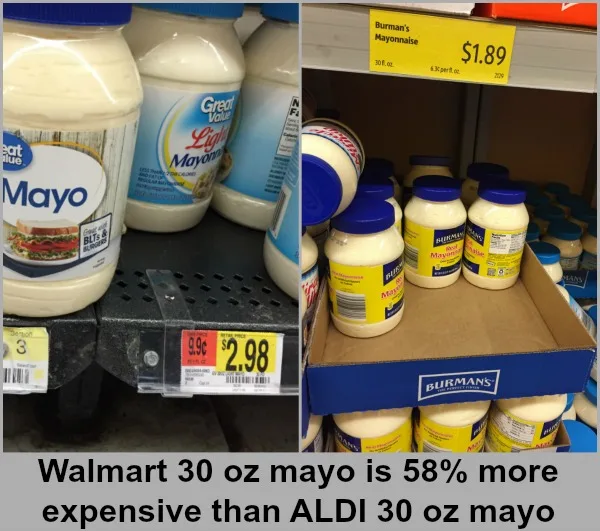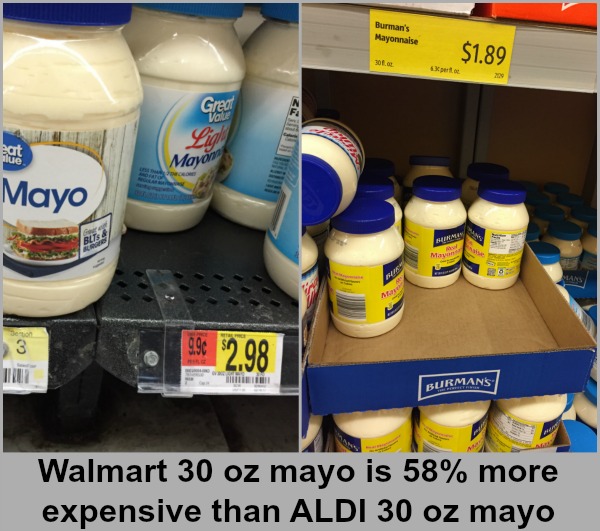 ALDI dominated the pantry staples category on every item I checked. While some products, such as 16 oz boxed pasta, only differed by a penny or two in price, many other grocery items were significantly higher at Walmart.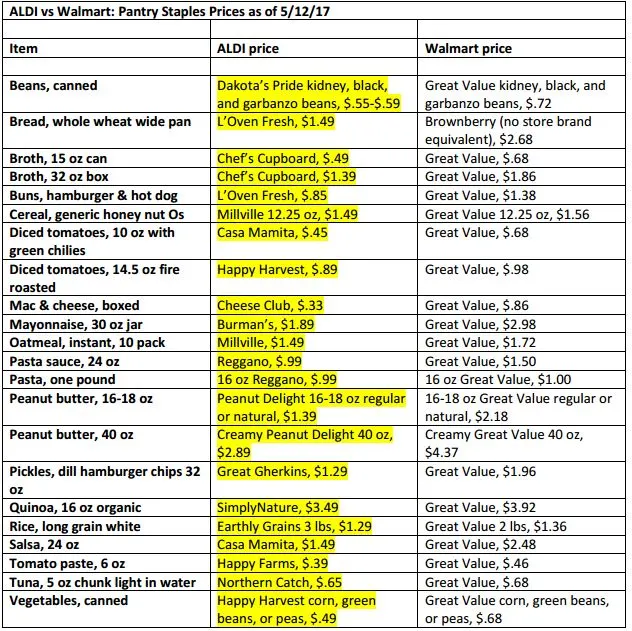 This was also true for baking staples. Here ALDI pricing again beat out Walmart pricing on every single item — just by a few cents on things like granulated sugar and flour, but by quite a wide margin on items such as canola oil and brown sugar.

And, ALDI again dominates the snacks category. I just checked a few different products here, but ALDI pricing beat Walmart pricing on each.


ALDI is Cheaper Than Walmart: On Perishables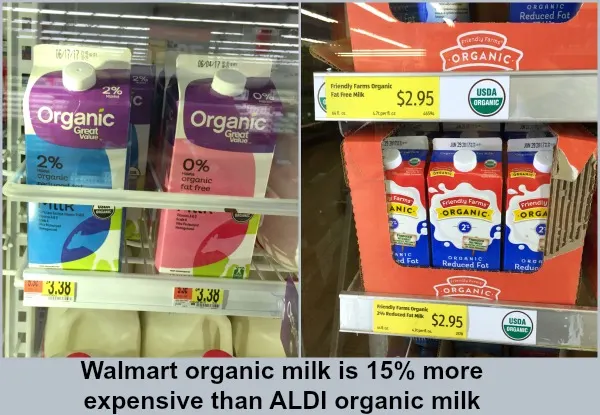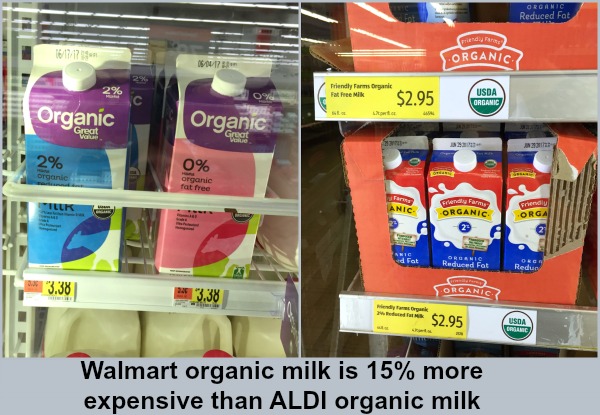 I saw a bit more competition on perishable items, especially in the produce department, but again ALDI was the clear price leader in every section. In the dairy department, Walmart pricing beat ALDI pricing only on conventional milk — but pricing on many items here wasn't as far apart as I tended to see on shelf-stable grocery products.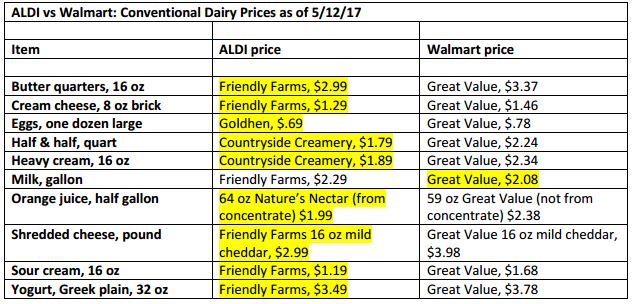 This was true of the few organic dairy items I checked, as well.


In the produce department we saw a little bit more competition, but Walmart pricing came out ahead or equivalent on only two items (and not that far ahead; only a penny or two per pound!).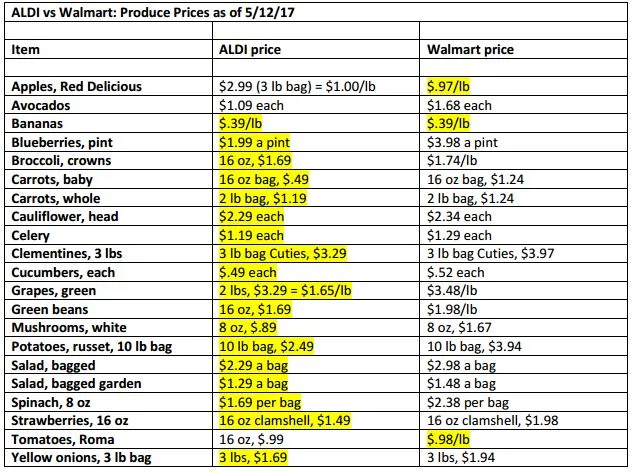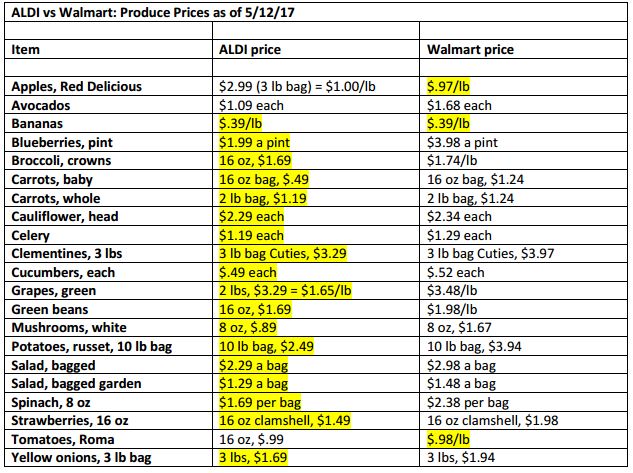 The same pattern holds in the meat department, where Walmart pricing came out a little cheaper this week on boneless skinless chicken breast and tilapia, was fairly close on products such as whole chickens and frozen salmon, but was significantly higher on meats like ground beef and chuck roast.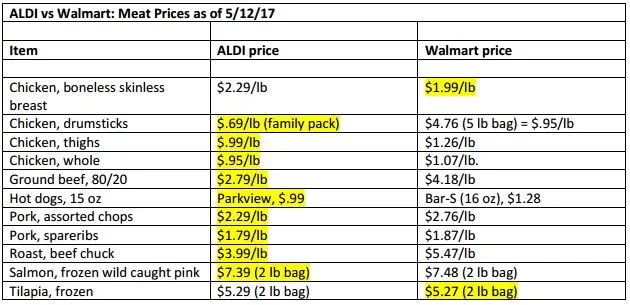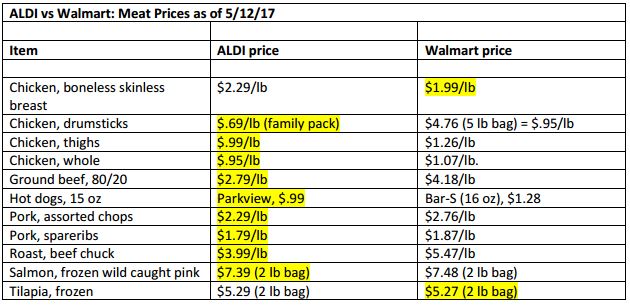 ALDI is Cheaper Than Walmart: On Frozen Foods
I again only checked a few common items in frozen foods, but ALDI brand products again tended to prove cheaper than Walmart's Great Value brand. The price differences here were insignificant on frozen fruits & veggies, but pretty substantial on waffles and ice cream.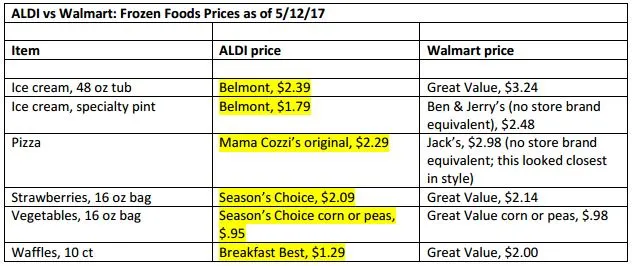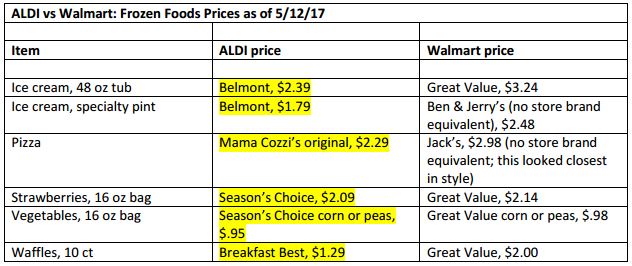 So, that was fun!
As Walmart continues to eliminate price matching in additional stores across the country, it's important to think about the everyday cost of common food items and how much you can save by shopping one store over another. You'll note also that I didn't check a lot of organic and gluten free products on this trip, but have found ALDI's gluten free pricing to be very good overall — this might be a post for another day, lol.
I only compared straight-up prices, too; which is a different question than that of quality, product availability, and overall shopping experience. I'll leave that today as an exercise for you all at home. 😉
How about you?
I would love to hear from some of you who shop at ALDI and Walmart in different areas: Do you find this pattern to be true at your stores? Is your ALDI cheaper than your Walmart, or do you find prices at your Walmart to be more competitive than those I found at mine?