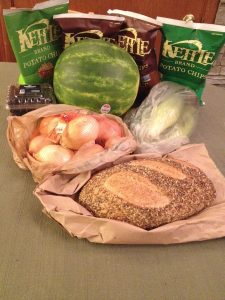 Hope you are having a lovely long weekend too — we spent the day up at my mother-in-law's so the kids could swim on one of the last weekends the pool is open, then made a quick swing through Fresh Thyme Deerfield on the way home. They have grass fed beef for $2.97/lb this week! But, I really have to start using up some of the meat in my freezer before buying more, so passed on that and picked up:
Seeded sourdough bakery bread, $3.99.
4 bags Kettle chips, $6.00.
3 lb yellow onions, $2.00. (Yes, too much, but we just ran out and I didn't feel like making another stop.)
2 containers blackberries, $1.54.
3 ears of corn, $.50.
Seedless watermelon, $1.77.
Paid $16.08.