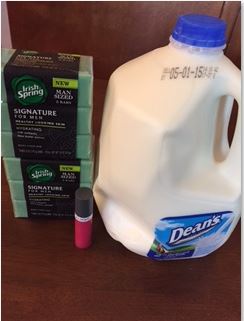 You know I loves me some Sunday morning CVS shopping — it's just enough of a coupon fix to kick the week off right. Mine didn't have any of the little Biore on the shelf this morning, but they did have Irish Spring Signature bar soap on a separate cardboard display by the deodorant (so poke around if you don't see it on the regular shelf!).
Dean's milk, $2.99. Will get $.25 back from Ibotta.
Almay lip gloss, $6.49. Used $4.00/1 from the 4/12 SS and $3.00/1 CVS store coupon that came in the mail.
2 Irish Spring Signature bar soap three packs, $4.00. Used two $2.00/1 from the 4/12 SS.
Paid with $2.00 ECB and $1.30. Got back $3.00 ECB ($2.00 soap, $1.00 milk) and $.25 from Ibotta for a net cost of $.05. I guess I could have gotten two free Almay with the BOGO50% coupon + another $4.00 coupon, but only thought to bring one with me.