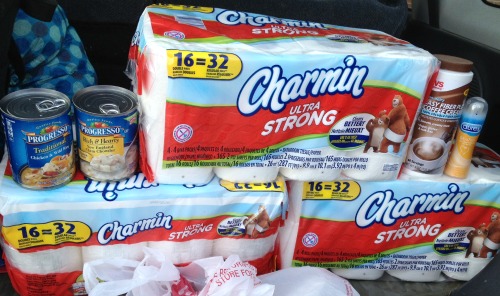 I had a $10/$50 CVS coupon that came in the mail and expired today, so decided to do a little Charmin run at CVS — the way I figure it, I'm getting cheap Charmin and everything else here is bonus!
2 Progresso soup, $3.00. Used $.50/2 in the 10/19 SS.
CVS fiber creamer stuff, $9.99.
Durex lube, $9.99. Used $5.00/1 in the 10/19 SS.
Three 16 double roll packs Charmin, $29.97. Used $1.50/3 in the 10/12 RP.
Used my $10/$50 and paid with $2.00 ECB and $36.65 (been out of the ECB game for a bit, so jumping back in, lol). Got back $25.98 in ECB — $1.00 for Progresso, $9.99 fiber, $4.99 Durex, and $10 Charmin. Net cost $12.67, which works out to $.13 per single roll equivalent for Charmin and everything else for free.