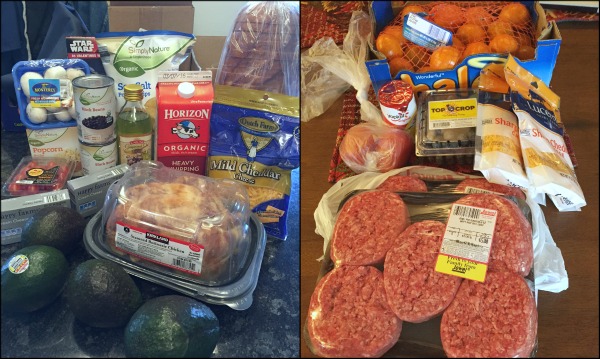 I'm trying to keep better track of my weekly net grocery + HBA spending, since I kind of got out of the habit of strictly counting it up. Last week my net cost for grocery and HBA items was $83.14. This week I shopped mostly at ALDI and the Jewel three day sale and spent $80.85 out of pocket (only partially pictured above) and got back $1.00 ECB for milk at CVS + $.50 back on Ibotta, $.25 back on Checkout 51, and $.25 back on Shrink. (New to Shrink? Code JQOJWO when you create your account in the app = a $1.00 bonus! Create it manually; do not use Facebook to sign in.) for a net cost of $78.85. This included a $10 thing of organic whipping cream from Costco (courtesy of low carb MashupDad!) and a whole lotta pub burgers; mostly sale shopping with fewer coupon deals this week (just the free InnovAsian & cheap Halos at Jewel).

What did we eat on that? My original weekly meal plan changed slightly and I made tacos on Friday with some crumbled up pub burger, and scrambled eggs, toast, and fruit breakfast-for-dinner on Saturday. The pub burgers for dinner plan moved to tonight because it just seemed to go better with football.
How'd your weekly shopping go?