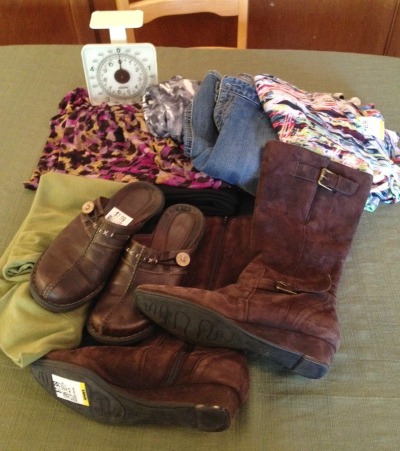 I know, another thrift store trip! But I've been in desperate need of a wardrobe refresh, with a closet full of things just don't fit, are getting ratty, or I wonder why I ever bought them in the first place — and actually just donated a couple big bags of clothes to Savers at the Ultra Foods event on Saturday. So this has been a gradual process, but Savers did me well this morning. I went with Trish (who I think did even better than I) and we used the 30% off for you and a friend coupon I told you about here. So for about $47, I got:
Bandolino tall leather boots
Naturalizer clogs
Michael Michael Kors black dress pants
Ann Taylor jeans
Simply Vera Vera Wang tee
Three more random tops
And… a food scale, lol.
Not bad for 9 items, eh? I'm thrilled with the boots alone! If you still have the 30% off coupon burning a hole in your pocket, head on over — the Downers Grove location had a ton of stuff this morning.