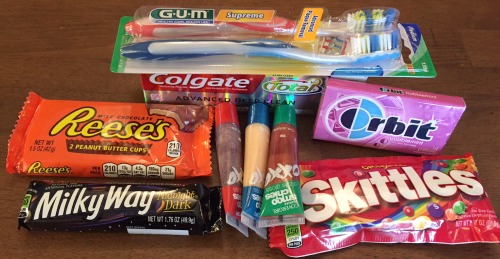 CVS pre-Black Friday and Thanksgiving deals were a lot shorter this year, but I stopped by today for the lip gloss, candy, and toothy deals.
2 pack GUM toothbrush, $2.00.
Reese's PB cups, $.77.
Milky Way, $.79.
Orbit gum, $1.00. Will get back $.50 on Ibotta.
Skittles, $1.00.
Colgate, $3.00. Used $2.50/1 CVS coupon from the coupon center and $.75/1 from some woman's magazine.
3 Cover Girl lip smoochies, $15.00. Used $4.00/3 from the 11/1 PG.
Paid with $12.75 ECB and $5.50. Got back $17.56 ECB ($1 gum, $.77 Reese's, $.79 Milky Way, $2.00 GUM, $1.00 Skittles, $1.00 Orbit, $12.00 Cover Girl) for a net cost of $.69, plus $.50 back on Ibotta = net $.19. (The Cover Girl should also push me over the next beauty rewards threshold for another $5.00 back in a couple days.)