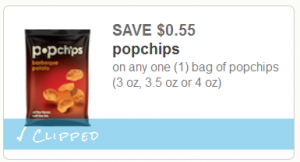 I told you earlier about this new coupon for $.55/1 bag of popchips — And, here's a CVS deal to go with:
Popchips are on sale for $2.00 this week.
Use the $.55/1 coupon to drop that to $1.45.
Then get back $.50 from Ibotta for a net cost of just $.95!
Sale runs through 4/26.
(Thanks, Hip 2 Save)