CVS sponsored my recent trip to their Rhode Island headquarters as part of an annual blogger event. All opinions in this post, however, are my own.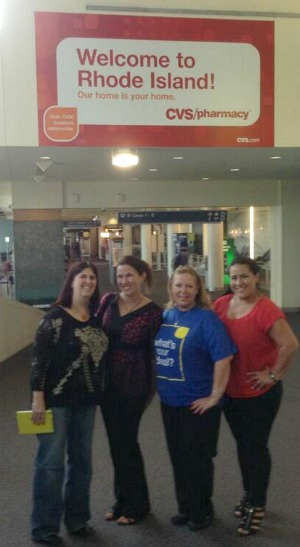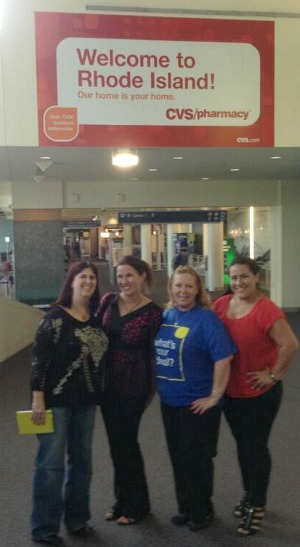 I recently had the opportunity to attend a CVS blogger event at their Rhode Island headquarters, and learned so many things to share with you! We had a full couple of days of presentations and discussion, so let me give you some of the highlights.
Market research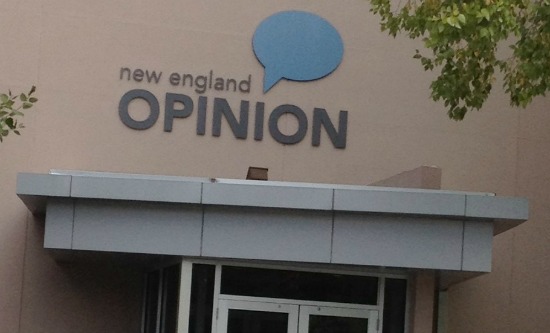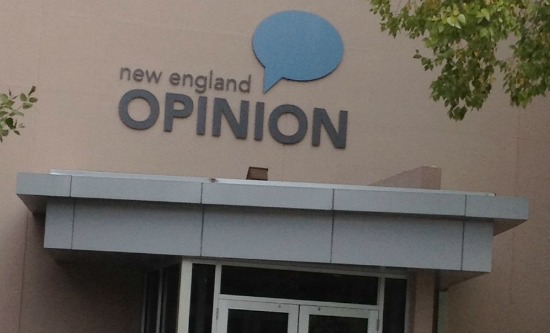 I don't think you can overstate the importance of CVS to the Rhode Island economy. As soon as we landed at the Providence airport, we were greeted with an "Our home is your home" sign from CVS, welcoming us to Rhode Island. CVS also does a lot of market research on its Woonsocket campus at New England Opinion, and we learned that they often have to go further afield from Providence for unbiased opinions, since so many people in Providence are either employed by CVS, or have a friend or close relative employed by CVS. Focus groups at New England Opinion (and those "on the road" across the country) gather real people's opinions and feedback on everything from new products to new website features.
Focus groups and healthcare rewards
Our large group of bloggers then split into several focus groups to give feedback on the new CVS health rewards program, which now requires each family member to sign up. Beyond a $5.00 ECB reward for every 10 prescriptions filled (up to $50), this program rewards you for additional healthy habits as well, and 5.7 million people are currently enrolled. One of the things my group discussed was the scary sounding "HIPAA waiver" listed in the FAQ about the program, and they repeatedly reassured us that this just allows them to count the number of prescriptions across every family member and share that number with the ExtraCare program; no personal healthcare information ever leaves the pharmacy.
Speaking of new website features…
Last month I gave you a sneak peek into the new personalized myWeekly ad at CVS, which has now rolled out on their site. This gives you a personalized list of deals based on your purchase history, featuring brands you tend to like — down to their specific varieties. Not just Tic-Tacs, but orange Tic-Tacs. Not just Colgate mouthwash, but blue Colgate mouthwash, etc.
Well, I know a lot of you have not been fond of this new approach (and you can access the full old style ad here, just as it appears in paper.) We had an extended discussion of the new myWeekly ad at the CVS event, and opinion tended to be divided: People either loved it, or hated it. Coupon bloggers tended to come down on the side of "bring the old ad back!" … as did their readers. Lifestyle and beauty bloggers tended to love the new approach, as it gave them easy access to sales on the favorites they were more brand loyal to.
My take? I see where they're going with this, but I disagree with the decision to hide the "regular" ad and make it less easily accessible. It's not consistent with the overall CVS freedom of choice philosophy, and I'd add back a large prominent link to the full ad, rather than hiding it — and, I did share this opinion with them during the event.
Some future features I do look forward to: They're going to be adding enhancements such as in-store pricing (SUPER useful on, say, a buy one get one free sale where the paper ad does not list the price) and the ability to delete items from your history so that they no longer show (useful when you bought a product once, but aren't interested in purchasing again). And, one neat current feature: If you dig into details, it shows you what aisle in the store you can find a product in. This is useful for ECB deals on newer items that defy easy categorization; I've had to ask in store before, so this can save you some time when planing your trip.
CVS has also launched a new and clever "What's Your Deal" ad campaign around their new personalized myWeekly ads, featuring celebrities and their favorite deals (Joan Rivers, for instance, is standing in the cosmetics aisle saying she needs all the help she can get!). Watch the ad above; it's good for a chuckle.
New ECB features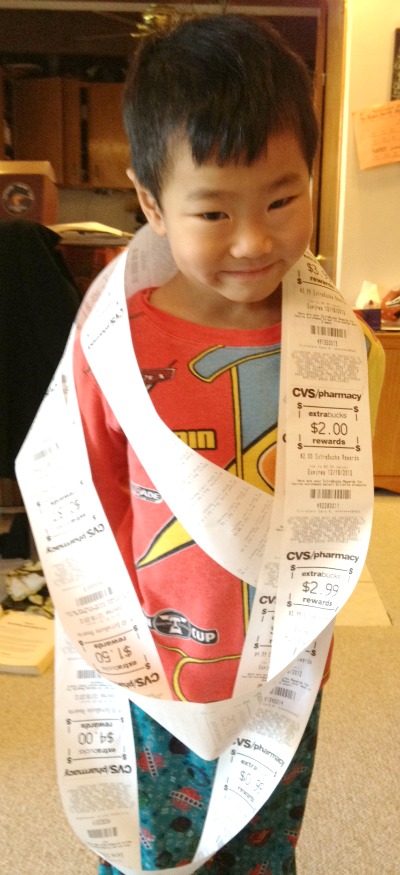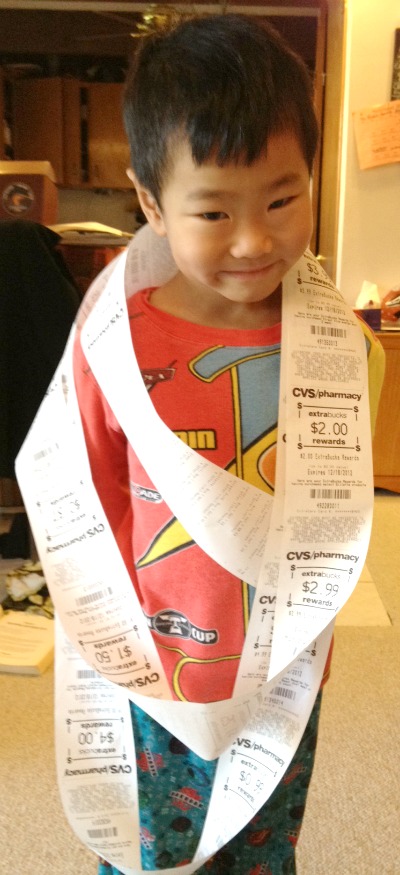 Deck the kids with Black Friday ECB!
You might have seen some of the recent brouhaha about the length of the coupons on CVS receipts — well, CVS heard that, and has responded by shrinking these down. Although it will be more difficult to deck your children with ECB and coupons, it will be kinder to the environment! By the first quarter of 2014, you'll also be able to send all offers to your card.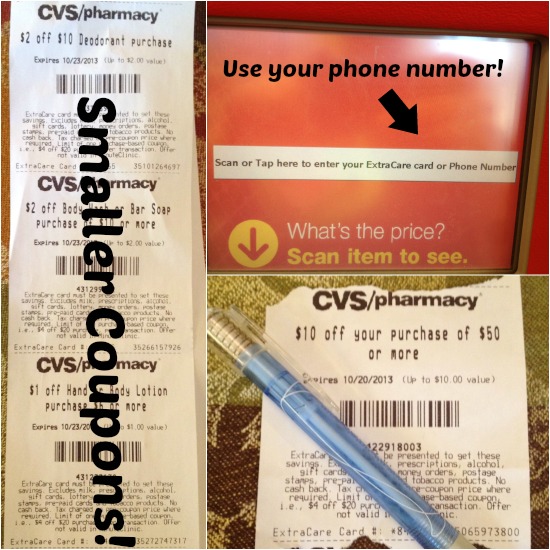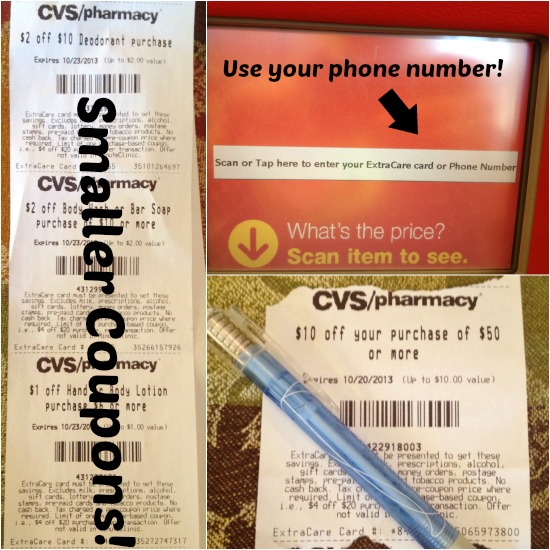 The smaller coupons have already started printing out in store — check out the reduced white space and smaller print. CVS has reduced the size of their coupons by about 1/3, which adds up when they give you so many. 😉 Another thing you might have noticed is that the coupons that print out at the Magic Machine and on your receipts are now often more general, as shown above: $1.00 off hand and body lotion, say, rather than $1.00 off Eucerin; $2.00 off $10 deodorant, not $2.00 off $10 in Dry Idea. Here, they are aiming to give you more freedom of choice in your brands and purchases, while still taking advantage of their coupons and discounts.
Lastly, here's another way to make your life easier: For those of you who hate carrying cards and always use your phone number at checkout, you now can get your Magic Coupon Machine coupons without having to scan your card! The price scanners now sport touch screens, so just touch and enter your phone number or card number to print today's coupons. CVS noticed that 20% of their customers use their phone number at checkout and were missing out on the chance to print coupons at the machine, so this rolled out at all stores on October 4.
And, while you're getting your coupons, chew on this: One in three people in the U.S. has an ExtraCare card — but only 15% scan it for coupons, so be sure to be among that elite group. You're leaving money on the table if you're not grabbing the free coupons from the machine every time you go in.
Beauty products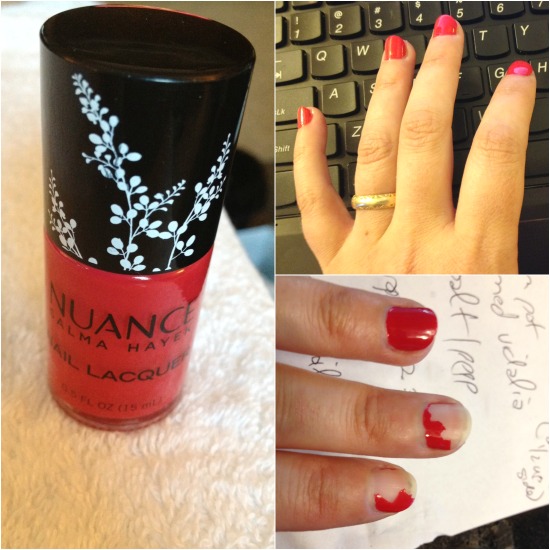 While CVS targets couponers, another important market for them is beauty — and we had the opportunity to see and try out a number of national brand and CVS-exclusive brand beauty products. I'll be telling you more about some I brought home across the next couple of months as we see them featured in store, but I also got the prettiest manicure with Nuance Salma Hayek products. Alas, it lasted but a few days, since I'm super hard on my nails. (Mental note: Don't try to use your nicely manicured nails to peel off a stubborn sticker!)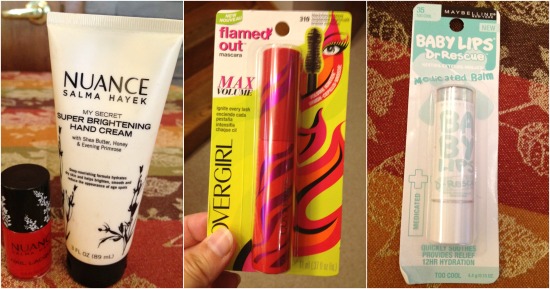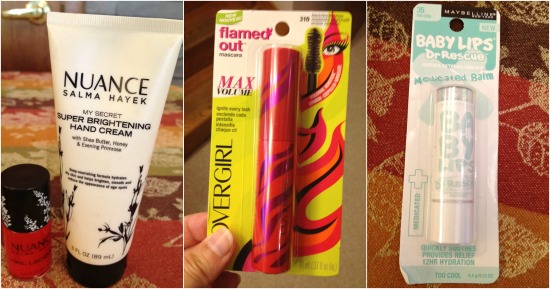 But I really do like the Nuance products since being introduced to them a couple of years ago — the hand cream smells lovely, too, and isn't at all greasy. I've only had the chance to try a couple of the other beauty products we went home with, but I was surprised I liked the Cover Girl flamed out mascara. I thought it would be too heavy, but it wasn't at all, and the shape of the wand helped avoid clumping. The Baby Lips Dr Rescue is new and very menthol-y. Planes are so dehydrating, so I tried this on my cracked lips when I got home, and it was kind of like a cough drop for your lips! Tingly, but it did the job nicely.
Beauty Club
I hope that all of you are already signed up for CVS Beauty Club — which now sports 30 million members! If not, get hooked up with Beauty Club online here. You get a 10% off coupon for signing up, then a bonus $5 ECB for every $50 you spend in beauty products, $3.00 ECB on your birthday, and additional emailed coupons throughout the year.
CVS is 50!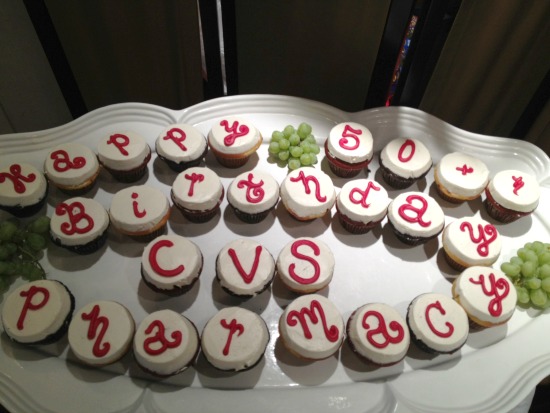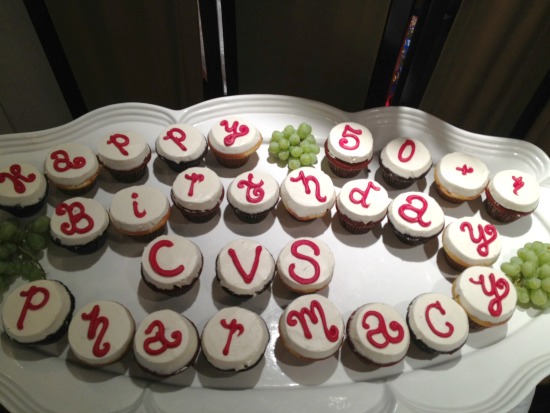 CVS/pharmacy is 50 years old this year, and one of our presentations focused on the way beauty trends have changed over the years — from Charlie to, say, Lady Gaga "black fluid" perfume. You don't really think about how difficult it has to be to stay on top of the trends and keep them affordable, so kudos to them for that.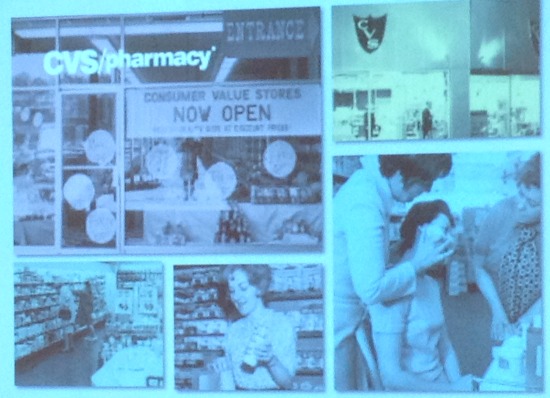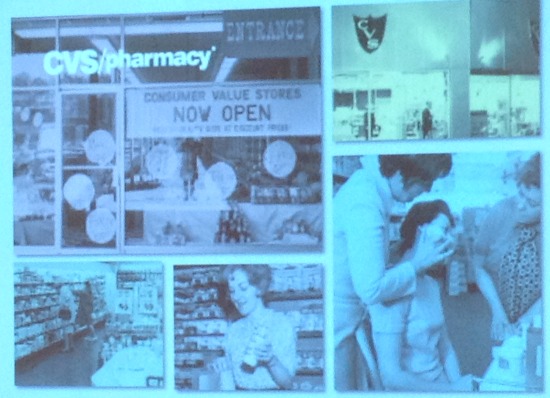 And, in case you ever wondered? CVS stands for: Consumer Value Stores!
And now, it's the holidays…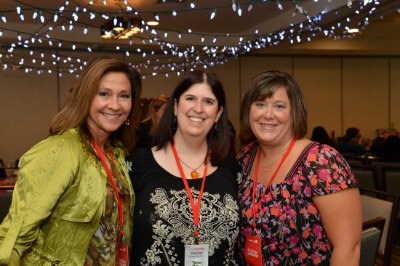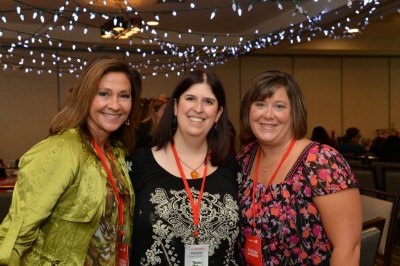 Laura (MyDFWMommy), me, and Michelle (Money Saving Madness)
The next morning, we walked into a beautifully decorated holiday breakfast! I know, it's not even Halloween yet — but you do realize we have but six weeks til Black Friday, right? Ack. And… Chanukah falls ON Thanksgiving this year, so I'd better get a-shopping!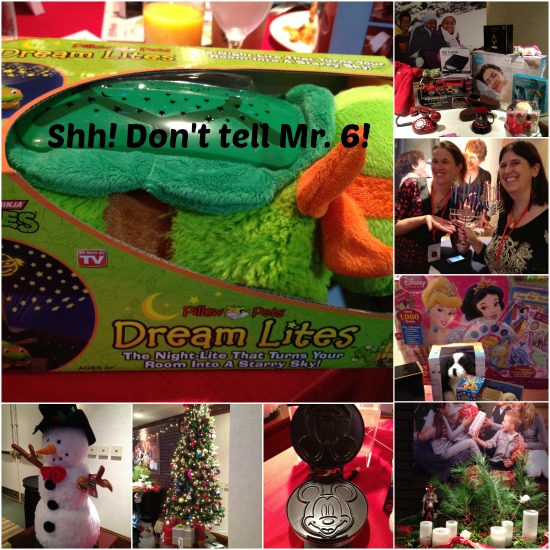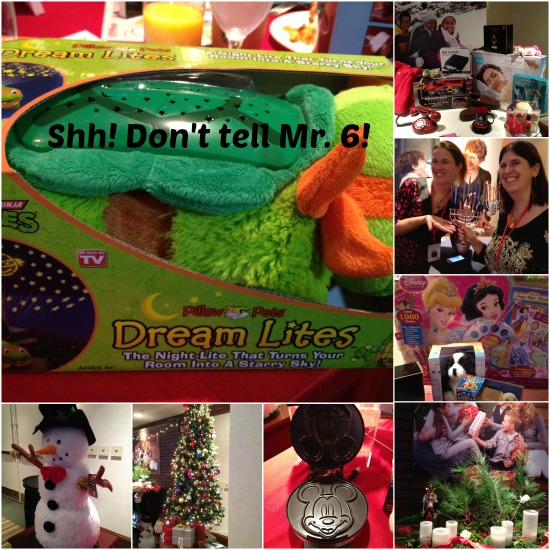 When we sat down to breakfast, everyone had a wrapped present on their chair containing one of the products CVS will be selling this holiday season! But wait — then we had a Yankee Swap, where we all drew numbers, took turns, and could either open our own present or steal one someone had already opened. Well, guess who had the last number at her table? Yeah: Mr. 6 is getting a Teenage Mutant Ninja Turtle Dream Lite this year! I … um… stole it from another blogger. But I had to, because: Dream Lite Ninja Turtle!
But the point of this whole exercise was to highlight the presents, decorations, and other holiday products you can find at CVS, beyond just wrapping paper and cards. This, I did know, because I pick up some gifts at CVS every year. We actually just today used a waffle iron from Black Friday a couple years back, but alas, ours is not the Mickey Mouse version pictured above. Rack up your ECB on their awesome Black Friday deals every year, and use those to go holiday shopping. 🙂
Overall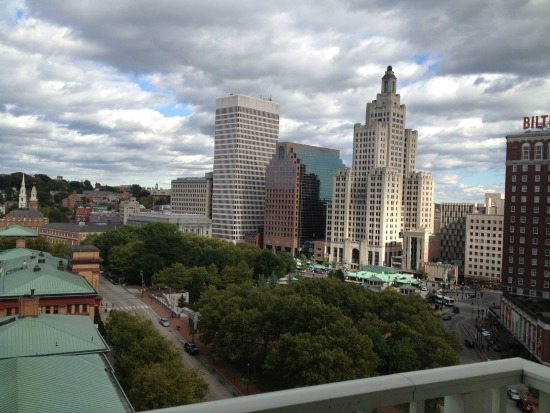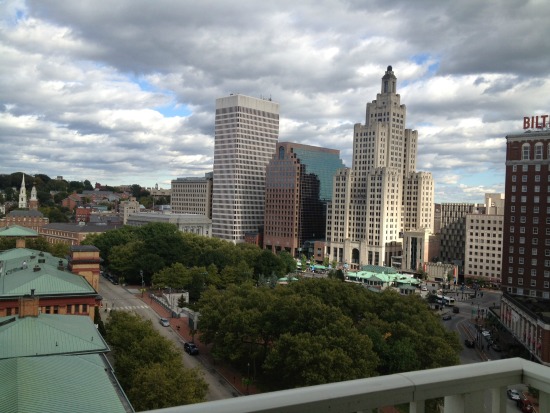 Overall, I'm impressed with how seriously CVS takes both its customers and bloggers. Not only did they take our feedback and comments during the event very seriously, and realize that our comments also reflect what we have been hearing from you guys about things like the new myWeekly ad — but, we also walked away with examples of how they are quick to respond to consumer feedback (as with the lengthy receipts issue). We see all too many large chains dictating changes from the top down to fit what they believe their customers should want, rather than listening to feedback on what customers actually do want, and acting on that. I was a fan of CVS (and a weekly shopper!) long before I ever worked with them as a blogger, and all of my experiences with them, including this trip, only reinforce that.