What's better than finding a good new book to read? Well, that would of course have to be finding a good new (to me…) series of books to read! I recently ran across one of Edith Maxwell's Local Foods Mysteries at the library, and quickly ended up going back to pick up all five books in the series, so that I could read them sequentially.
The Local Foods Mysteries Series
If you'd like to do the same, the Local Foods Mysteries series runs, in order:
Sadly, I just finished Mulch Ado About Murder — so now, I have to wait patiently for her to write another. I'm not sure how I missed the entire five book run until now (since I'm always on the lookout for good new cozy mystery series), but am kind of glad that I did! The entire series weaves together a few of my favorite things: Food, mystery, and a smart & self-sufficient female protagonist — but it also remains timely by weaving in some of the issues of the day, ranging from the immigration debate, to animal rights, to eating organic vs local foods, to the appropriate way to manage development and change in small towns.
So, What's So Mysterious About Local Foods?
Cameron (Cam) Flaherty leaves her job as a computer programmer after inheriting her great-uncle's farm in the small community of Westbury, Massachusetts, and decides to turn it into an organic farming operation. Her organic CSA (community supported agriculture) brings around a colorful crop of recurring, well-developed characters, and Cam is launched into the mystery solving business alongside her farming venture when the handyman she has just fired turns up dead on her farm, stabbed by a pitchfork.
Each book in the series revolves around a different murder mystery, and Cam is called upon to be an amateur sleuth in different ways: To clear her own name, to help a friend, to protect her mother. Along the way, romance blossoms and fades, difficult choices have to be made, and Cam still has to roll out of bed early each morning to keep her farm and her livelihood rolling.
Agatha-award nominated author Edith Maxwell not only holds a Ph.D. in linguistics, she is herself a former certified organic farmer. Her experience allows her to write realistically about the daily challenges and rewards in running a small organic farm, and allows readers to empathize with Cam's struggles in keeping the farm going.
And, perhaps it's the author's Ph.D. talking, but Cam is a smarter-than-average cozy mystery protagonist, with fewer of the typical amateur sleuth, head-slapping, TELL SOMEONE, DON'T DO THAT YOURSELF moments than usual. Although she does have a few of these, as an overall rule: Cam the computer programmer brings the same logic to solving the various mysteries that arise in these books as she does to her farm work and marketing her business — and is an entirely relatable protagonist.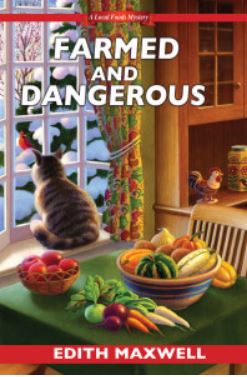 The Local Foods Mystery series is highly recommended for cozy mystery fans. Let me know if you give it a try!
But wait, there's more
Edith Maxwell apparently also writes other mystery series, giving me more reading material to check out on my next library visit. Yes! 🙂
What are you reading this week?
What have you been reading lately? Tell us all about it! And, you can browse all of the What's Rachel Reading? book reviews here.