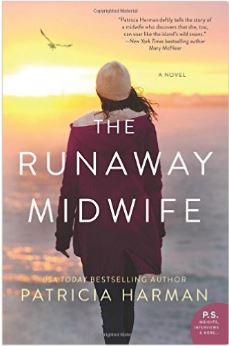 I grabbed The Runaway Midwife off the new books shelf at the library last week on a whim, and just noticed that it's by a USA Today bestselling author (although I haven't read any of her other books). In a nutshell: Clara Perry is a nurse-midwife in West Virginia whose own life has been gradually falling apart. Pushed over the edge by one more tragedy, she chooses to flee her problems rather than facing them and ends up with a new identity (and without a passport) on a semi-isolated Canadian island. There, she begins to learn that you can't run away from life as she becomes inexorably intertwined with new relationships and crises on the island. This allows her the space she needs to come to terms with the demons of her own past and to find out how to forgive both herself and others.
The Runaway Midwife shines in its descriptions of island life and relationships, as well as when Harman, herself a former nurse-midwife, writes in believable detail about childbirth and midwifery. Clara herself is a compelling character, and it's easy to become drawn into her life and story: This was a quick and enjoyable read, because I kept wanting to find out what would happen next. I enjoyed Clara's journey and the space island life provides for self-discovery, as well as the careful development of the new relationships she begins to build.
While most of the book tells a good story, though, where The Runaway Midwife falls somewhat short is both at the beginning and the end. Because we're launched almost immediately into Clara's journey, there's little opportunity for exploration of the events that build up to her dramatic decision to flee her old life. We never, for instance, meet her husband or her daughter, learning about these relationships and their issues only through Clara's memories — which makes it much more difficult to understand or empathize with her course of action until much later when you've gotten to know her better as a person.
Then again at the end of the book, every issue Clara faces is resolved quickly and neatly with a tidy little bow. While happy endings are almost de rigueur with this type of novel, the effortlessness, speed, and tidiness here are at odds with the rest of the book — which squarely faces that bad things happen, that good things take time, that life is untidy, and that what matters is how we deal with those events and build relationships with others in our community.
Despite these caveats,  however, The Runaway Midwife is a well-written, compelling read. It's easy to relate to the characters and to the underlying theme that you can never really escape from your past, and I'd recommend it to readers of "women's fiction." The edition I picked up from the library also has a book group discussion guide in the back, and there's plenty here to discuss: The Runaway Midwife would make a great book group choice.
What are you reading this week?
What have you been reading lately? Tell us about it! ? — and, you can browse all the What's Rachel Reading? book reviews here.