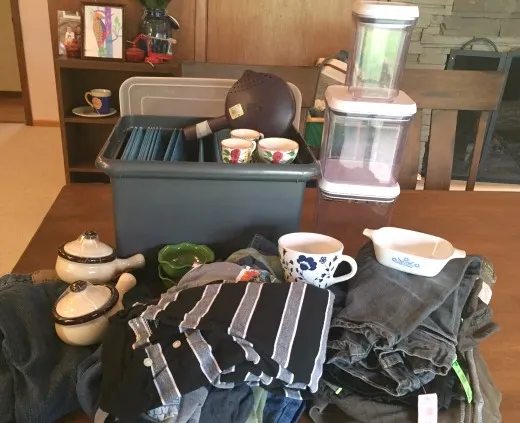 Somehow I spent $82 at Goodwill today! Yikes! I originally went over to look for clothes for High School Outgrowing-Everything-At-Once-Guy, since Monday is half price green tags day. Well, only a couple of things I picked up had green tags… but I also ended up with all this other stuff. Behold:
Jeans for MashupDad.
A fall jacket, jeans, and 2 pairs of pants for Mr. 9.
Black pants, 2 pairs of jeans, a pair of shorts, and four shirts for High School Guy.
Three of those OXO air tight suction seal containers!
A file bin filled with file folders (two different colors, so perfect for sorting out all their school papers).
A Pampered Chef microwave veggie steamer.
Two little soup crocks with lids.
A pretty mug.
A little Corningware dish.
Two ice cream dishes.
Two adorable little teacups and a matching tiny bowl.
That's $81.82 for everything, but I'll earn a $5.00 coupon next time I go in, so that's something, lol. The little dishes I thought might be nice in food photos when I write up recipes for you guys, since you must get sick of seeing my same old stuff all the time. So, really: This trip was for you. 😉
What's your best recent find at Goodwill or other thrift store?