ALDI Finds for the week of 7/13/22 include vegan coconut milk ice cream, seaweed snacks, letter boards, and more. Check them out below, and let me know what you want to Find this week.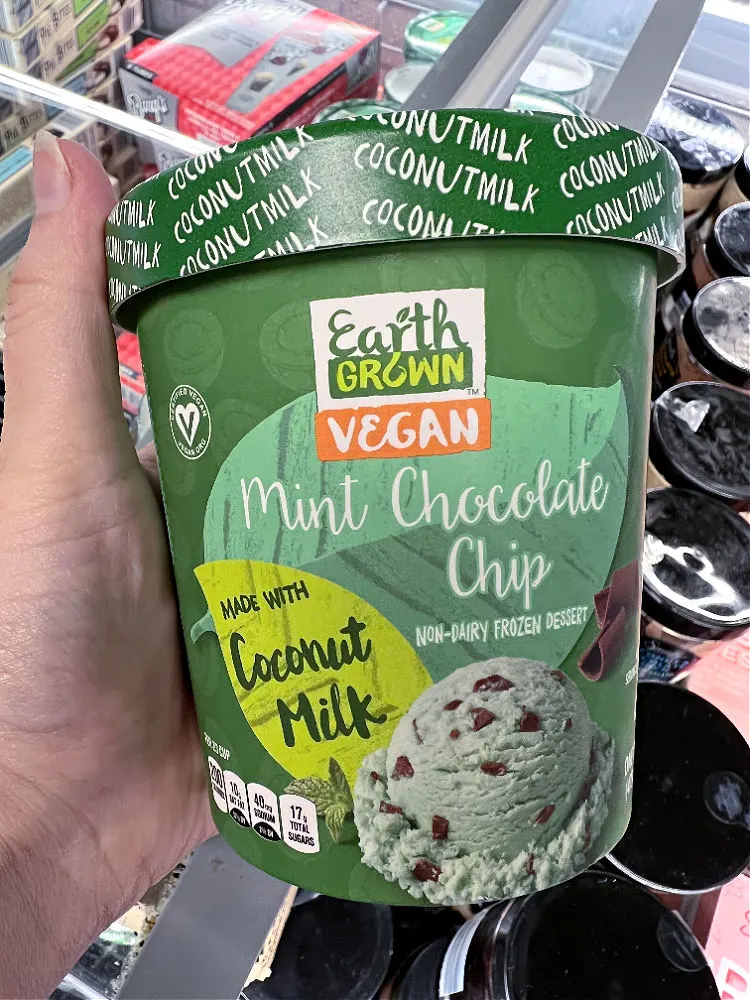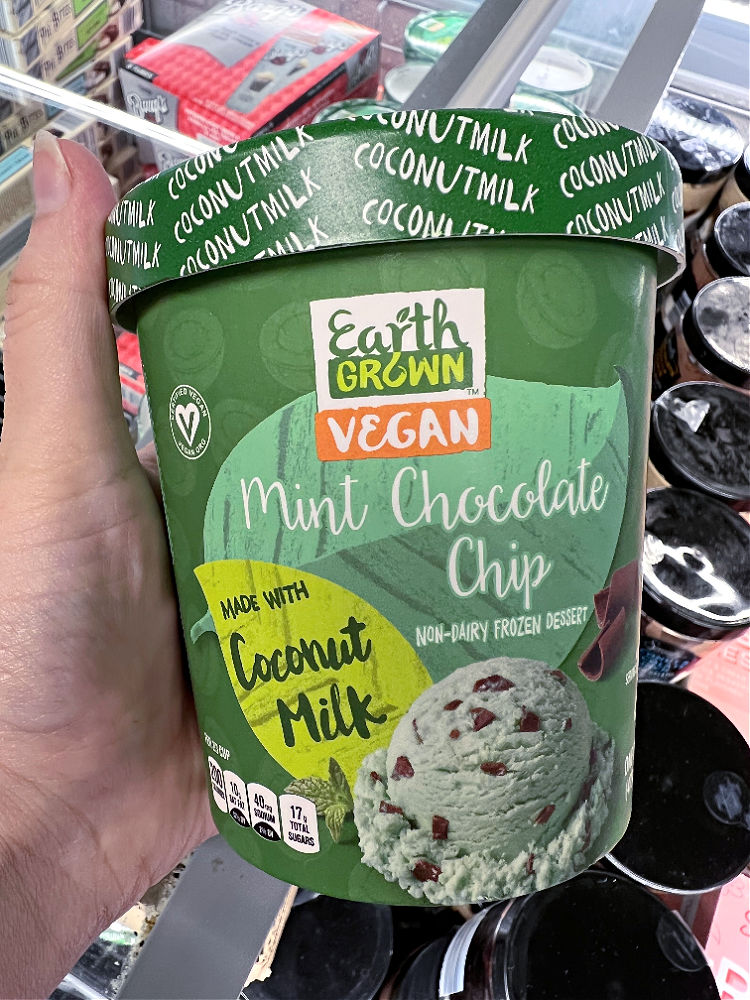 We have some new Earth Grown vegan products this week, starting with these ever-popular Earth Grown non-dairy frozen dessert pints. Pick up vegan ice cream in mint chocolate chip, chocolate peanut butter, or raspberry cheesecake flavor, $3.49 per 16 oz container.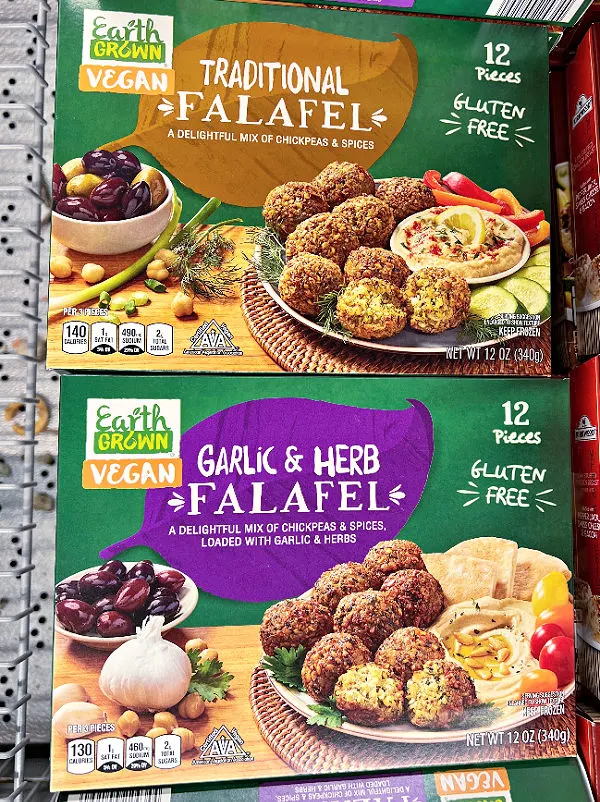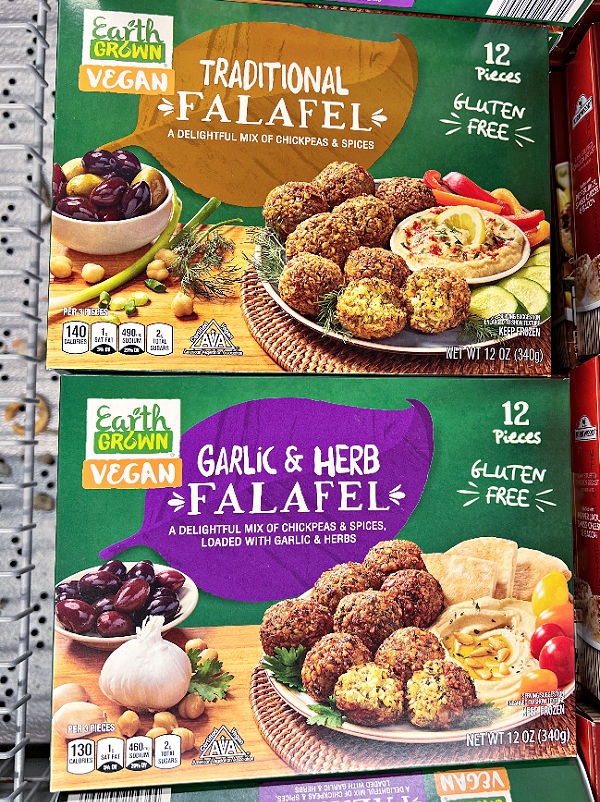 Also in the freezer section: Earth Grown vegan falafel in traditional or garlic & herb, at $3.99 per 12 oz box. (Falafel is also gluten free.) Also look for Earth Grown vegan vegetable potstickers, $5.49 per 10 oz box.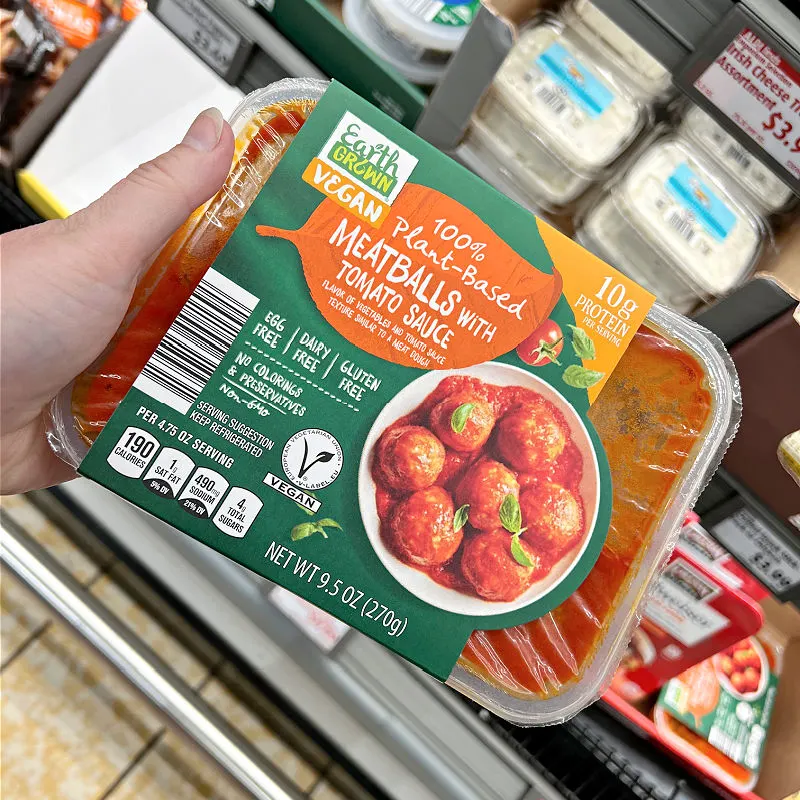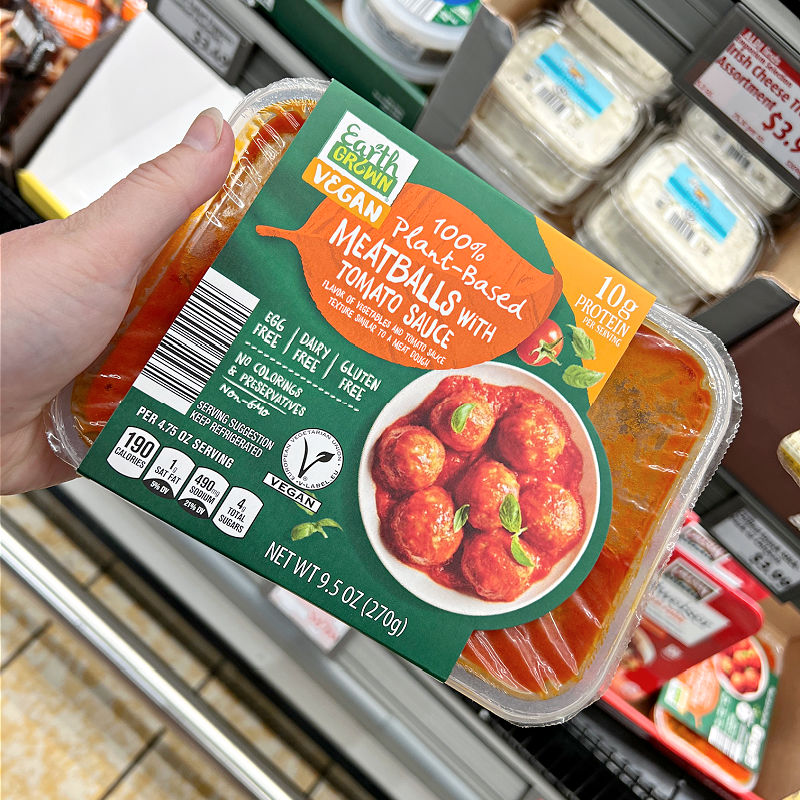 Over in the refrigerated section, you'll see 9.5 oz containers of Earth Grown plant-based meatballs in tomato sauce for $4.99.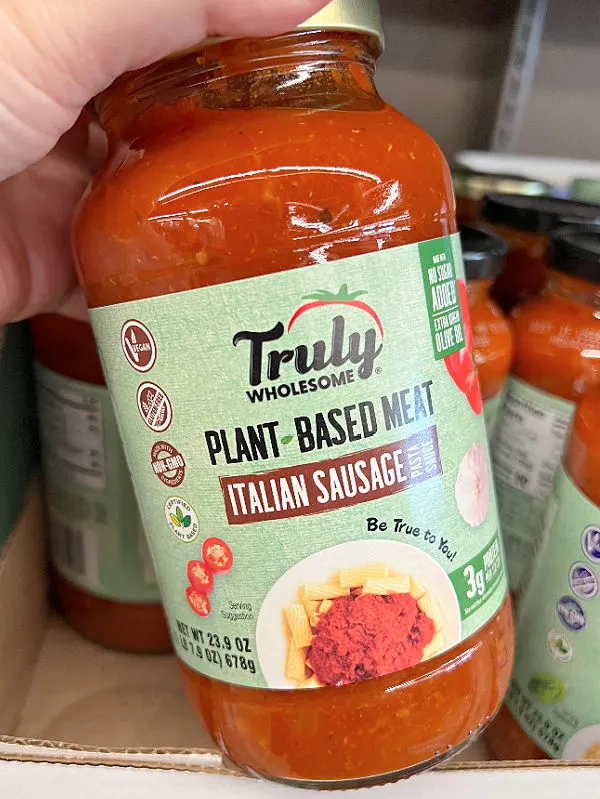 And then we have a couple of national brand vegan items as well. Find Truly Wholesome bolognese or Italian sausage plant-based pasta sauce, $3.49 per 24 oz jar, as well as Loma Linda plant-based protein meals for $2.99.
Note that both advertised and unadvertised ALDI prices can vary by store and by region. Now, let's run down the rest of the top ALDI Finds for the week of 7/13/22. (You may also Find some on 7/10/22 in Sunday ad markets, or if your store tends to put products out early.)
Top ALDI Finds of the week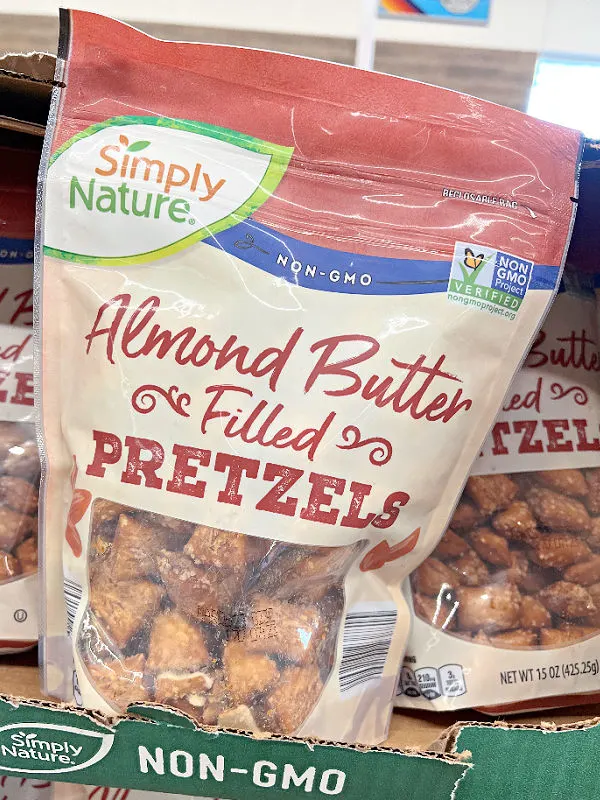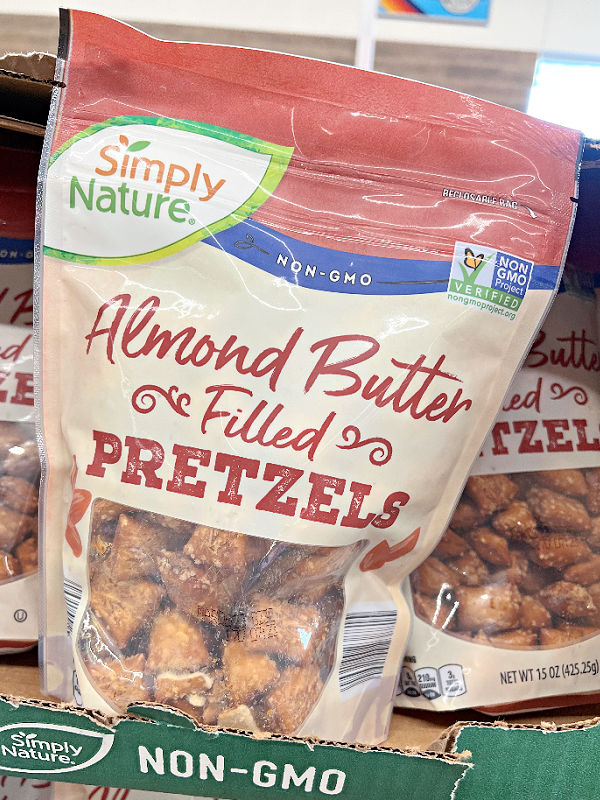 Beyond the sweet, here are 17 more top food Finds, as well as thirty-five more non-Food Finds, all for the week of 7/13/22.
17 food Finds to check out this week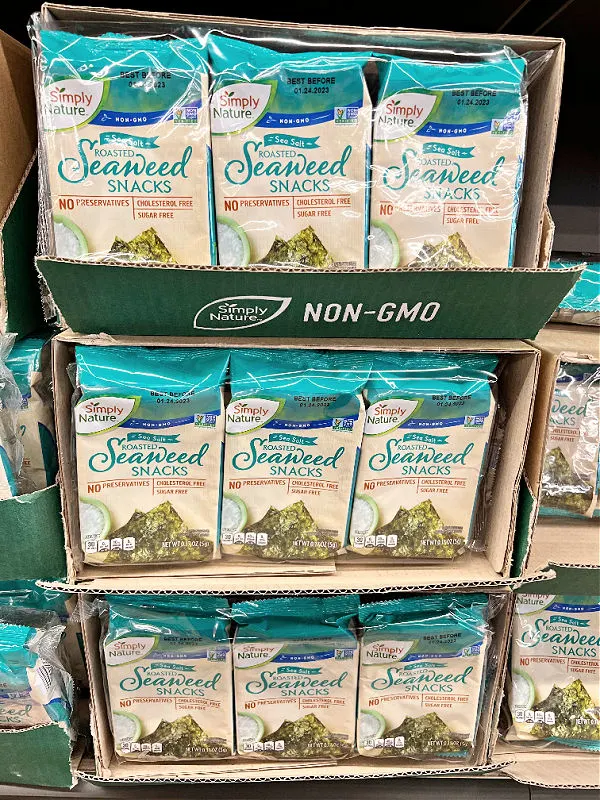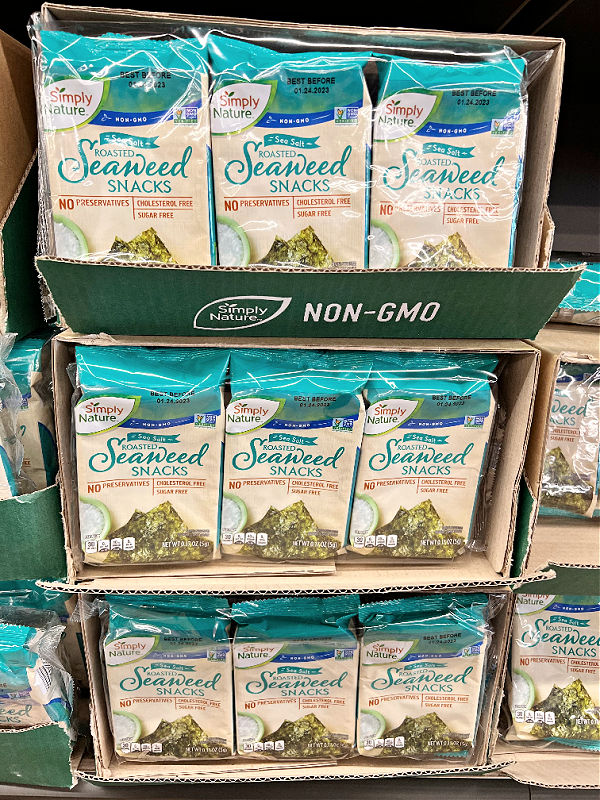 Beyond the specifically vegan products mentioned above, here are 17 more food Finds of the week:
Nature's Nectar 4 pack sparkling soda, $3.79
Silver Hills Bakery Carbonaut seeded bread, $4.99
Fit & Active 20 calorie frozen bars, $2.29
Fremont Fish Market 16 oz seafood mix, $6.99
Season's Choice 10 oz avocado chunks, $3.49
Journey to Greece spanakopita 12 oz, $4.49
Whole & Simple adobo chicken or Korean inspired beef power bowl, $3.49; tahini & chickpea or edamame protein bowl, $2.99
Never Any fresh butterflied lamb leg, $7.99/lb
Simply Nature fresh family pack organic grass fed ground beef, $4.99/lb
Elevation pure & simple bars 5 pack, $3.95
Journey to Greece rosemary & feta or tzatziki krinkle cut kettle chips, $1.99
Simply Nature PB&J Bites, $4.69
Simply Nature 3 pack seaweed snacks, $1.89
Simply Nature almond butter filled pretzels 15 oz, $4.99
Greek extra virgin olive oil, assorted 16.9 oz, $5.49
Simply Nature stir-in paste, $2.79
Simply Nature infused extra virgin olive oil cooking spray, $3.99
I picked up the PB&J bites in the store and was startled by how few were actually in that big bag, although they do get good reviews on kid appeal.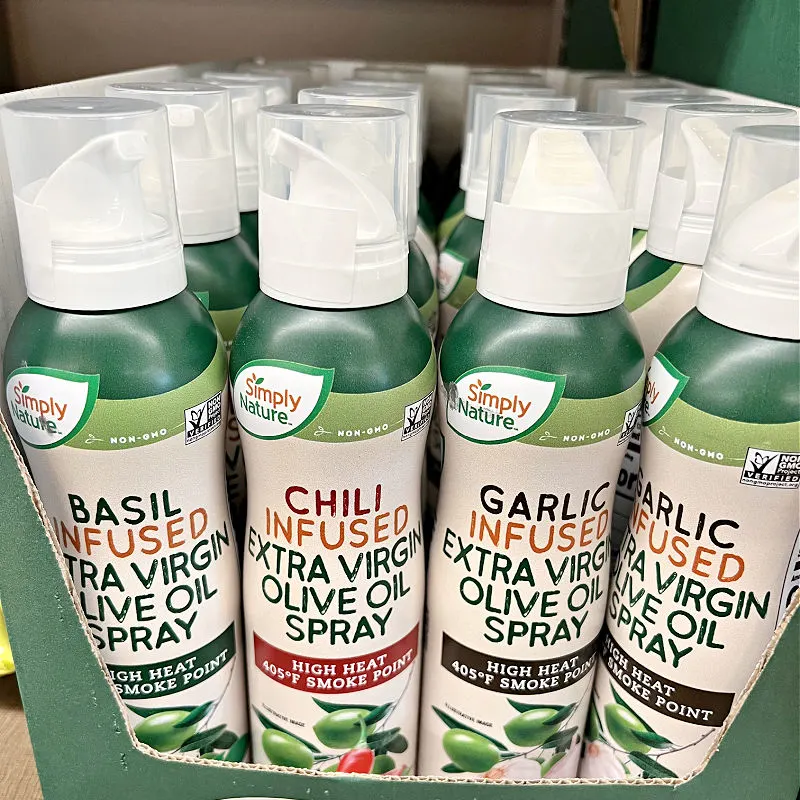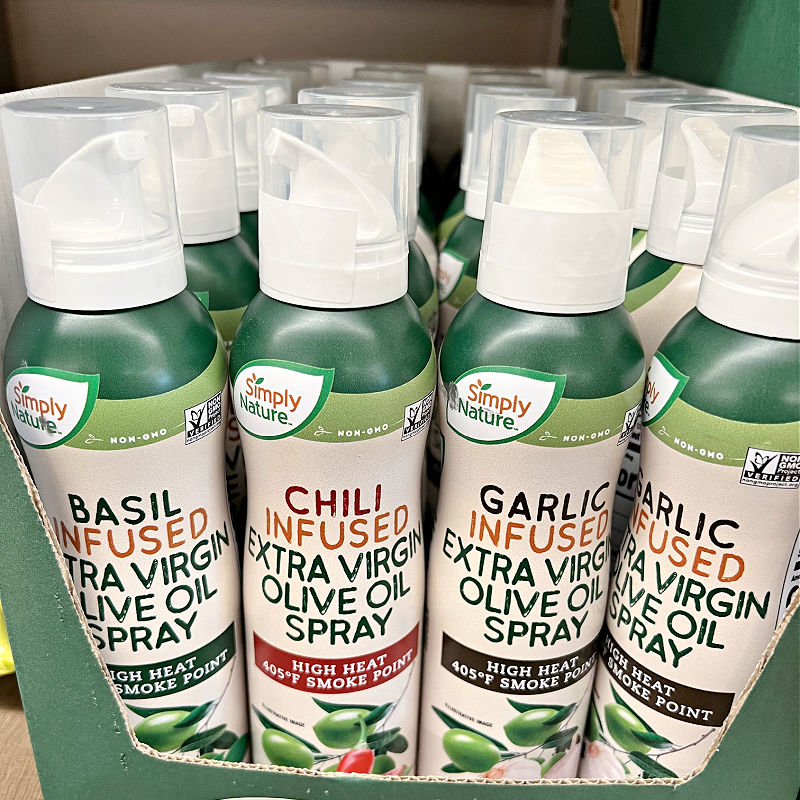 Don't the infused sprays look interesting? Choose from basil, chili, or garlic infused extra virgin olive oil spray.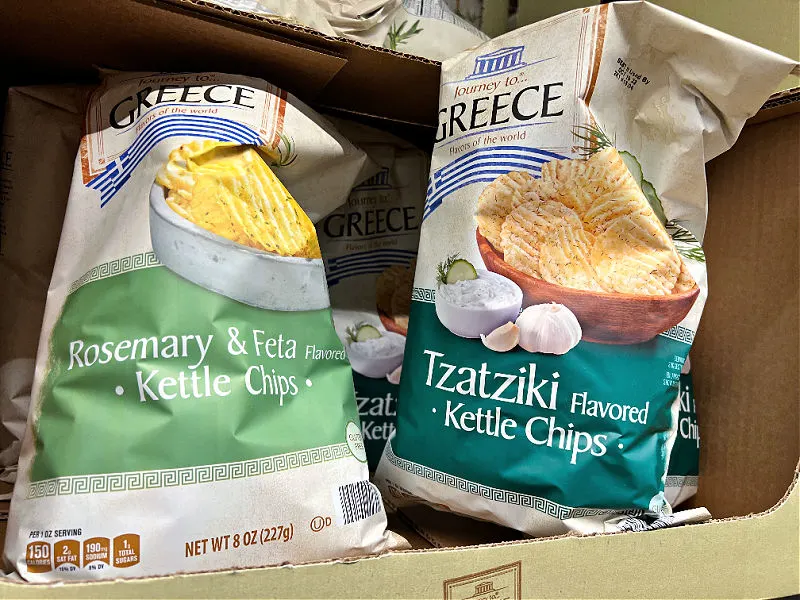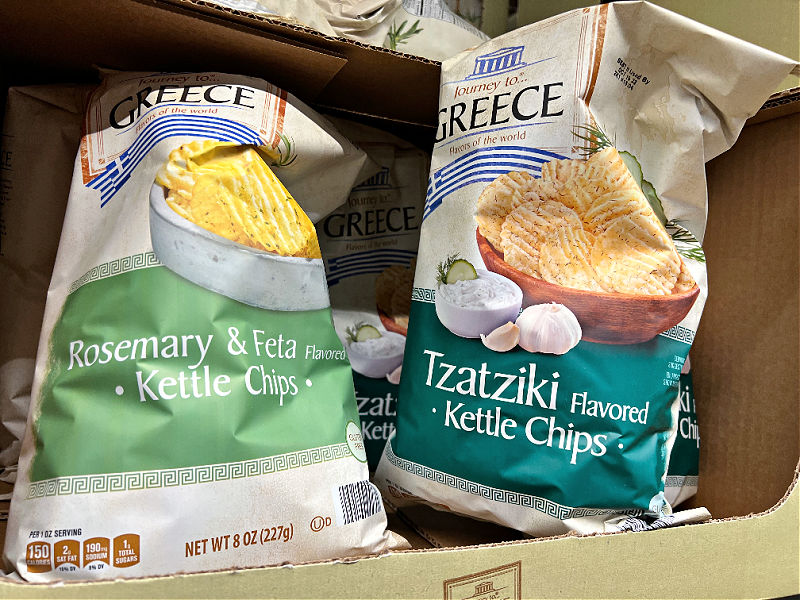 I'm not sure how I feel, though, about tzatziki flavored chips. (But rosemary and feta, sure…)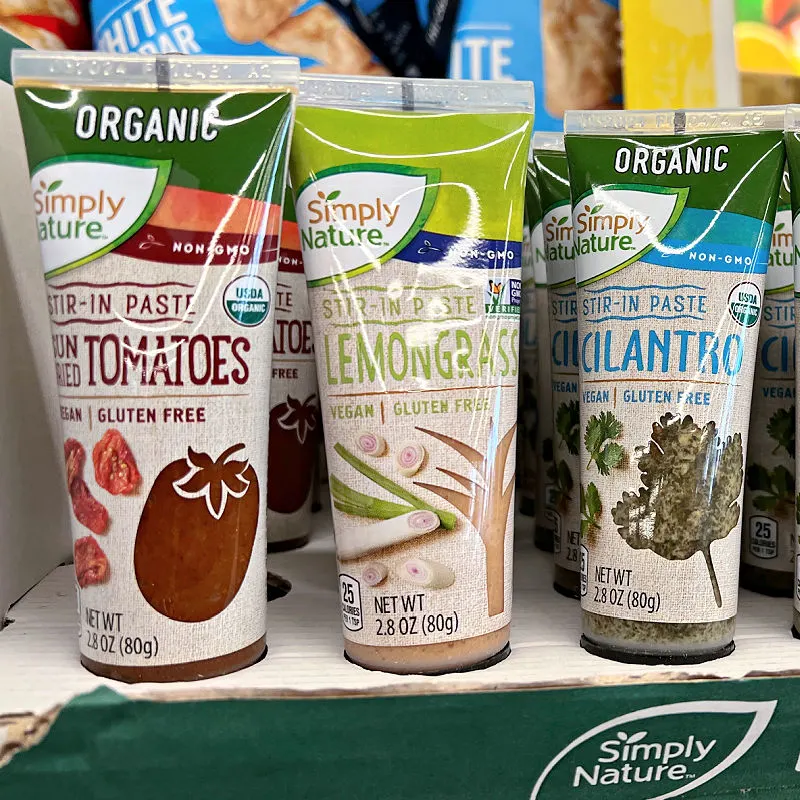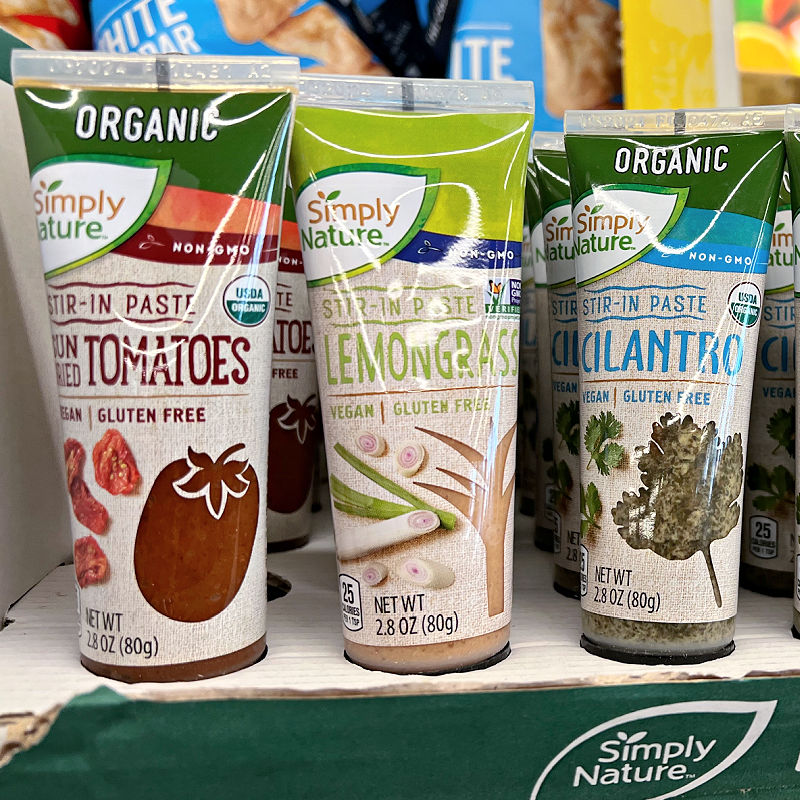 I'm actually kind of wishing I'd picked up the organic sundried tomatoes stir-in paste, though — since ALDI doesn't usually carry sundried tomatoes, and I sometimes really wish they did. They have other different stir-in flavors than usual this time too, including cilantro, lemongrass, and Italian herbs.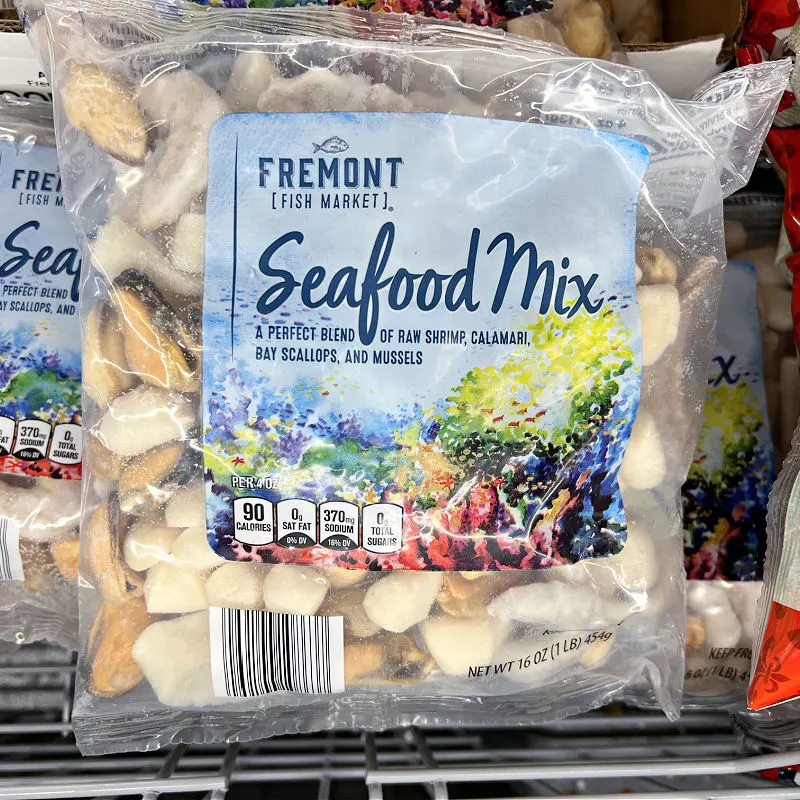 Try the seafood mix in a nice chowder, maybe? (My kids would balk at the calamari, though…!)
Top 35 Non-food Finds this week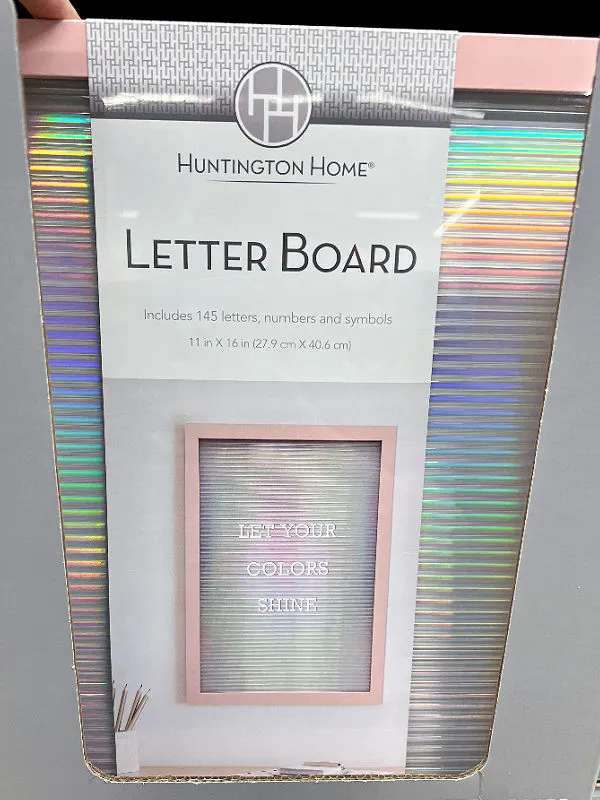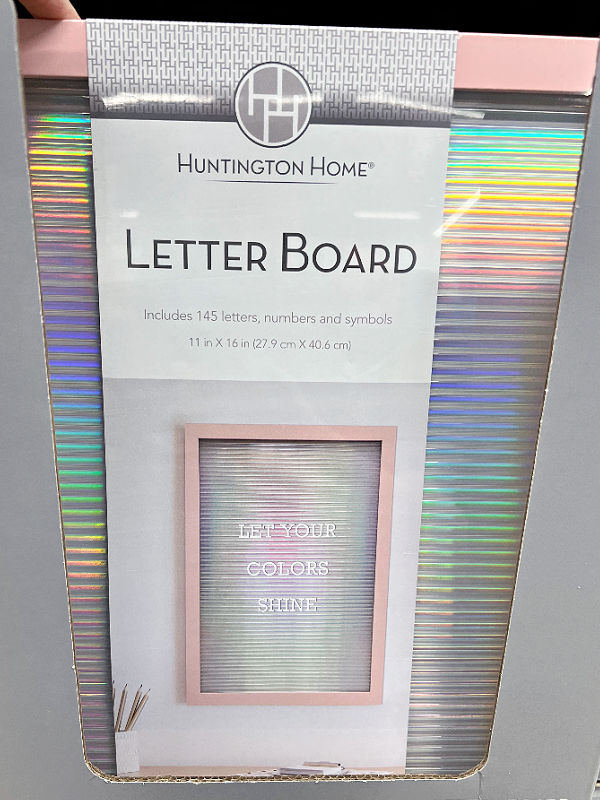 Huntington Home letter boards are back this year at the same $4.99 price as last time, and these are great for dorm rooms! Other top non-food Finds this week include:
Easy Home 8000 BTU portable air conditioner, $229.99
Huntington Home memory foam bath mats: 20″x34″ mat, $12.99, 20″x47″ runner, $17.99, or 3-piece set, $14.99
Huntington Home plush bolster pillow, $12.99
Huntington Home wedge pillow, $16.99
Huntington Home cooling down alternative comforter, $34.99
Huntington Home summer coir mat, $8.99
Huntington Home beach towel, $7.99
Crofton woven serving tray, $14.99
Crofton farmhouse kitchen accessories, $9.99
Crofton master cutting board, $12.99
Crofton mini bakeware, $3.99
Huntington Home 3-wick candle, see price in store (that's new!)
Huntington Home galvanized tin candle, $6.99
SOHL gaming rocker chair, $39.99
Heart to Tail large round pet cooling mat, $16.99
Willow 3-pack facial tissue, $3.29
Dentiguard sonic electric toothbrush, $19.99
Gardenline ladies' garden boots, $11.99
Serra Ladies' beach dress, $8.99
Crane ladies' shorts or 2-pack tank tops, $9.99
Crane adult walking shoes, $13.99
SOHL indoor tent, $49.99
Summer Waves mermaid tail or starfish float, $14.99
Crane animal ride-on float, $9.99
Bee Happy nest swing, $49.99
Safety 1st high-back car booster, $44.99
4″ succulent in tin, see price in store
Gardenline walk-in greenhouse, $49.99
Range Master 17″ portable tabletop gas griddle, $79.99
Belavi instant canopy, $79.99
Belavi hanging hammock chair, $29.99
Belavi 10′ offset umbrella, $89.99, or 9′ wood market umbrella, $49.99
Belavi patio dining table, $249.99
Belavi double glider, $99.99
Belavi portable gas fire pit with locking lid, $79.99
That dining table got more expensive, but last time people were finding them on clearance fairly quickly because they take up so much room in the store… if you want to gamble on that!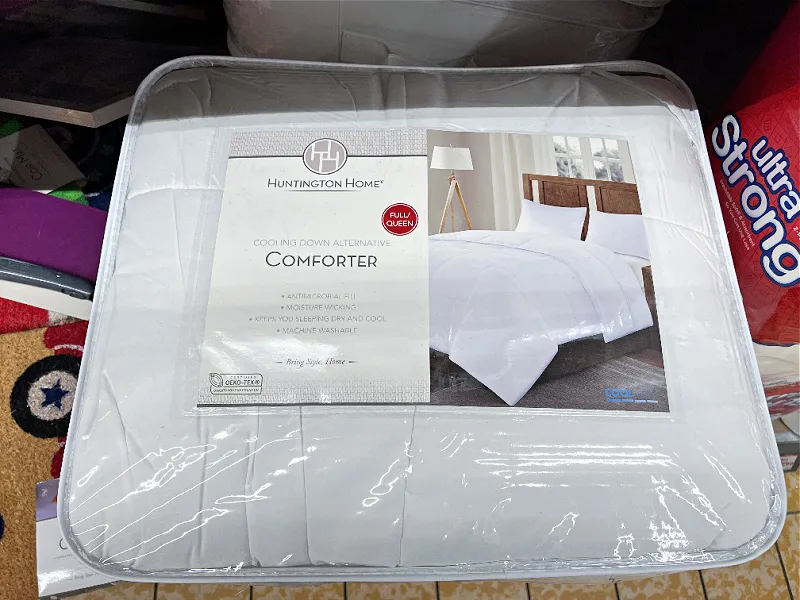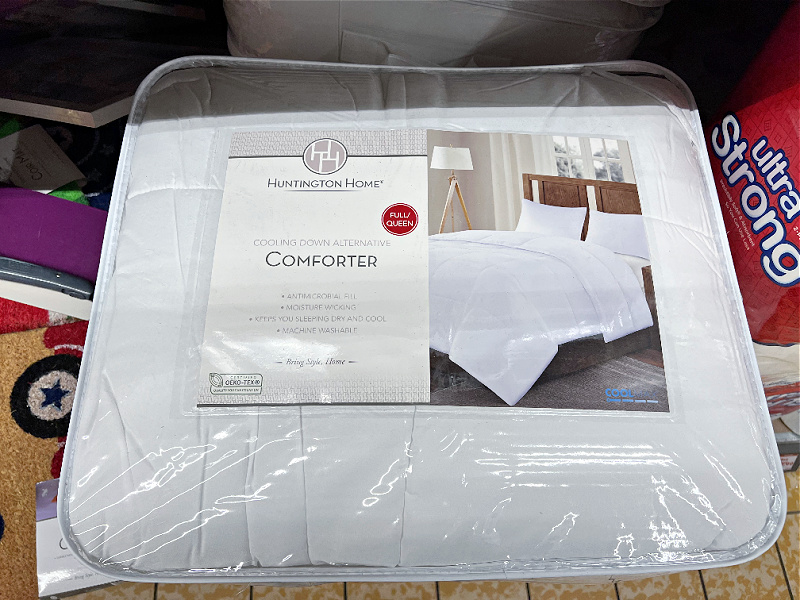 I'm curious about the cooling comforter, since I have a cooling throw from Costco I just love. (If you need one of these: You know.)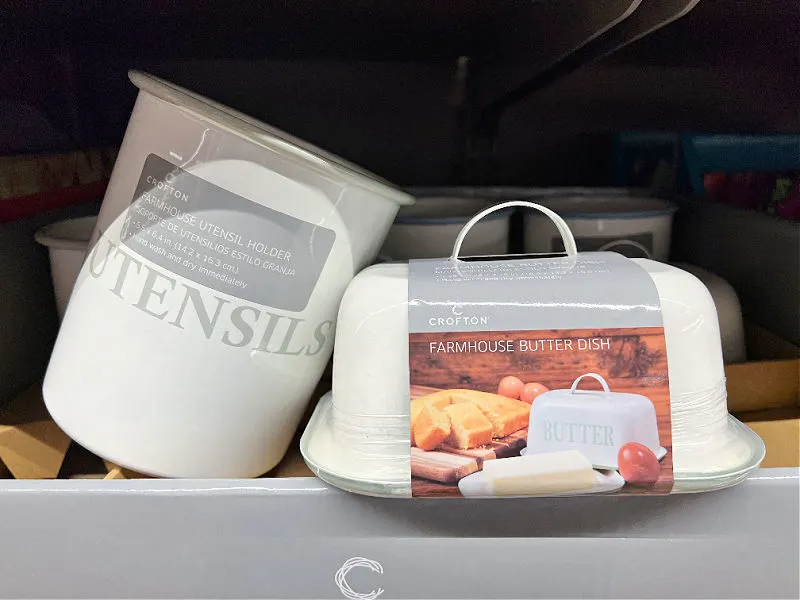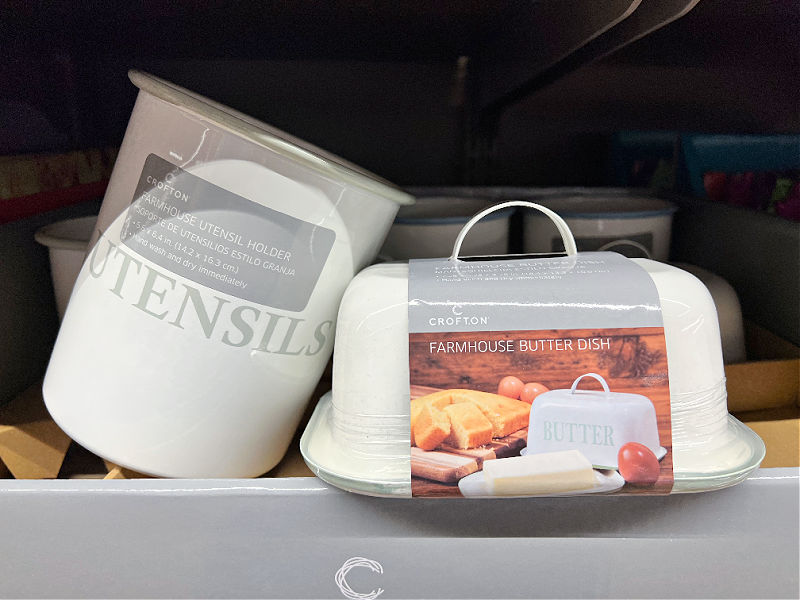 With the farmhouse accessories, choose from a butter dish, utensil holder, or colander.
What's Up with ALDI Finds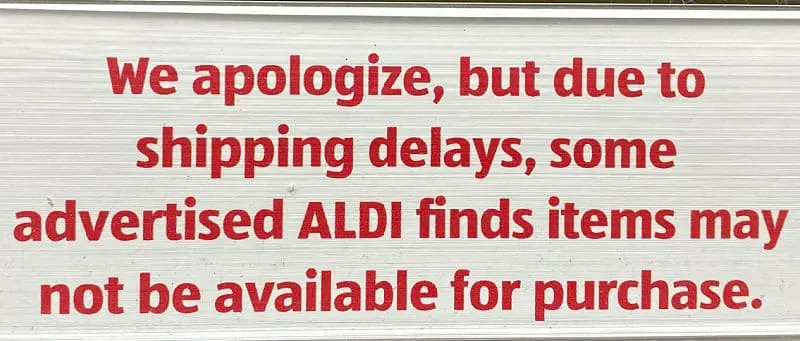 What's up with ALDI Finds? Well, these are limited time special buy items that are available in stores only while supplies last. So if you spot something you like, be sure to pick it up while you can. See also: What is the ALDI Aisle of Shame?
Before shopping for new Finds this week, you might also wish to visit the ALDI Finds product delays page. Because of ongoing shipping delays and materials shortages affecting ALDI and many other retailers, certain advertised products may not be available in all locations.
Finding the Finds
Where do you Find all of this week's special buys?
Check out the "ALDI Finds" and current weekly ad tabs (or mobile menu choices) on the ALDI site to window shop from home.
If you're planning an in-store shopping trip, use their online ad to help determine what you'll grab and purchase if you do see it in the store.
Products mentioned in this post were either spotted in store or are from the ad starting 7/10/22 in Sunday ad markets, 7/13/22 in Wednesday ad markets. What caught your eye among this week's ALDI Finds?