ALDI Finds for the week of 8/24/22 include all things pumpkin spice, pretzel buns, frozen crab cakes, and more. Check them out below, and let me know what you want to Find this week.
Have you been waiting for pumpkin spice, apple cider, and more warm fall flavors to show back up at your local ALDI? Well… your long wait is now over, because…
It's fall, y'all! Well, at least, it's close enough to fall that ALDI is jumping on the pumpkin spice and everything nice bandwagon. Let's start out this week with Specially Selected pasta sauce, available this week in pumpkin & butternut squash or pumpkin chipotle flavors for $3.49 per 24 oz jar.
You might enjoy your pumpkin pasta sauces with Reggano fall shaped pasta — but, note that these 17.6 oz bags of shaped pastas are now up to $2.69. As always, cook their shaped pasta al dente; they tend to fall apart easily when cooked too long.
On a sweeter note, you can also enjoy Specially Selected pumpkin cheesecake drizzled caramel corn, $2.99 per 8 oz bag.
Or, Benton's apple cider donut flavored creme cookies will run you $2.29. Prefer fall creme wafer rolls? Benton's brand pumpkin spice or salted caramel canisters are available this week, at $1.99.
On the gluten free front, Simply Nature organic coconut clusters (apple cinnamon or pumpkin spice) are $6.99 a bag.
Both advertised and unadvertised ALDI prices can vary by store and by region. Now, let's run down the rest of the top ALDI Finds for the week of 8/24/22. You may also Find some on 8/21/22 in Sunday ad markets, or if your store tends to put products out early.
Top ALDI Finds this week
Got smoothies? Pick up 32 oz bags of Season's Choice antioxidant boost or super greens smoothie blends at $5.99 each. Then, beyond the aforementioned fall-inspired foods, here are ten more top food Finds (plus a bunch of great frozen Finds), as well as twenty non-Food Finds. These are all for the week of 8/24/22.
Ten new ALDI food Finds this week
Thirsty? Check out Nature's Nectar 4 packs of sparkling cider or ginger beer this week — the cider will run you $3.99; the ginger beer, $3.19. Other foodielicious Finds this week include:
Bake Shop s'mores mini cupcakes, $3.29
L'Oven Fresh pretzel hamburger buns, $2.79
The Cookie Dough Cafe edible chocolate chip cookie dough 4 pack, $4.99
Smithfield fresh whole boneless pork butt roast, $1.99/lb
Fresh honey maple Atlantic salmon on a cedar plank, $9.99/lb
Clancy's pulled pork or braised beef short ribs krinkle cut kettle chips, $1.99
Clancy's butter twists tub, $4.69
Specially Selected dark chocolate thins, pretzel or almond, $2.99
Wahlburgers 32 oz dill pickle chips, $5.49
Wahlburgers Wahl sauce, $3.99
OK, they also have 1.33 lb packs of fresh Angus beef Wahlburgers to go with those pickles and sauce, but those patties will run you $6.99.
Edible cookie dough seems expensive, yet dangerous — so it's probably best that the price made me put this back on the shelf, right?
And you can enjoy those Wahlburgers on pretzel buns. (I usually wait, because these expensive buns often go on clearance after a while — but that is of course a gamble.)
Frozen food Finds
We have a bunch of new frozen food Finds this week, so I thought I'd pull them out in a separate section for you here. Straight out of the gate, this Mama Cozzi's wood-fired flatbread looks pretty interesting — $5.49 gets you either classic combo supreme, or BBQ chicken. More pizza? OK: Barstool Sports One Bite stone baked crust 5 cheese pizza is $6.98.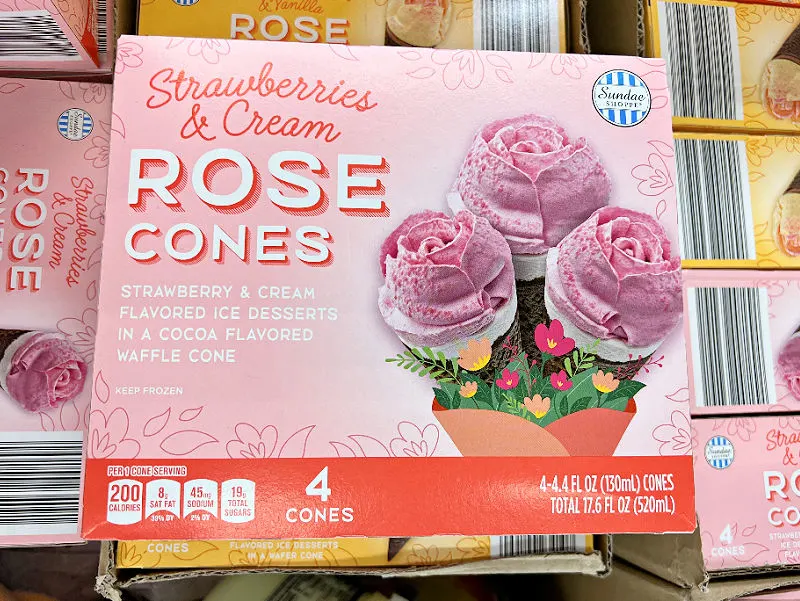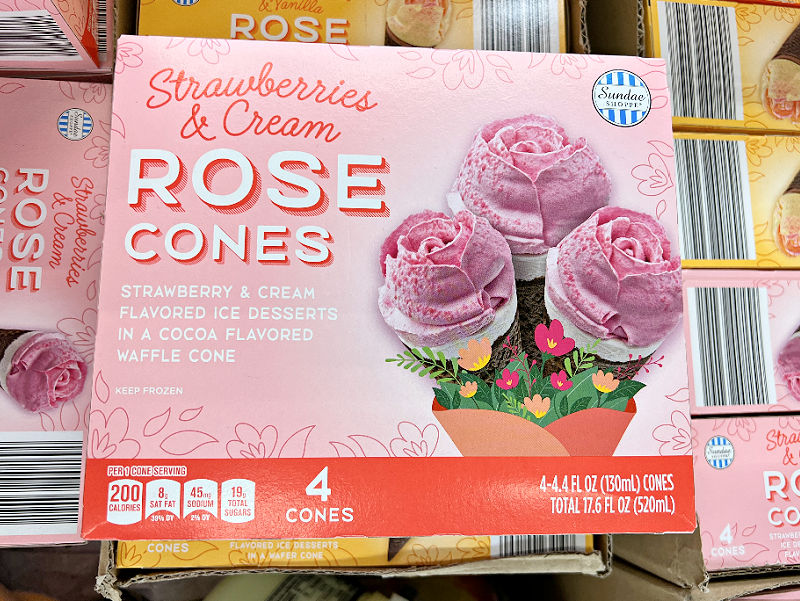 And Sundae Shoppe rose cones are back! These are so pretty, and will run you $3.99 per 4 ct box.
Also on the sweeter side of things, a 40 oz Belmont cheesecake variety sampler is $12.99.
Now, let's get savory: Have you been curious about ALDI crab cakes? Check out my Fremont Fish Market crab cakes review from last year — the price, however, is now up to $4.99 for the value pack of five. Other premade frozen foods this week include a Fusia Asian Inspirations sweet teriyaki or sesame ginger chicken skillet, $5.99, or Yummy whole grain or chicken & veggie Dino Buddies, $4.99.
Season's Choice crispy potato circles are also back this week, at $2.39 per 30 oz bag. Try yours in this kid-friendly taco style tater tot casserole! More frozen sides include:
Season's Choice whole onion rings, $2.79
Specially Selected fire roasted veggies or vegetable medley, $3.49
Lastly, Whole & Simple Mexican street corn or cilantro lime chicken cauliflower bowls will run you $3.29.
Twenty ALDI non-food Finds this week
Let's talk non-food Finds now — because even though apparently food-wise it's fall, pet-wise, it's still summer. Pick up a Heart to Tail cooling mat for your furry friends, $9.99.
Other non-food ALDI Finds this week include:
Huntington Home 18″x30″ artisan kitchen rug, $7.99
Huntington Home 18″x30″ deluxe harvest mat, $6.99
Huntington Home twin or full sheet set, $12.99
Huntington Home hooded plush throw, $9.99
Ambiano portable blender, $16.99
Crofton glass canister with acacia lid, $12.99
Crofton 15-piece kitchen tool set, $24.99
Crofton microwave popcorn maker, omelet maker, or egg poacher, $4.99
Huntington Home 3-wick candle, $3.99, or single-wick, $2.49
Soundmates wireless earbuds with charging case, $18.99
Lily & Dan children's athletic shoes, $13.99
Children's character canvas shoes, $8.99
Bee Happy 26-piece magnetic tiles, $12.99
Bee Happy foam blocks, $14.99
Heart to Tail cat scratching playhouse, $8.99
Heart to Tail pet character bed, $19.99
Heart to Tail rope & bone dog toy, $4.99
Boulder 300 ct uncoated paper plates, see price in store
Boulder 8 giant roll paper towels, see price in store
Easy Home spray mop, $14.99
High School Guy has and still uses the microwave popcorn maker from a couple of years ago; making individual servings from kernels is cheaper than buying the microwavable bags.
And magnetic tiles, well, they're a perennial hit with the younger crowd!
If anyone sees those paper plates or towels in store, please let us know how much they're running this time… Update: Laura says the towels are $7.29 in Indianapolis!
What's Up with ALDI Finds
What's up with ALDI Finds? Well, these are limited time special buy items that are available in stores only while supplies last. So if you spot something you like, be sure to pick it up while you can. See also: What is the ALDI Aisle of Shame?
Before shopping for new Finds this week, you might also wish to visit the ALDI Finds product delays page. Because of ongoing shipping delays and materials shortages affecting ALDI and many other retailers, certain advertised products may not be available in all locations.
Finding the Finds
Where do you Find all of this week's special buys?
Check out the "ALDI Finds" and current weekly ad tabs (or mobile menu choices) on the ALDI site to window shop from home.
If you're planning an in-store shopping trip, use their online ad to help determine what you'll grab and purchase if you do see it in the store.
Products mentioned in this post were either spotted in store or are from the ad starting 8/21/22 in Sunday ad markets, 8/24/22 in Wednesday ad markets. What caught your eye among this week's ALDI Finds?