This easy One Pot Creamy Andouille Sausage Pasta recipe has a bit of a kick — but, a kick that's smoothed out by both cheddar & cream cheeses, and balanced out further by sweet bell pepper!
One Pot Creamy Andouille Sausage Pasta hit the spot today, and what an easy meal this was! Cooking everything up in one pot made for fewer dishes, with no sacrifice in flavor.
As the weather turns ever chillier over here, I've rekindled my lifelong commitment to comfort food. ALDI helped me out this week with a special buy on chicken andouille sausage, which I scooped up on impulse the other day.
I quite enjoy their chicken sausage in general, and you can find seven more recipes here using ALDI Never Any chicken sausage. Since andouille sausage is only an occasional ALDI Find, though, I don't get to indulge over on the spicier side that often — but when I do snag some, I like to mess around with it in pasta- or rice-based recipes.
Creamy andouille sausage pasta recipes tend to rely on one of the following for their creaminess: Cheese, milk & heavy cream, or cream cheese. I like to blend both cheese and cream cheese, however, for the best balance of creaminess and flavor in the finished dish. And while you can kick up the heat by using Cajun seasoning, I find that you get better control (and can adjust to your own taste) by combining a few different seasonings with fresh onion and garlic.
So, here's how I've been making one pot pasta with andouille sausage lately!
One Pot Creamy Andouille Sausage Pasta
Ingredients
2 Tbsp olive oil
12 oz andouille chicken sausage, sliced into thin coins
1 sweet bell pepper, chopped small
1/2 cup diced onion
1 Tbsp minced garlic (about six cloves)
2 cups chicken broth
1 cup water
10 oz can diced tomatoes with green chilies (Rotel or similar)
12 oz box of rotini
2 tsp oregano
1 tsp smoked paprika
1/4 tsp cayenne
Sea salt, to taste
Black pepper, to taste
4 oz cream cheese, softened and cut into chunks
4 oz shredded cheddar or Mexican-style cheese
Chopped green onion, to garnish (optional)
Directions
Cut up your sausage, bell pepper, onion, and garlic (if not using pre-minced).
Heat olive oil in a Dutch oven over medium heat until shimmering. Add the sausage, bell pepper, and onion to the pot and saute over medium heat for seven minutes, stirring occasionally.
Stir in the garlic, then saute for another minute.
Stir in the broth, water, tomatoes, pasta, and seasonings. Turn up the heat under the pot, and bring to a boil.
Once boiling, stir your pasta, cover the pot, and reduce heat. Simmer covered for 15 minutes, stirring once or twice, or until pasta is cooked al dente and most of the liquid is gone.
While the pasta is simmering, cut the cream cheese into chunks, chop the optional green onion, and shred the cheese (if not using pre-shredded).
Once the pasta is cooked through, give it a good stir, then add the cheese and cream cheese to the pot.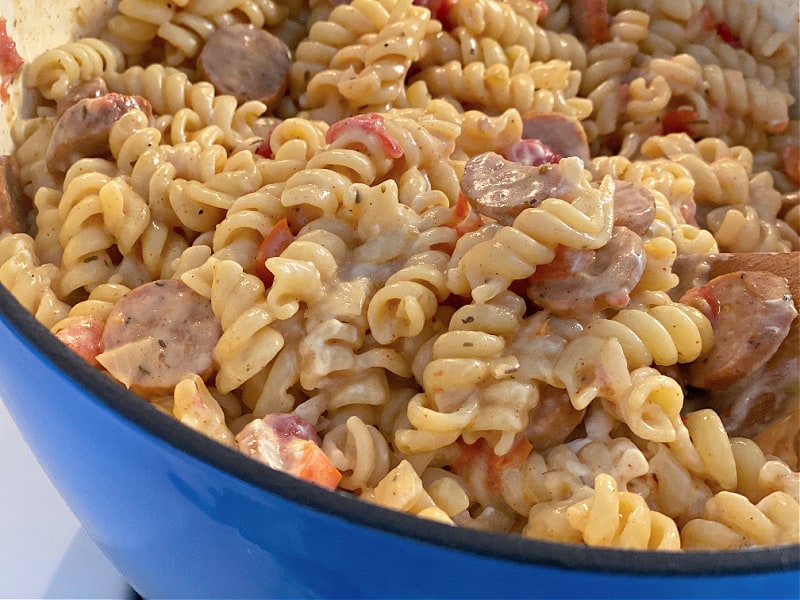 Stir to melt in the cream cheese and cheddar cheese, until both are well incorporated into the pasta.
Recommended: Serve bowls of creamy andouille sausage pasta topped with chopped green onion.
Note: If you like more heat, you can up the cayenne to your own taste.
That's an easy one dish pasta dinner!
How's that for an easy pot full of pasta goodness? Hearty and filling, creamy andouille chicken sausage pasta hits the spot on a chilly evening — and holds up nicely as leftovers, too!
When you cook everything together in one pot, including the pasta, it naturally soaks up all of those lovely flavors. You end up with just enough liquid after simmering to combine with the two different cheeses and create sauce, and using a small shaped pasta like rotini ensures that each piece of pasta gets nicely coated.
If you do have it on hand, a bit of chopped green onion at the end adds some contrast and takes everything up a notch.
One Pot Creamy Andouille Sausage Pasta, printable recipe
Recipes in the real world
Be sure not to miss the free weekly ALDI meal plans, which show you how to use these easy family recipes to meal plan affordably and realistically for your family. Or, find more recipe ideas with the Recipe Search!