Welcome back to Midweek Meal Planning for the week of 2/3/16! It's more traditional to meal plan on the weekend, but since our Chicago grocery deals mostly flip on Wednesdays and since midweek is when many of us start running out of steam, we buck the trend here. In Midweek Meal Planning, we plan dinners for the rest of the week while also looking back to see how we've done so far.
Midweek meal planning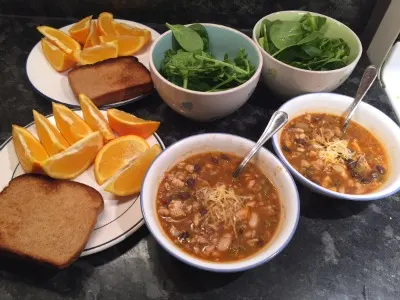 Here's our week:
Sunday: Grilled chicken sausage from Fresh Thyme on pretzel buns from Caputo's, with grilled potato & cauliflower packets.
Monday: The kids had Costco rotisserie chicken and MashupDad and I had Chipotle. (Shh… it's like a staying in date night.)
Tuesday: Low Carb Cauliflower Au Gratin by popular demand + Salad Bar Tuesday — made the au gratin with the cheap organic cauliflower & the meat ends I got at Caputo's on Saturday (which turned out to contain big chunks of ham), and the salad with the cheap organicgirl from Fresh Thyme + every veggie I had to help balance out the gratin, lol.
Wednesday: Chipotle chicken chili for all of us except MashupDad, who had Costco rotisserie chicken, plus more salad, fruit, and toast. (Chili recipe to come on Sunday…)
Thursday: Leftover chili.
Friday: It's just me and the kids that night, so probably something simple — likely a baked potato bar with the last of the chili, broccoli, cheese, etc.
Saturday: I'm thinking Jewel pub burgers at $2.00/lb. 🙂
Your turn
How's your week of meal planning going? Are you cooking mostly out of your pantry, or are you taking advantage of this week's grocery sales? Let's inspire each other!
And if you're looking for additional inspiration, read all the Midweek Meal Planning posts and others' comments here.