ALDI Finds for the week of 7/20/22 include corn masa bites, daily affirmation candles, meal prep containers, and more. Check them out below, and let me know what you want to Find this week.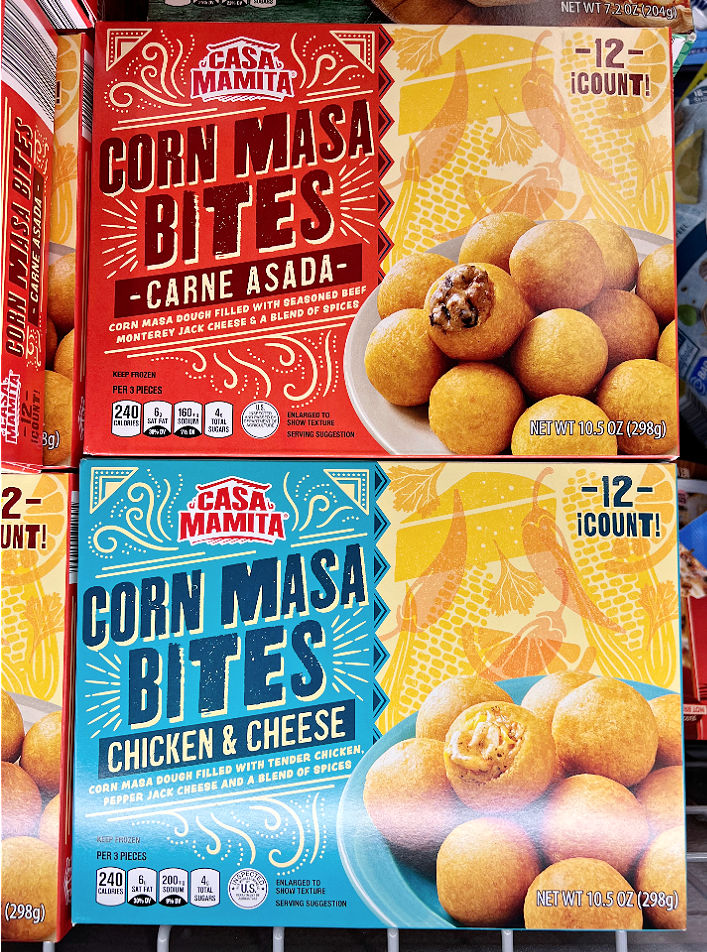 We have a little theme going with our ALDI frozen Finds this week, including these Casa Mamita carne asada or chicken & cheese corn masa bites, $4.99 a box. (I didn't buy these, because just one of my teenage boys could put away a whole $5 box in no time…)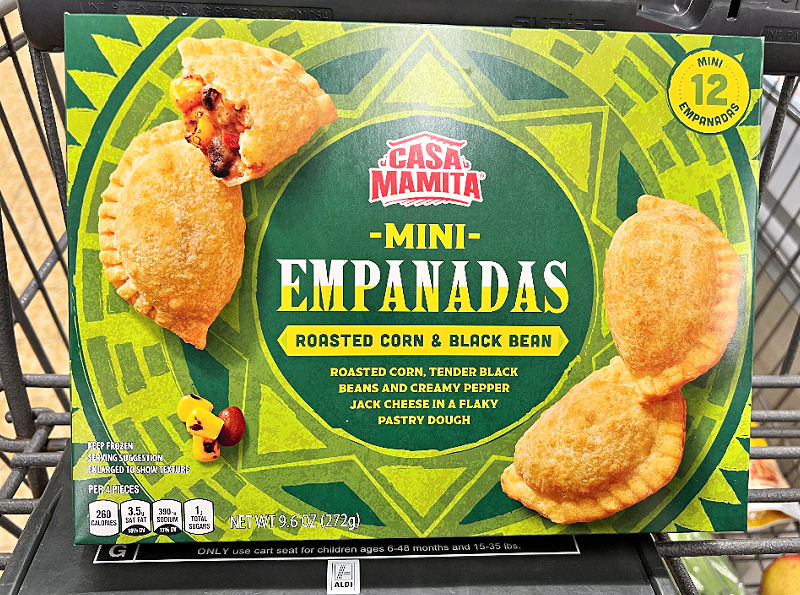 Also look for these cute little Casa Mamita chicken or black bean mini empanadas, $4.79 per box.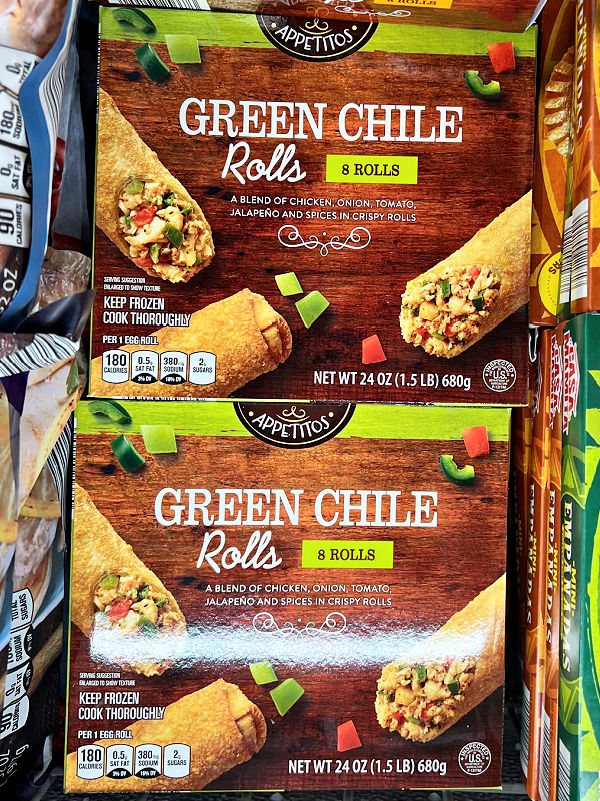 And then there are these boxes of Appetitos southwestern or green chile rolls, $6.99 each. If you're looking for appetizers, this seems like your week!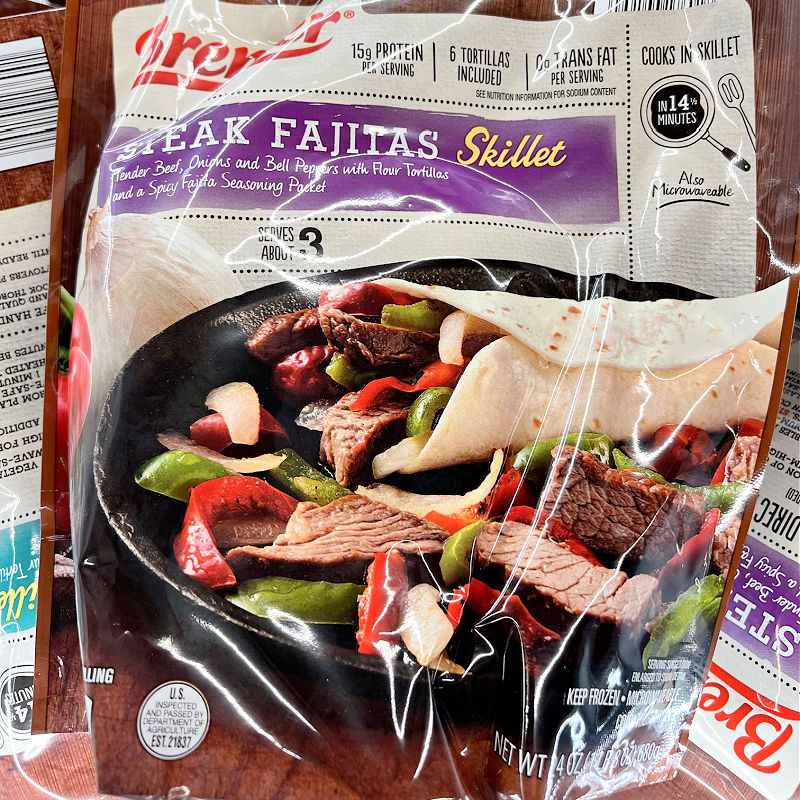 Then these Bremer chicken or steak fajita skillets say that they serve about 3. I'm not sure about that, but these 24 oz bags include the tortillas, meat, & veggies and will run you $6.79 apiece. Also look for:
Casa Mamita beef or chicken taco cups, $5.49
Fremont Fish Market shrimp fajita or taco mix, $4.99
Note that both advertised and unadvertised ALDI prices can vary by store and by region. Now, let's run down the rest of the top ALDI Finds for the week of 7/20/22. (You may also Find some on 7/17/22 in Sunday ad markets, or if your store tends to put products out early.)
Top ALDI Finds of the week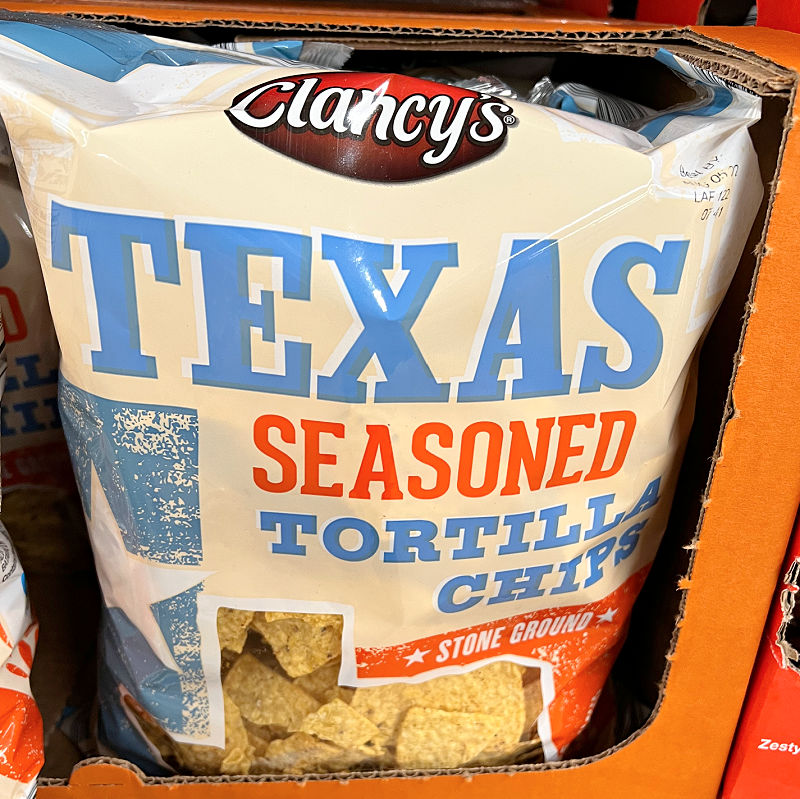 Beyond the aforementioned frozen products, here are 10 more top food Finds, as well as thirty more non-Food Finds (plus some kitchen Finds!), all for the week of 7/20/22.
Some ALDI food Finds for your week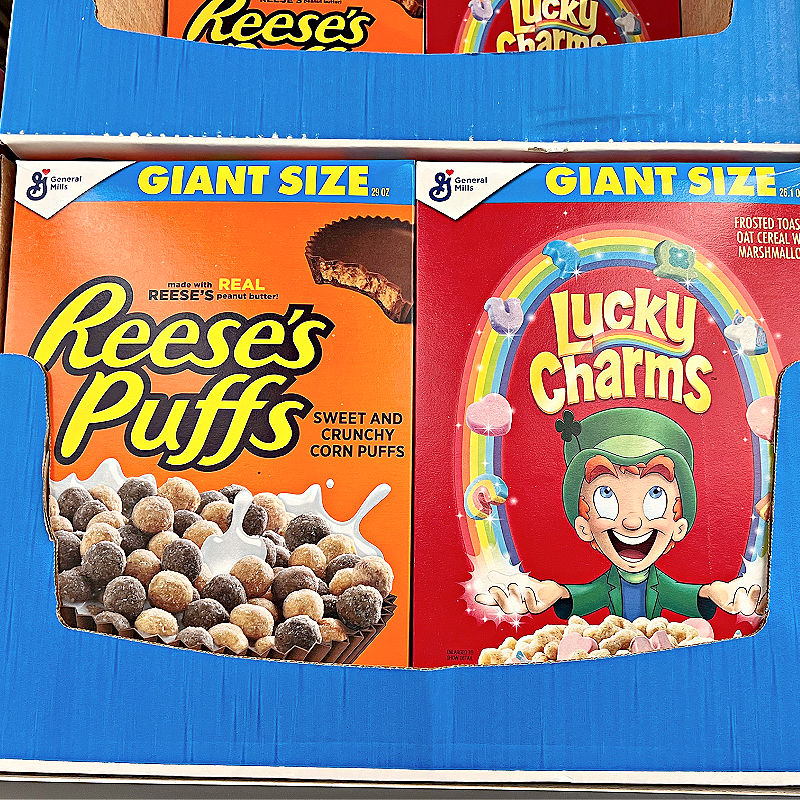 We're back to brand names again: Look for giant boxes of GM Lucky Charms or Reese's PB Puffs cereal, $4.90 per box. Other food Finds this week include:
Park Street Deli shredded rotisserie chicken, $5.99
Park Street Deli 14 oz Texas caviar or poblano corn salsa, $3.29
6 lb Holten's party pack 1/4 lb beef patties, $14.99
Whole & Simple ancho chicken mole or beef bulgogi bowl, $2.99
Family pack thin-sliced boneless pork chops, $3.29/lb
Clancy's Texas seasoned tortilla chips, $2.99
Frito-Lay 28 ct classic mix variety pack, $13.98
Specially Selected Spanish monovarietal extra virgin olive oil 16.9 oz, $4.49
Barnana organic plantain chips in lime or pink salt, $2.98
Casa Mamita Mexican-style corn, $1.19
The Frito-Lay works out to about $.49 per serving, which is so-so.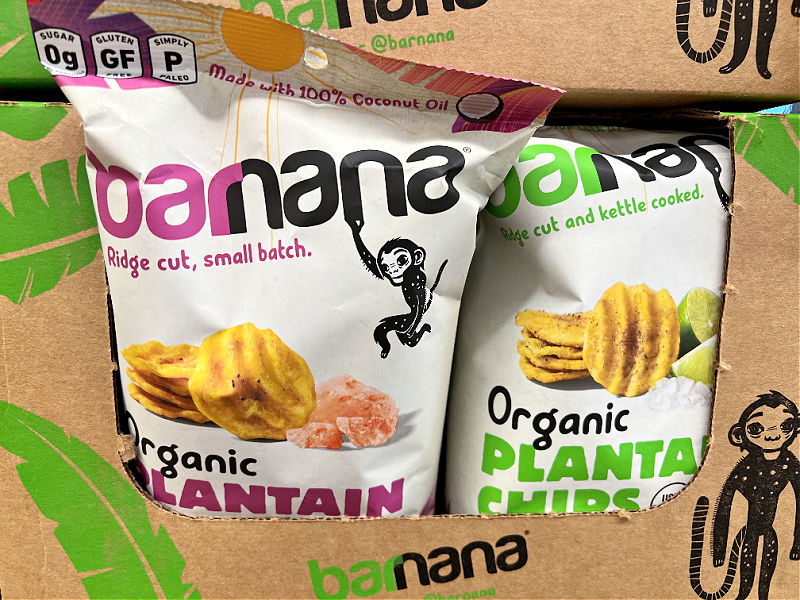 The Barnana chips are organic, gluten free, and Paleo, if this is your jam.
ALDI non-food Finds this week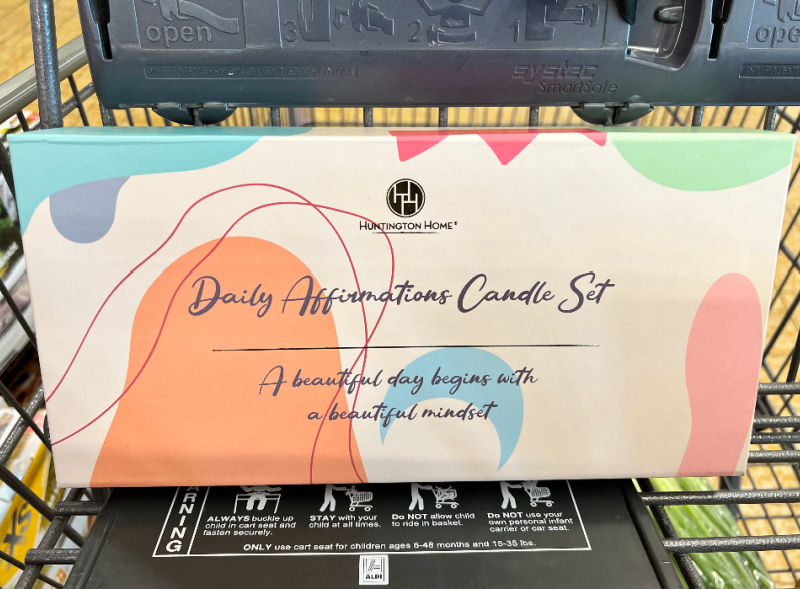 Affirm yourself with daily candles! This 7-piece Huntington Home daily affirmations candle set will run you $12.99, or pick up an apothecary candle this week for $6.99. Other non-food Finds include:
Huntington Home decorative shag area rug, $39.99
Huntington Home velvet hanger set, $14.99
Huntington Home 29-liter flexible tub, $5.99
Huntington Home metallic window panel, $8.99
Huntington Home universal bathroom drawer organizer, $9.99
Huntington Home 4-piece bamboo sheet set, $34.99
Huntington Home square pebble shower mat, $5.99
SOHL adjustable storage workstation, $29.99
Belavi hummingbird feeder, $12.99
Belavi 3-piece wicker patio set, $329.99
Belavi 3-piece rope bistro set, $269.99
Gardenline bird feeding station, $14.99
Gardenline magnetic fly screen, $16.99
Gardenline bird feeder assortment, $14.99
Gardenline outdoor insect zapper, $19.99
Gardenline racquet insect zapper, $5.99
Mini cactus, $2.99
Auto XS portable tire inflator, $16.99
Adventuridge 3-in-1 camping light, $8.99
Adventuridge folding multipurpose cart, $49.99
Adventuridge foldable chair, $17.99
Bee Happy swurfboard, $49.99
Summer Waves floats, $6.99-$9.99
Bauhn color-changing LED strip light, $7.99, or orb, $19.99
Heart to Tail vehicle pet barrier, $29.99
Serra Ladies' memory foam canvas slip-ons, $7.99
Huntington Home 2-in-1 cordless stick vacuum, $129.99
Sterilite 3.4 gallon wastebasket, $4.49
Boulder 12 giant roll paper towels ( = 18 single rolls), $9.49
Huntington Home shower curtain liner, $6.99
The folding cart looks like a nice heavy duty one, if you've been in search of a deal on one of those.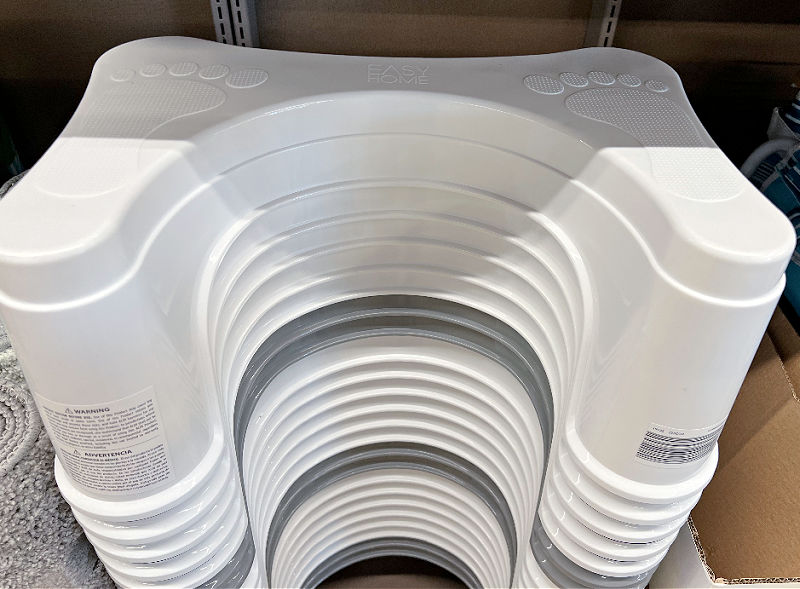 The Easy Home squatting stools are back in this week's ad at $16.99 — but both of my stores have had a bunch from the last round sitting on half-off clearance forever. (If you're reading this on the 19th as I'm posting and are in a Weds. market store, see if there's a clearance one around before the new full-price ones come in tomorrow.)
New ALDI kitchen finds this week
Meal prep containers are always useful! This go-round, 20 or 30 piece packs of Crofton containers are up to $5.99. Other kitchen Finds this week include:
Huntington Home 20″x34″ kitchen accent rug, $7.99
Huntington Home kitchen towels, dishcloths, or pot holder/oven mitt, $3.99
Joie bag clips, ties, or strainer, $2.99
Crofton food chopper, $9.99
Crofton mini countertop compost bin, $9.99
Crofton 4-piece bakeware set, $14.99
Crofton paella pan, $12.99
Crofton 8-piece glass storage bowls with multicolored lids, $9.99
The bakeware set comes in gold or gray, and includes a large rimmed baking sheet, a medium one, and two small ones.
What's Up with ALDI Finds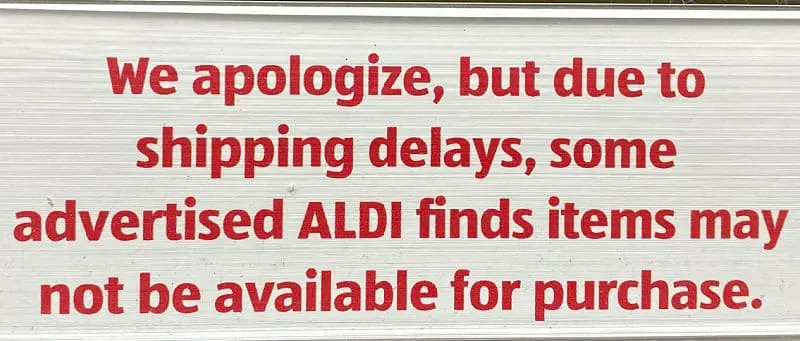 What's up with ALDI Finds? Well, these are limited time special buy items that are available in stores only while supplies last. So if you spot something you like, be sure to pick it up while you can. See also: What is the ALDI Aisle of Shame?
Before shopping for new Finds this week, you might also wish to visit the ALDI Finds product delays page. Because of ongoing shipping delays and materials shortages affecting ALDI and many other retailers, certain advertised products may not be available in all locations.
Finding the Finds
Where do you Find all of this week's special buys?
Check out the "ALDI Finds" and current weekly ad tabs (or mobile menu choices) on the ALDI site to window shop from home.
If you're planning an in-store shopping trip, use their online ad to help determine what you'll grab and purchase if you do see it in the store.
Products mentioned in this post were either spotted in store or are from the ad starting 7/17/22 in Sunday ad markets, 7/20/22 in Wednesday ad markets. What caught your eye among this week's ALDI Finds?