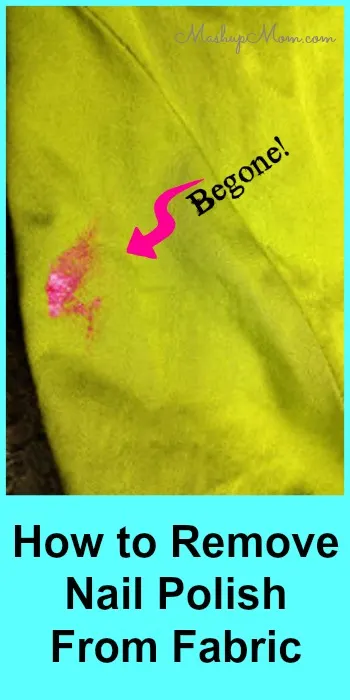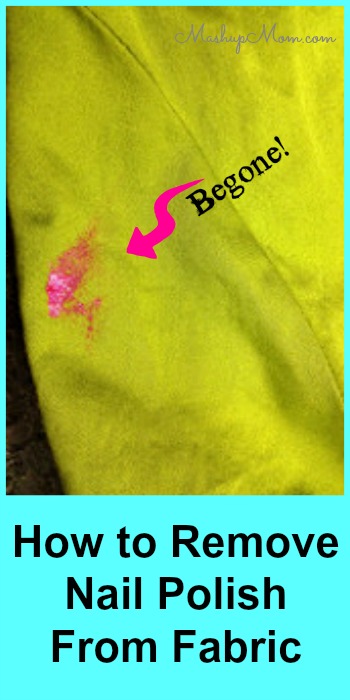 So I recently managed to get not one, but TWO nail polish stains on this shirt, one on the shoulder and one by the collar… please don't ask how, lol.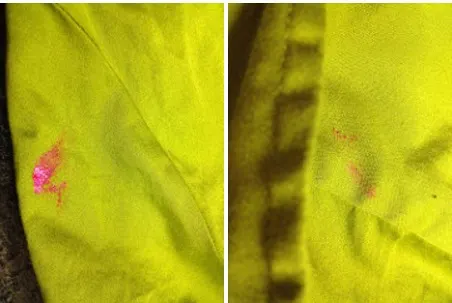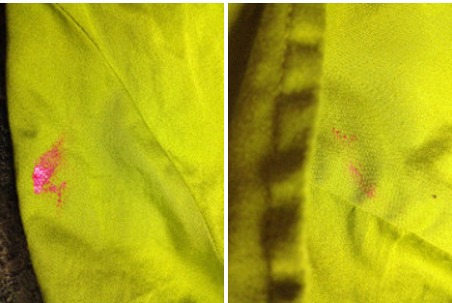 I asked for advice on how to remove nail polish from fabric over on the Mashup Mom Facebook page, and got some great suggestions — so here's how it went, and how to get nail polish out of a shirt!
By the way, if you haven't yet joined us on Facebook, come on over to the Facebook Page and Hot Deals Group. We don't always talk about stain removal, but you'll find all sorts of other useful ways to save! 🙂
Step-by-step, here's what I tried to remove that stubborn nail polish stain.
How to get nail polish out of clothes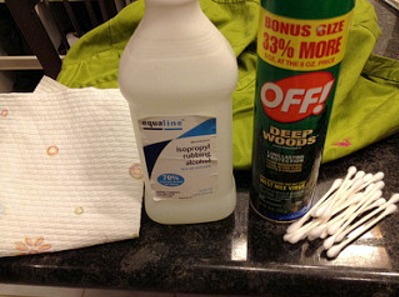 When I got the stains on this shirt, I had NO idea how to remove nail polish from fabric without ruining it. I figured the acetone in nail polish remover wouldn't be great for the fabric, so asked you guys. Here's what I tried.
Removing nail polish stains with rubbing alcohol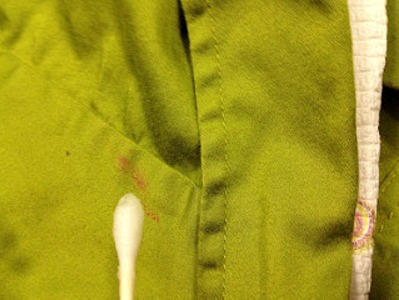 Lisa suggested tackling the nail polish stain with rubbing alcohol, so I started with the smaller stain.
Fold up some paper towels and put them under the fabric, so that the stain doesn't soak through to the back. (Use several layers — mine stained through a bit onto the towel and the rubbing alcohol did soak through to the back, although luckily the stain didn't make it all the way through.)
Soak a Q-tip in rubbing alcohol.
Blot, blot, blot, blot blot blot…
Keep changing out Q-tips for new ones soaked in rubbing alcohol as they get nasty.
Lisa says: "Don't wash it or get it wet with water til its out."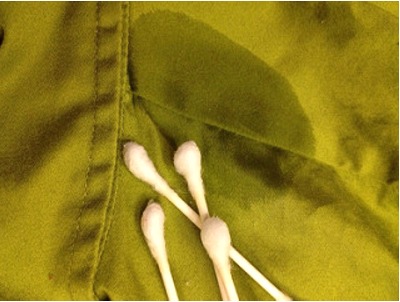 Ta-da! Since this is rubbing alcohol, it also evaporated really quickly and left the shirt dry. This was kind of like magic — it removed the smaller nail polish stain in just four Q-tips (both ends), though I did have to scrub a little at the end to get the last stubborn bits off.
Removing nail polish stains with bug spray, like OFF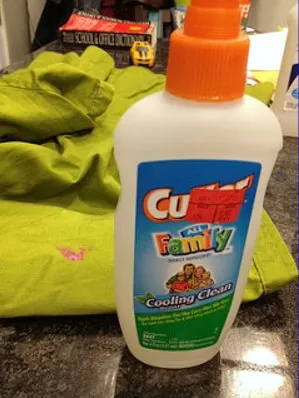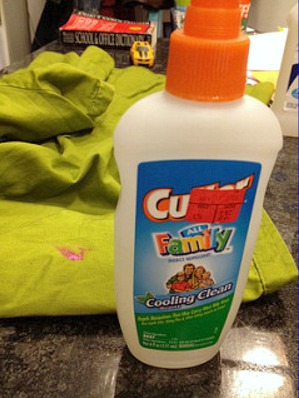 Several people suggested this one. I started with OFF, but hardly any was left in the can, so switched over to Cutter fairly quickly.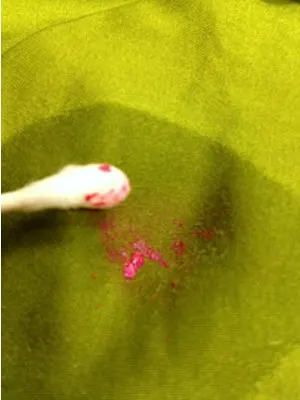 I put folded paper towels underneath, sprayed the nail polish stain with Cutter, then did the same Q-tip scrubbing and blotting trick, continuing to spray the fabric in between and switching out for fresh Q-tips as necessary. Unfortunately, bug spray only worked to take out the larger bits of nail polish stain. You can see the nail polish coming off on the Q-tip, but once it got down to the remnants of the stain left on the fabric, it was pretty much useless. Plus, the fumes were disgusting!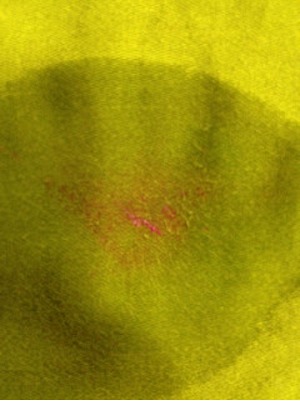 So once it got to the point where the stain was better, but not gone, I switched back over to the rubbing alcohol trick and repeated the same nail polish stain removal steps as above with the smaller stain.
The nail polish stain removal verdict
It took about half an hour total to remove both stains, so you need a lot of patience to remove nail polish stains with rubbing alcohol. But, it really did work. I checked this morning when everything was completely dry, and the stains appear to be gone. The fabric might be very slightly pilled, but it could also be bits of Q-tip, lol — it's barely noticeable. Update: After a trip through the washer, it's all good. Q-tip fuzz, begone!
Thanks to everyone who suggested a way to get nail polish out of fabric — I'm amazed! I honestly thought I was going to have to toss this shirt, and I'd only worn it a couple of times.
By the way, this shirt is jinxed
I just bought this shirt while visiting my parents in Washington over the 4th of July. The first time I wore it there, I spilled olive oil on it, and spent a lovely afternoon at my Mom's house scrubbing THAT stain with dish liquid and washing repeatedly. Wonder what I'll get on it next… spaghetti sauce? Pine sap? Hmm. 🙂