ALDI Finds for the week of 12/15/21 include Christmas cheeses, holiday candles, porch signs, popcorn seasoning, crab cakes, and so much more! It's a long ad this week, with so much holiday food & gifting potential…
Let's jump right in with more holiday food Finds in this week's ALDI ad, starting with these cute Mad Minis peppermint ice cream cookie sandwiches at $3.98 per 12 pack. Also in the frozen section:
Appetitos blossoms in spinach & cheese or chicken & pesto, $3.69
Appetitos puff pastry bites, $5.95
Belmont 12 slice sampler cheesecake, $9.99
The cheesecake looks like a lovely finish to a holiday dinner, and because it's frozen, you can buy it now to keep 'til then!
More festive ALDI Finds of the week
We have even more sweet festive food Finds in the 12/15 ALDI ad! I'm hungry just looking at some of these, let me tell you…
ALDI holiday-related food Finds this week
You could enjoy a Specially Selected bourbon pecan pie, $5.29 for a nice sized 23 oz. Prefer macaroons? You have choices: Benton's double chocolate or caramel, at $1.99 for a little pack, or a $4.69 Bake Shop macaroon party tray. Prefer a Kringle? Racine Danish Kringles in almond or raspberry will run you $5.09.
And then, there's cake. Specifically: A Specially Selected double layer chocolate cake, 33 oz for $7.99. Or… cookies. Specially Selected Torino double chocolate or mint cookies, $1.99, or classic cookies, $2.99.
On the charcuterie front, how about:
Specially Selected antipasti platter, $5.99
Specially Selected charcuterie board kit, $9.99
Emporium Selection gouda holiday trees, $3.99
Clancy's original or garlic Parmesan Italian toast, $2.19
Southern Grove everything or olive & herb mixed nuts, $4.99
Add these to the other Finds on the charcuterie endcap and among the specialty cheeses for a distinct board this year.
And then, for your holiday main:
Honeysuckle White fresh bone-in turkey breast, $1.99/lb
Specially Selected USDA choice bone-in ribeye roast, $6.99/lb
Specially Selected rack of lamb, $9.99/lb
Specially Selected USDA choice NY strip roast, $8.99/lb
So many choices…
ALDI holiday-related non-food Finds this week
ALDI has brought their Huntington Home "punderful" candles back again this year. (They weren't out yet at my store, so photo above is one of last year's puns. This year's candles feature new designs, at $4.99 apiece.)
Other non-Food festive Finds this week? Soooo many:
Merry Moments 2-piece holiday towel set, $3.99
Merry Moments 3-piece apron, oven mitt, & pot holder set, $6.99
Huntington Home holiday canvas bins, $14.99
Crofton mini wooden serving set (for your charcuterie fun!), $6.99
Huntington Home gold electroplated candle, $6.99
Holiday vintage kalanchoe, $8.99
Merry Moments LED novelty string lights, $3.99
Huntington Home glass tree candle, $12.99
Mr. Christmas cookie jar or cake stand, $19.99
Merry Moments holiday porch sign, $12.99
Merry Moments outdoor LED lighted birch trees, $12.99
Merry Moments ornament wreath or tree, $9.99
Merry Moments holiday decorative pillow, $6.99
Merry Moments LED string lights, $3.49
Huntington Home holiday reversible box sign, $3.99
Merry Moments holiday reversible wall sign, $9.99
Merry Moments indoor LED birch tree, $12.99
Merry Moments holiday lit glass trees, $14.99
Merry Moments LED ceramic tree, $9.99
Merry Moments premium ribbon or wreath bow, $3.99
Merry Moments ceramic house, $3.99
Merry Moments holiday easel sign, $19.99
Merry Moments reversible mantel sign, $5.99
Merry Moments Christmas tree skirt, $14.99
Boulder celebration tableware, $1.89
Huntington Home table runner napkin, or placemat set, $8.99
Heart to Tail holiday pet pajamas, $4.99
Merry Moments holiday hooks, $3.99
Before buying the reversible porch signs, realize that they are not weather safe; you'll need to seal yours if you wish to keep it outside. Mine here is safely tucked inside the screened-in porch (accompanying festive skeletons, not from ALDI… 😉 ).
Note that both advertised and unadvertised ALDI prices can vary by store and by region. But now, let's talk about the rest of the top ALDI Finds for the week of 12/15/21 — as well as some great new seasonal Finds. You'll also Find some on 12/12/21 in Sunday ad markets, or if your store tends to put products out early.
Non-holiday Top ALDI Finds of the week
In no particular order, here are 20 more of my top ALDI food Finds, plus 25 top non-food Finds, all for the week of 12/15/21. Then, let's talk about some more of the new seasonal Finds that have appeared in stores lately, in addition to the advertised holiday foods discussed above.
Top twenty food Finds this week
Here are more good food Finds of the week, in addition to the specifically holiday-themed foods above. Clancy's bloody Mary or onion ring kettle chips, anyone?
Or continue to stay salty with Stonemill popcorn seasonings. Both of these salty Finds and more, in the 20 top non-holiday-specific food Finds this week:
Clancy's onion rings or bloody Mary kettle chips, $1.89
Stonemill popcorn seasonings, $1.79
Southern Grove 41 oz bar mix, $7.99
Barissimo chocolate raspberry or peppermint 12 ct K-Cups, $3.89
Barissimo salted caramel or toasted coconut 10 oz ground coffee, $3.79
Barissimo espresso or adventure blend espresso 10 ct pods, $4.99
L'Oven Fresh butter or potato dinner rolls, $2.49
L'Oven Fresh brown 'n serve rolls, $.99
Simply Nature 32 oz organic half & half or 16 oz organic heavy whipping cream, $3.69
Park Street Deli blue cheese or truffle dip, $4.99
Mama Cozzi's wood fired pepperoni & mozzarella deli pizza, $7.49
10.6 oz Specially Selected cold smoked salmon value pack, $10.99
Bremer 32 oz turkey meatballs, $4.79
Fremont Fish Market value pack crab cakes, $4.49
Casa Mamita chicken or black bean mini empanadas, $4.79
Specially Selected spinach & ricotta or mushroom flatbread, $4.19
Mama Cozzi's rising crust chicken, spinach, & garlic pizza, $3.99
Specially Selected fire roasted vegetables or veggie medley, $2.99
SuckerPunch gourmet spicy garlic or sweet onion pickles, $4.99
Annie Chun's ramen bowls, $2.79
If you enjoy ALDI smoked salmon, the value pack of smoked salmon is indeed cheaper than the small packs they carry every day. It works out to $1.04 per oz, as opposed to $1.33 per oz for their regular 3 oz pack at $3.99.
Speaking of all things fishy, have you been curious about those ALDI crab cakes? Check out my Fremont Fish Market crab cakes review from earlier this year.
And stock up on the organic half & half and whipping cream, if you're a fan: These disappeared super quickly the last time they were out in stores.
What would you use your blue cheese pecan or truffle dip for?
Top twenty-five non-Food Finds this week
Some more great non-holiday-specific, non-food Finds this week:
Royal Class or Serra genuine suede slippers, $12.99
Huntington Home collapsible seagrass basket, $14.99
Huntington Home 6 piece towel set, $14.99
Intex Kidz travel bed set, $29.99
Crofton mini gold cookware, $7.99
Crofton cookie sheets, $7.99
Crofton 3 piece cooling rack set, $8.99
Crofton 20 piece glass storage set, $18.99
Ambiano electric salt & pepper mill, $14.99
Huntington Home round or square floor pillow, $16.99
Huntington Home 6 piece comforter & coverlet set, $49.99
Huntington Home modern farmhouse reed diffuser, $6.99
Huntington Home animal storage basket, $34.99
What do you Meme? card games, see price in store
Huntington Home essential oils, $4.99
Various Easy Home extension cords, timers, wall plates, charging stations, ranging from $4.99 to $17.99
Huntington Home motion sensing LED light, $12.99
Royal Class men's sleep pants, $7.99
Crane adult touchscreen gloves, $7.99
Gardenline adult neoprene boots, $24.99
Serra ladies' jeggings, $9.99
Anker Play 12-in-1 classic game center, $16.99
Easy Home printed 2 bushel laundry basket, $9.99
Bee Happy dino transporter, marble mountain, or dino tracks, $9.99
Hinkler crystal creations, $6.99, or art maker kit, $9.99
Lots of holiday gifting potential in this week's ad!
Seasonal ALDI Finds
I saw just a few more seasonal Finds this week, but it was all worth it because look at these adorable Christmas cheeses! Several varieties of these Emporium Selection holiday cheeses, at $3.99 each. Spot anything good lately yourself?
Check out these festive holiday napkin rings (and they also have matching serving utensils), $8.99 each. Also for your holiday cooking, look for $6.49 Crofton baking accessories such as glass measuring cups, rolling pins, and fine mesh sieves.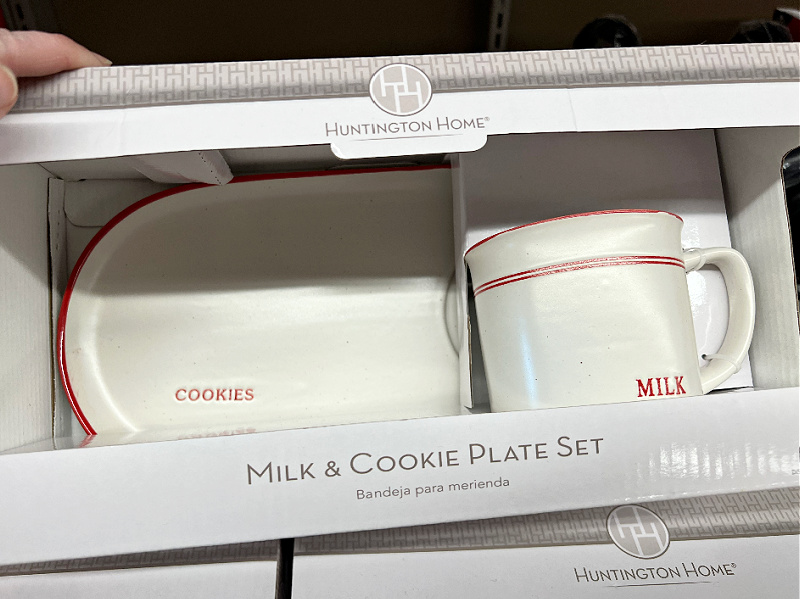 And then there's this Santa milk & cookies plate set, $9.99!
On the seasonal holiday food & drink front, some more in-store Finds include:
24 ct Belmont mini cheesecake bites, $9.99
Deutsche Küche chocolate covered wafers, $2.49
Grandi Mori Valdobbiadene prosecco, $9.99
Grande Alberone rosso, $8.99
Belleti moscato D'Asti, $7.99
Quarter Cut bourbon barrel chardonnay or red blend, $9.99
Montequinto Rioja gift pack, $24.99
Petit peppermint bark wine, $7.99
16 oz Never Any ground lamb, $6.99
Never Any fresh lamb loin chops, $9.99/lb
Note: Alcohol Finds are not available in all states. What seasonal Finds are you looking forward to this year? See earlier weekly Finds posts here and at Almost All ALDI for more winter Finds of Fun.
What's Up with ALDI Finds?
What's up with ALDI Finds? Well, these are limited time special buy items that are available in stores only while supplies last. So if you spot something you like, be sure to pick it up while you can.
Before shopping for new Finds this week, though, you might wish to visit the ALDI Finds product delays page. Because of ongoing shipping delays and materials shortages affecting ALDI and many other retailers, certain advertised products may not be available in all locations.
This page features a pretty long list of Dec. 15 ad items that may be delayed, so definitely take a look this week.
Finding the Finds
Where do you Find all of this week's special buys?
Check out the "ALDI Finds" and current weekly ad tabs (or mobile menu choices) on the ALDI site to window shop from home.
If you're planning an in-store shopping trip, use their online ad to help determine what you'll grab and purchase if you do see it in the store.
Products mentioned in this post were either spotted in store or are from the ads starting 12/13/21 in Sunday ad markets, 12/15/21 in Wednesday ad markets. What caught your eye among this week's ALDI Finds?