ALDI Finds for the week of 11/17/21 include gelato flights, poinsettias, fresh turkeys, Black Forest bacon, cranberry dip — and so much more!
Sundae Shoppe holiday gelato flights, anyone? I'm not sure how I feel about eggnog, but people have been raving about these. $3.99 for this three pack (13.2 oz total). Other sweet frozen treats this week include Specially Selected caramel or apple berry blossoms, $2.99 a box.
Note that both advertised and unadvertised ALDI prices can vary by store and by region. But now, let's talk about the rest of the top ALDI Finds for the week of 11/17/21 — as well as some great new seasonal Finds. (You'll also Find some on 11/14/21 in Sunday ad markets, or if your store tends to put products out early.)
Oh, and before we get started on this week's Finds, just a heads up to shop ahead: ALDI will be closed on Thanksgiving Day, November 25 2021. So, don't plan to run in for last-minute items while you're cooking!
Top ALDI Finds of the week
In no particular order, here are 20 of my top ALDI food Finds, and 20 top non-food Finds, all for the week of 11/17/21. Then, let's talk about the new pizzas this week, and some of the new seasonal Finds out in stores.
Twenty top food Finds this week
More Finds for your Thanksgiving table this week, that's for sure!
Bake Shop pumpkin pie, $5.89
Benner holiday teas, $2.19
Appleton Farms black truffle or fennel bite sized salami, see price in store
Appleton Farms Black Forest bacon, $4.49
Kevin's Natural Foods mashed cauliflower or mac & cheese, $5.49
Park Street Deli cranberry jalapeño or spicy pepper dip, $3.99
Appetitos gouda or feta mini puff pastries, $4.99
Specially Selected steakhouse whole green beans or kung pao broccoli, $1.99
Specially Selected premium shrimp ring 16 oz, $8.99
Specially Selected maple bacon pork or prime rib seasoned beef meatballs, $6.59
Honeysuckle White fresh whole turkey, $1.49/lb
Simply Nature fresh organic turkey, $2.99/lb
Utz pub mix barrel, $5.48
Southern Grove everything or olive & herb mixed nuts, $4.99
L'Oven Fresh potato or butter dinner rolls, $2.49
Clancy's popcorn tin, $4.69
Choceur solid milk chocolate bar, $.99
Choceur hollow chocolate Santa, reindeer, or snowman, $3.99
Reese's miniatures or Hershey's Kisses cane, $1.99
Fresh organic 73% lean ground beef, $2.29/lb.
Some of those holiday candies might also stick around past this ad, too, if we're lucky.
I impulse bought the Black Forest bacon yesterday, because it just looked so darn tasty. Hope it's as good as it looks!
The puff pastries also look cute for appetizers, but such small boxes, hmm.
Twenty top non-Food Finds this week
Easy Home spin mop, $19.99, or 2 pack spin mop refills, $9.99
Crofton mini utensils, $1.99
Huntington Home energy saving window curtain, $9.99
SOHL accent cabinet, $79.99
Huntington Home accent fragrance warmer, $4.99
Huntington Home scented wax melts, $1.89
Anchor bake & take tote, $14.99
Huntington Home shoe rack, $9.99
5″ easy orchid, $11.99
Merry Moments coir mat, $12.99
Lily & Dan children's umbrella, $4.99
Character game rug, $19.99
Bee Happy baby squishmallow, $4.99
SOHL kids' indoor tent, $49.99
Bee Happy wooden play food set, $9.99
First Alert waterproof fire safe, $24.99
Serra Ladies' faux leather or seamless leggings, $12.99
Serra Ladies' cardigan wrap, $9.99
Serra Ladies' side cut booties, $14.99
Huntington Home 6 piece comforter & coverlet set, $49.99
I got a couple of the silicone mini utensils last time, and just used the little spatula this morning (with a mini pan, to cook just a couple sausages for one sleepy teenage boy). Different colors this time, but just as useful — and fun for the kids to help you cook!
People also give the ALDI spin mop good reviews — and, stock up on the refills while they're available!
ALDI Pizza Finds this week
If you weren't a fan of last week's green bean casserole pizza, never fear: This week brings two new pizza options to the table. Choose between frozen Mama Cozzi's spinach, mushroom, & garlic rising crust pizza for $3.99, and 12″ Mama Cozzi's kale & ricotta deli pizza for $4.79.
Seasonal ALDI Finds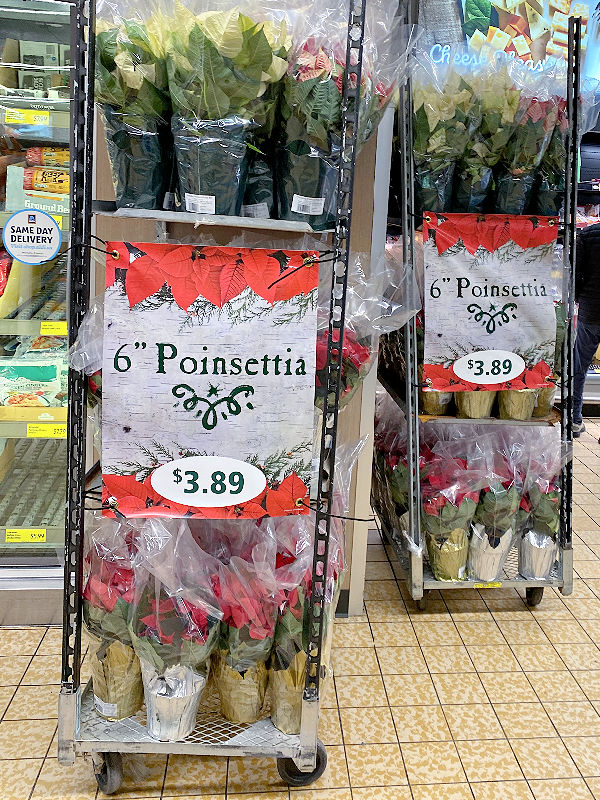 In addition to our weekly Finds, we have more seasonal Finds for the holidays to look forward to! Here are a few more that I spotted at my local ALDI stores lately — starting with these good-sized poinsettias, back for the season at $3.89 each.
And no need to speculate — Winternacht Spekulatius is back! Spekulatius spiced cookies are $2.99, while butter Spekulatius are $1.79. Other holiday Finds I spotted in store this week include:
Bake Shop pumpkin or pecan cheesecake, $4.99
Friendly Farms almondmilk creamer, $2.69
Specially Selected cheese crisps, $2.99
Specially Selected premium salame, $4.99
Specially Selected Italian dry salame, $4.89
Choceur chocolate oranges (no price tag at my store)
I'm glad to see the cheese crisps back, they were so tasty last year!
What seasonal Finds are you looking forward to this year? See earlier weekly Finds posts here and at Almost All ALDI for more Fall Finds of Fun.
What's Up with ALDI Finds?
What's up with ALDI Finds? Well, these are limited time special buy items that are available in stores only while supplies last. So if you spot something you like, be sure to pick it up while you can.
Before shopping for new Finds this week, though, you might wish to visit the ALDI Finds product delays page. Because of ongoing shipping delays and materials shortages affecting ALDI and many other retailers, certain advertised products may not be available in all locations.
Finding the Finds
Where do you Find all of this week's special buys?
Check out the "ALDI Finds" and current weekly ad tabs (or mobile menu choices) on the ALDI site to window shop from home.
If you're planning an in-store shopping trip, use their online ad to help determine what you'll grab and purchase if you do see it in the store.
Products mentioned in this post were either spotted in store or are from the ads starting 11/14/21 in Sunday ad markets, 11/17/21 in Wednesday ad markets. What caught your eye among this week's ALDI Finds?