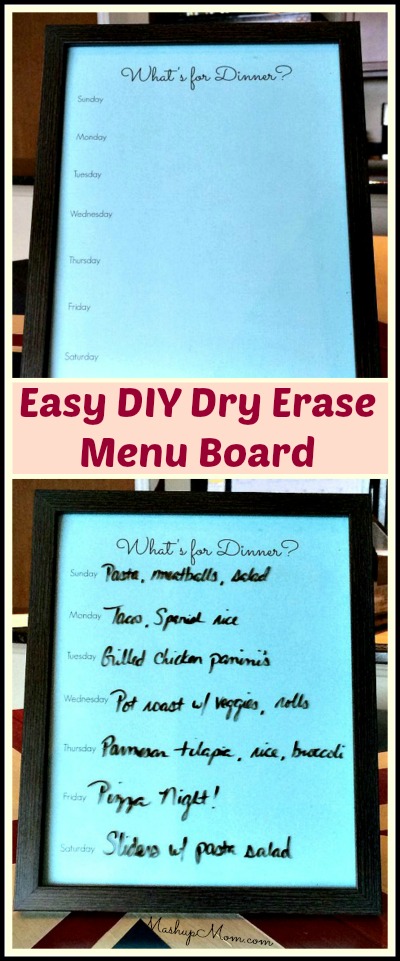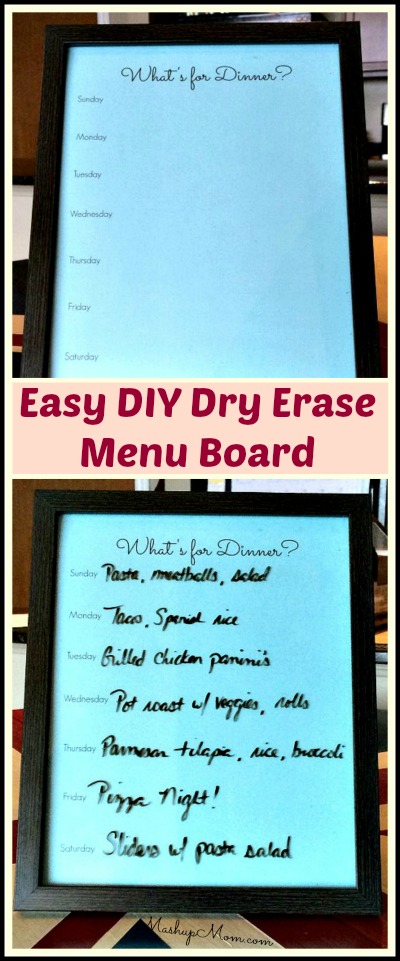 Check out this easy DIY Dry Erase Menu Board! This frugal homemade project is super easy, and should take you less than an hour to complete. Good, right? Since this is about how much time many of us seem to have these days…
I made a DIY dry erase meal planning board for myself a couple of months ago and use it all the time, so today I decided also to make one for my daughter.
DIY Dry Erase Menu Board
Here are your step-by-step instructions for creating your own DIY Dry Erase Menu Board.
Materials Needed
An 8″ x 10″ picture frame* (lightweight if you're going to make it magnetic, if you'll set it on your counter any frame will do)
Scrapbook paper
Magnets (if you're making it for your fridge), strong enough to hold the frame to your refrigerator
Dry Erase marker
Glue (to adhere the magnets)
Note: Although my frame here was from Target, Goodwill and other thrift stores are a fantastic place to pick up lightly used picture frames at a fraction of the cost of buying new!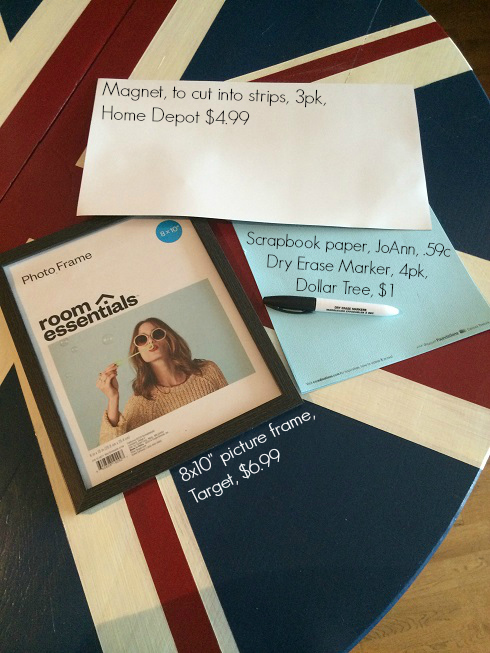 When choosing your scrapbook paper, make sure it's a color or a pattern that will allow you to see what you've written. I chose a light blueish-teal in order to match my daughter's kitchen colors.
Let's get started!
If you're going to make your menu board magnetic, glue the magnets to the back of your frame. You'll need one for each corner, or four magnetic strips. I used Gorilla Glue to be sure the magnets stay attached to the frame, and just cut strips from my magnetic sheet & glued them around the frame. (Since my frame is black & the magnets are black, no photo: But you can easily visualize what I did here.)
Next, use Microsoft Word, a program like Photoshop, or an easy photo editing site like PicMonkey to design your text. The one I am making here says "What's for Dinner?" but I've seen lots of other cute phrases, such as "Today's Menu Choices: Take It or Leave It," and "What's Cookin'?" Or, simply make it say "Menu," or "Dinner," whatever your own preference is. You can add the days of the week, or just leave it blank if you seem to switch meals around to different days as the week progresses.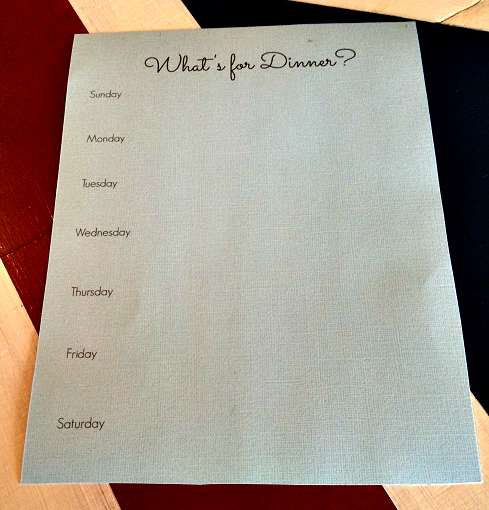 Once you're happy with your wording, test print your page on a sheet of regular printer paper (so that if the margins need to be adjusted, you can do it before you ruin your scrapbook paper). When adjusting your margins, keep in mind that scrapbook and regular printer paper are 8.5″ x 11.5″, whereas your frame is 8″ x 10″. When you're sure your margins will work nicely with your frame, go ahead & print your menu board page on scrapbook paper.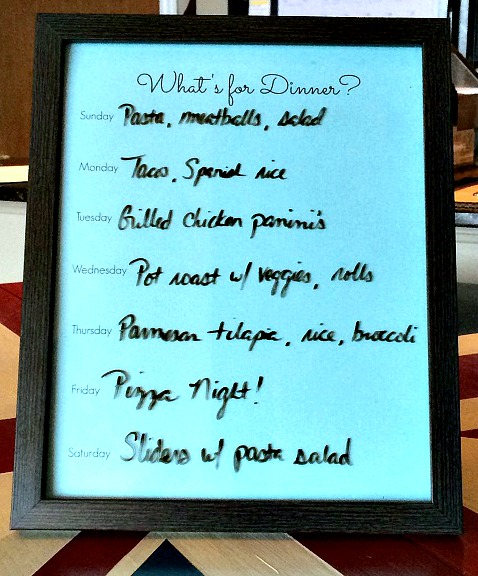 Trim the paper to fit your frame, pop it in the frame, and that's it: Now you have a cute dry erase menu board to help you with your weekly menu planning, and it will work with any dry erase markers!
Looking for free weekly meal plans?
Check out the free weekly ALDI meal plans here: Six complete dinners for four, $60 out the door, every single week.